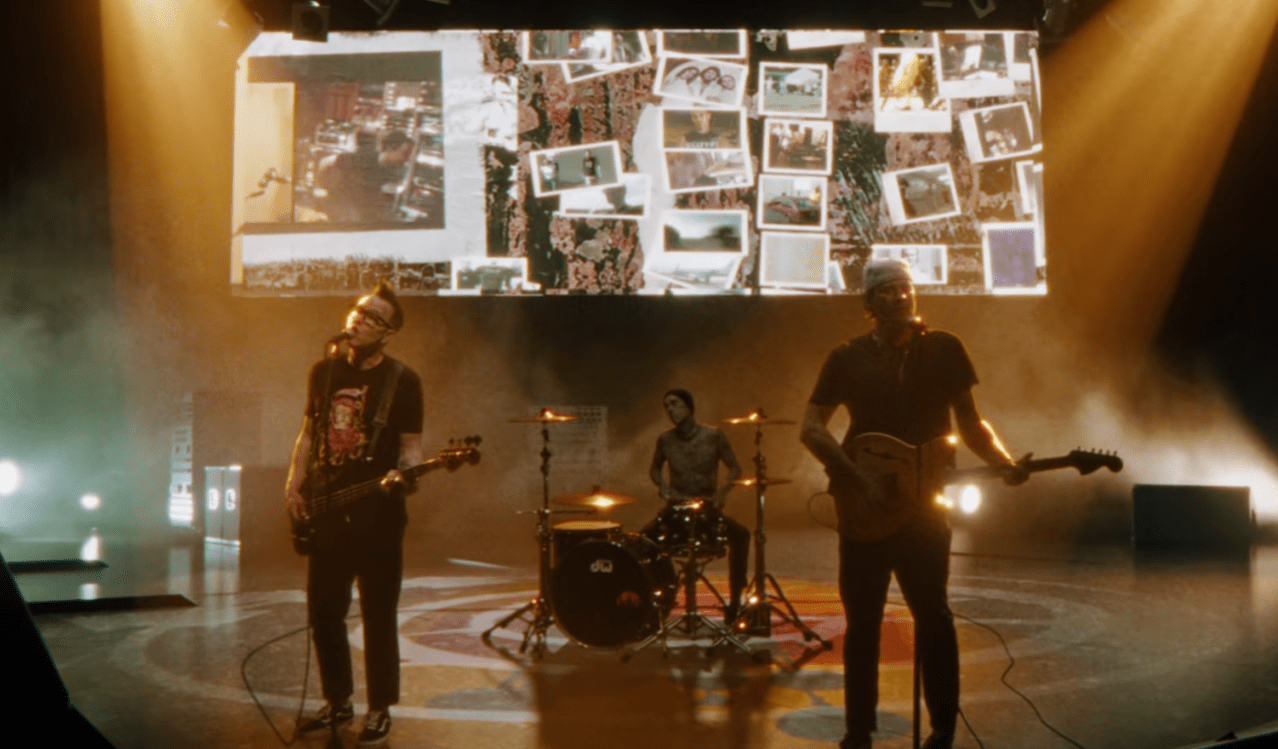 blink-182's New Music Video Is A Beautiful Ode To Friendship And Forgiveness
There are many pivotal moments in our lives, moments that still stay crisp in our minds no matter how much time has passed. One of these instances for me was the announcement of blink-182's "indefinite hiatus."
My family had just moved to Köln, Germany because my dad received a major job promotion that required us to live abroad for a few years. So far, I wasn't fitting in terribly well. I was gangly and hyper and always had way too much to say.
During this time, I found a lot of comfort listening to music, specifically pop punk. Green Day, Jimmy Eat World, Weezer, and The All-American Rejects were regularly in rotation. But blink-182 was always my favorite.
Eventually, things did improve at school. I made friends, some of them because we bonded over music. On the bus ride home from school, we'd take turns playing songs we'd downloaded recently onto our iPod nanos, discussing what we liked and what we didn't and what lyrics resonated the most.
Then that fateful day in 2005 arrived. I was rearranging the code on my MySpace profile while simultaneously chatting on MSN with friends when I found out. I was devastated. Mark, Tom, and Travis were supposed to be best friends. Surely this had to be bigger than music. Because best friends were supposed to be forever, weren't they?
Besides loving their catchy hooks, guitar riffs, and playful and at times heartbreaking lyrics, what I adored most about blink-182 was the fact that they seemed to really love each other. I used to spend hours watching clips from old live shows and private performances, laughing out loud as Mark and Tom teased each other while Travis snickered from the drum set. They were the definition of brotherhood.
After the announcement of their split, Travis and Mark went on to form the band +44. They recorded one album When Your Heart Stops Beating, complete with the bitter track "No, It Isn't" which is rumored to be about their feud with Tom. Meanwhile, Tom created Angels & Airwaves, with whom he released several albums with.
In 2011, Tom, Travis, and Mark did reconcile briefly as blink-182 to record their album Neighborhoods, following Travis' near-death experience in a plane crash in 2008. However, Tom left the band once more in 2014 due to creative differences. From there, Travis and Mark hired Matt Skiba of Alkaline Trio to replace Tom. More years passed, complete with two new blink-182 albums sans Tom.
Then Mark got sick. In 2021, Mark told fans he was undergoing chemotherapy. He had stage IV diffuse large B-cell lymphoma, an aggressive form of cancer.
Once Tom received the news of Mark's sickness, none of the anger or anything else mattered anymore. In a new trailer for blink-182's upcoming album One More Time, Tom opened up about how he didn't think he would be playing music much longer. "I remember telling my wife now, like, 'I don't think I'm ever gonna play music again, I don't think I'm ever gonna tour again,'" he recalled. "Until Mark told me he was sick, and then I was like, that was the only thing I wanna do."
Today, Mark is cancer-free. And this week, blink-182 released two more songs from their forthcoming album: "MORE THAN YOU KNOW" and "ONE MORE TIME."
With these drops, blink-182 also shared their music video to "ONE MORE TIME." The music video and song is a beautiful ode to friendship but also the power of forgiveness.
"ONE MORE TIME" is also a moving meditation on the trio's regret of the years they lost to their feud. On the second verse, Mark sings:
"Older, but nothing's any different
Right now feels the same, I wonder why
I wish they told us, it shouldn't take a sickness
Or airplanes falling out the sky"
Life is so cruelly short and so much bullshit can happen while we're alive. But if we happen to find the right people while we're here, it can make all that pain and brevity worth it.
As blink-182 shows us, we need to be mindful about what we let get in the way of what and who matters. Because if we're not careful, we might blink and miss what was the most important.
You can watch the video here: