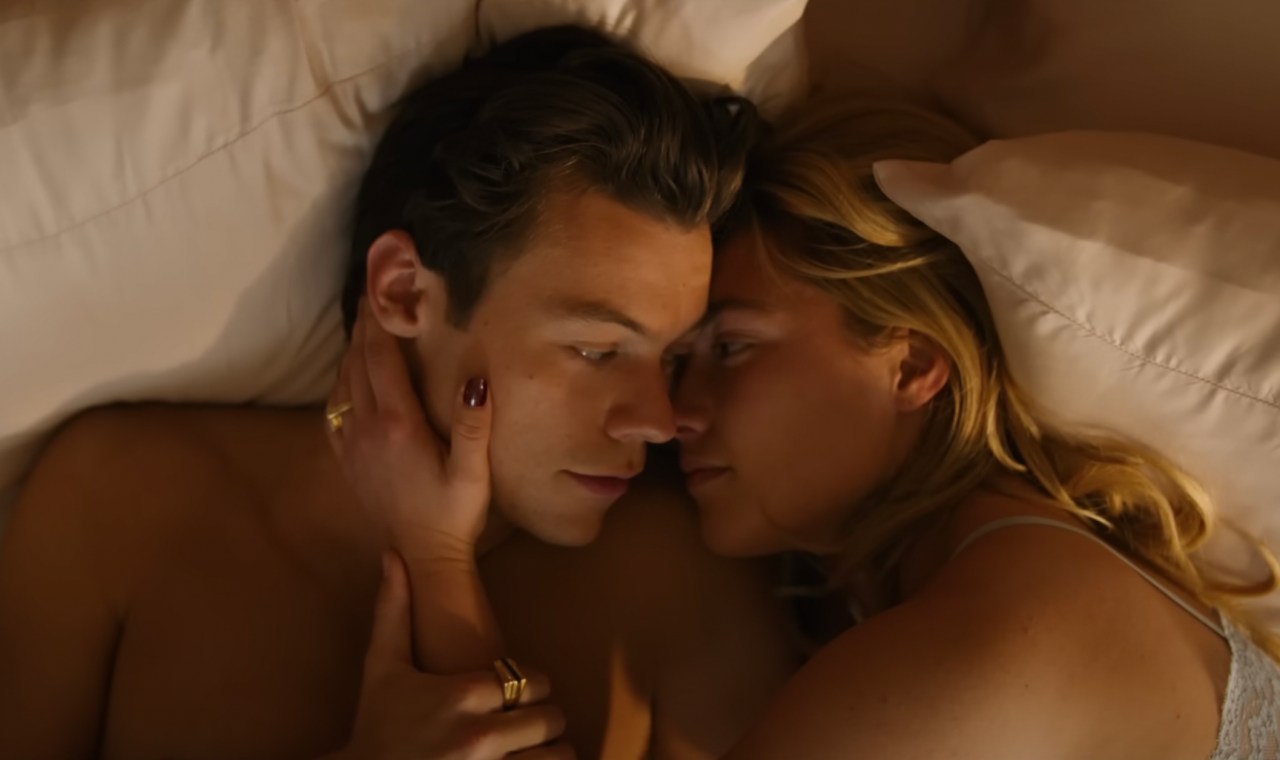 Don't Worry Darling, I'll Explain The Tea With Florence Pugh, Harry Styles, And Olivia Wilde
If you've been anywhere near social media within the last week, you've undoubtedly heard about the Don't Worry Darling drama. Or, at the very least, you know there is drama there, even if you don't exactly know what it's about. There's little chance you haven't seen a video of Chris Pine zoning out in the middle of Harry Styles's interview, even if you aren't sure why. Or you've heard that Florence Pugh basically dropped out of every press-related event regarding the movie, which many people think is a slight to Director Olivia Wilde.
But have no fear: This article is for those of you who can't escape the film's drama but can't actually figure out what's going on. Why is Florence Pugh mad at Olivia Wilde? Are Olivia and Harry Styles dating? Did Harry Styles spit on Chris Pine? Let me spell it out for you, darling.
Sex, Styles, And Getting Served
Perhaps the very first whiffs of drama came after internationally renowned popstar Harry Styles was cast as the leading man of the film, despite only having a few acting credits to his name. Soon after filming began, many rumors about Styles and Director Olivia Wilde began circulating, despite Wilde's seven-year engagement to actor Jason Sudeikis, and within a few months, Wilde and Sudeikis officially split, with Sudeikis winning the public's sympathy. Two months later, Wilde and Styles made their couple debut at Styles's agent's wedding, though it was rumored that they'd been dating for a while by then.
During filming, there were also unverified rumors circulating that Styles and Wilde were constantly sneaking away together, showing up late to call times, and ultimately acting unprofessional on set due to their relationship.
But perhaps the most public display of this relationship drama happened during CinemaCon, where Wilde was served custody documents from Sudeikis while onstage speaking about Don't Worry Darling. Wilde later characterized this situation as "vicious" and "an attack," though Sudeikis claimed it wasn't intentional.
Though Wilde and Styles are generally quiet about their relationship, Wilde has been spotted at several of the singer's concerts, and it's believed that a few of the songs on Styles's newest album, Harry's House, reference the director. However, many have called their relationship into question after their appearance at the Venice Film Festival, where the two showed up separately and seemingly kept their interactions to the bare minimum.
While it's entirely possible (and even likely) that Styles and Wilde's choice to keep their distance was a PR move to try to keep people's attention away from the drama surrounding the film, it left many wondering if Wilde and Styles were still together and on good terms.
The Shia LaBeouf Showdown
Fun fact: Harry Styles wasn't originally meant to be in the film at all. The popstar only took over the role after the original frontman, Shia LaBeouf, left the project.
In 2021, Olivia Wilde, the film's director, implied that LaBeouf was fired due to her "no assholes" set policy, which seemed to match up with the actor's general public persona—not only did he have a well known history of being combative on set, but a few months after he parted ways with Don't Worry Darling, his ex-girlfriend, singer FKA Twigs, sued him for sexual battery, assault, and emotional distress. In general, this was a widely accepted explanation for why Harry Styles was later cast instead.
However, the narrative began to change in August 2022 when Olivia once again went on record explaining that she fired LaBeouf due to his combative nature and how she believed it was important that Pugh felt comfortable on set, especially since she was being asked to make herself very vulnerable for the role. Soon after, LaBeouf denied that he'd been fired from the role and leaked several emails and even a video of Wilde attempting to convince him to come back to the film, even going so far as to say, "You know, I think this might be a bit of a wakeup call for Miss Flo, and I want to know if you're open to giving this a shot with me, with us. If she really commits, if she really puts her mind and heart into it at this point and if you guys can make peace—and I respect your point of view, I respect hers—but if you guys can do it, what do you think?"
The leaked video of Wilde was pretty damning to the director's public perception, especially after she painted herself as a strong supporter of Pugh's. It is highly believed that this might have played a role in Wilde and Pugh's strained relationship later on.
The Florence Pugh Feud
The first sign of drama between the director and her leading lady was actually quite subtle. As the Don't Worry Darling promos began rolling out, fans began noticing that Pugh didn't acknowledge the film on her social media accounts, instead choosing to promote her other upcoming films. What made it stranger was that Wilde made several instagram posts dedicated solely to Pugh's performance, though Pugh didn't interact with or otherwise acknowledge them.
Many people began speculating why there might be bad blood between the two, with three main theories circulating online:
The first theory had to do with unverified accounts from the supposed crew of the film, which claimed that Wilde was so wrapped up in her workplace romance that she often showed up late to her call times or left Pugh to take on parts of her job.
The second theory had to do with Pugh's disapproval of Wilde's relationship with Styles, especially since Pugh's then-boyfriend, Zach Braff, was good friends with Jason Sudeikis, Wilde's fiancé of seven years. If Wilde really did begin an on-set romance with Styles before Wilde ended her relationship with Sudeikis, it's clear how that might cause discomfort for Pugh.
However, as the film began receiving more coverage, it became clear that there were several other points of contention that could have led to the tension between the two women. For instance, Wilde's promotion of the movie focused almost solely on the sex scenes and their depiction of female pleasure; later, Pugh told Harper's Bazaar, "When it's reduced to your sex scenes, or to watch the most famous man in the world go down on someone, it's not why we do it. It's not why I'm in the industry."
Similarly, once the Wilde and LaBeouf drama came to light, many began to wonder if part of Pugh's standoffishness toward Wilde also had to do with her discomfort with LaBeouf and Wilde's attitude surrounding this conflict before Styles was cast.
The rift between Pugh and Wilde became more obvious in the lead-up to the film's premiere at the Venice Film Festival, when it was announced that while Pugh would walk the red carpet but wouldn't attend the press events or any other promotional events. And though Wilde claimed this was due to Pugh's Dune filming schedule, it began to grow into an increasingly unbelievable excuse, given Pugh's Dune costars (including Timothee Chalamet, who plays the main protagonist) were promoting their own movies at the festival and that Pugh was later caught on camera drinking an Aperol Spritz outside the festival during the press event.
While Pugh did walk the red carpet and attend the screening of the film, she pointedly didn't interact with Wilde or Styles, and she cut the post-screening standing ovation short when she left four minutes into it, causing the rest of the cast to follow her out of the theater.
It doesn't help that in the only interview Pugh did about the film, she said, "I think it's very, very inspiring to see a woman push back and say 'no' and question everything. It's very exciting to see a woman do that on and off camera." I think we got the message loud and clear.
Did Harry Styles Spit On Chris Pine? An Investigation
This was definitely one of the wilder rumors that came out of the Venice Film Festival, with people online arguing over whether the popstar spit on the veteran actor due to this video clip from the film's screening:
The reason people believe Styles may have done this? There literally is none, but this film has become so notorious for its drama that we're now looking for it everywhere.
Admittedly, Chris Pine's reaction does make it seem like he could have been spit on, though I personally believe it's more gossip fodder than anything else. Not only does it seem pretty off-brand for Styles's public persona, but it seems unlikely that he would do something so disrespectful in a public setting where he knows he's surrounded by cameras. Others have pointed out that if Styles had spat, it's likely that Pine would have wiped it away, which he didn't.
But there's another reason I'm skeptical about the claim that Styles spit, and it's this: It's clear that everything about this premiere has been planned to mitigate the drama as much as possible. The cast was carefully placed at every event, often keeping Styles away from Wilde and Wilde away from Pugh. It seems unlikely that they would have kept Styles and Pine together if there was any ongoing beef between them.
Is Don't Worry Darling the most cursed film of the last decade? Probably! And though Pugh clearly means to distance herself from the project, it's unlikely that anyone's going to forget all the relentless drama surrounding it. I, for one, won't stop talking about it and don't ever plan to.
Look, whatever it is that's happening with the Don't Worry Darling cast and crew, it's clear that nobody's having a good time, except for maybe us, the dirty gossips of the world. Xoxo.