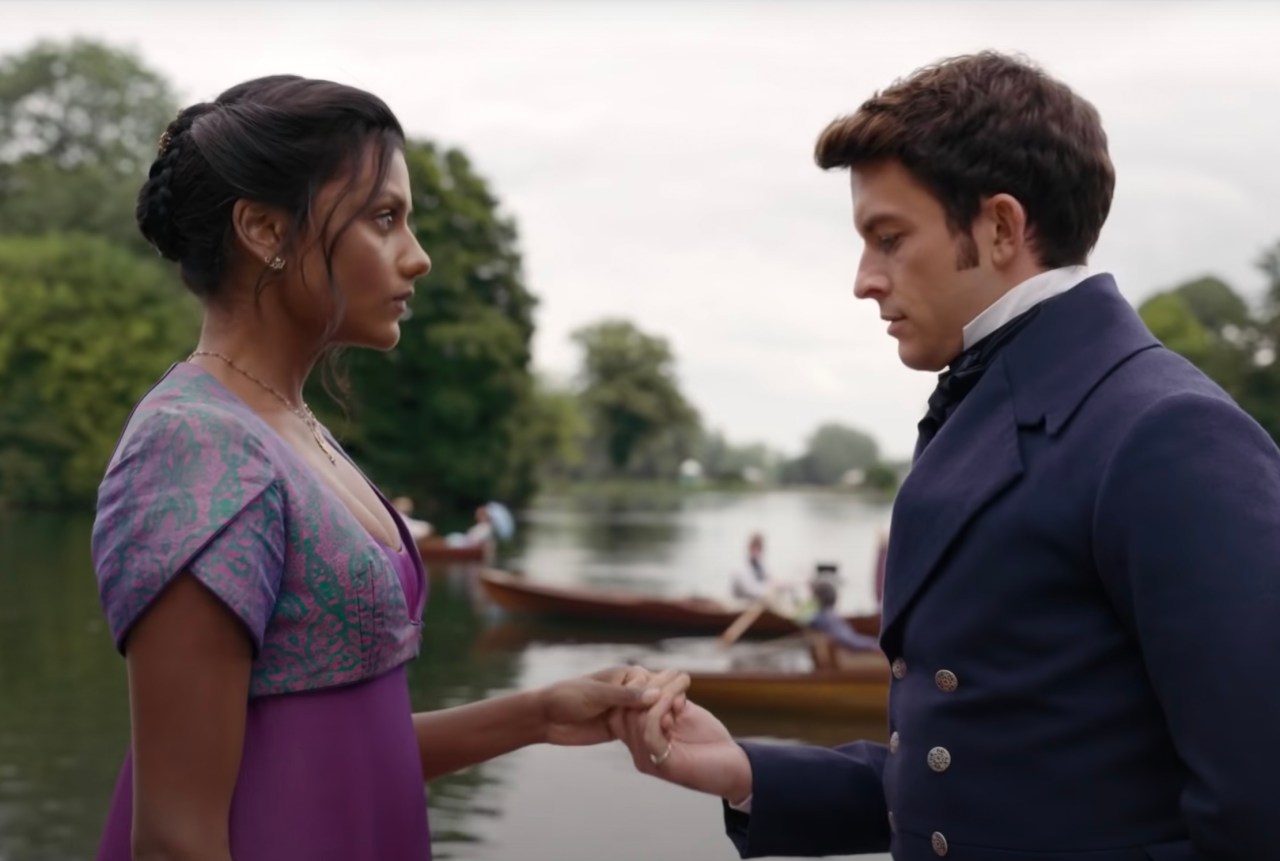 Here's Why 'Bridgerton' Season 2 Is Sexier Than The First (Even Though There's Less Sex)
This article contains spoilers for season 1 & 2 of Bridgerton
Here's the thing: Season 1 of Bridgerton was full of sex. At least, just enough that I felt slightly embarrassed admitting to my mother that I, too, had binged it nearly as soon as it dropped on Netflix. Halfway through the season, we pretty much got a 10-minute sex montage between the main couple, something I hadn't initially expected to grace my screen (though it wasn't unwelcome). In comparison, season 2 is basically a frustrating, never-ending dry spell. But even without the sex, season 2 managed to be way sexier.
Seems impossible, right? But hear me out—it might actually be because there was less sex.
This isn't a jab at Regé-Jean Page and Phoebe Dynevor, who absolutely killed it as Simon and Daphne. Their chemistry felt so palpable, so real, and Page alone was a masterclass in smoldering. But there's something entirely different about how Jonathan Bailey and Simone Ashley portray Anthony and Kate. Simon and Daphne's chemistry reminded me somewhat of a planet—strong and solid on the surface, but absolutely searing at its core. Anthony and Kate, on the other hand, were like a volcano, their desire boiling deep down and inevitably bubbling to the surface, threatening to explode at any moment—and no doubt going to take some casualties when it finally did. It was just that powerful.
This probably had to do in part with Kate and Anthony's initial dynamic. Anthony was obviously intrigued by Kate from the very beginning, but they got off on the wrong foot when Kate realized he only wished to marry for convenience—and that her sister was the target of his misogynistic requirements. Kate decided right then and there that she loathed Anthony Bridgerton, and the feeling was returned when he realized she only saw the worst in him and would do anything to stop his plan to marry her sister. So began one of the best tropes in romance to date: enemies to lovers (with a generous dash of forbidden love—my weakness).
Sure, Simon and Daphne got off on the wrong foot too, but it didn't last long enough (or feel significant enough) to really be considered enemies to lovers. And while there's certainly something to be said about friends to lovers, it's not quite as spicy as the push and pull that comes with swearing up and down that you absolutely hate someone while secretly wanting nothing more than to jump their bones. Sure, in the first season, we got Simon's famous "I burn for you" speech, which is certainly one of my favorite onscreen love (lust?) confessions. But season two gave us "You're the bane of my existence and the object of all my desires." It gave us "Do you think there is a corner of this earth that you could travel to far away enough to free me from this torment?" It gave us "Do you even know all the ways a lady can be seduced? The things I could teach you?"
Excuse me, sir, I'm trying to breathe over here.
So sure, Kate and Anthony took much longer to finally act on their feelings for one another. But honestly, that's why it worked. We had to watch Anthony bang it out with his mistress almost every episode last season, and generally… I felt nothing toward them. There's something about onscreen relationships that tend to fizzle out a bit once the romance has been realized. Kate and Anthony were a slow burn through and through, though not lacking any of the tension, chemistry, or carnal desire. And though at times the conflict did admittedly feel a little drawn out, I didn't find it quite as grating (or boring) as Simon and Daphne's post-marital drama. Their reasons for staying apart made sense—Anthony was traumatized by his father's passing and wanted to protect himself from any more emotional torment, Kate wanted to ensure the best possible outcome for her sister and didn't want to betray her, and neither fully understood what they wanted until it was too late. The fact that Kate and Anthony seemingly had every reason not to be together but still had to constantly fight tooth and nail to keep away from one another simply made their precarious attraction all the more interesting. It didn't quite feel like the love Simon and Daphne shared, but it felt inevitable all the same—and admit it, there's nothing better than longing stares, stolen moments, and almosts.
So maybe we had to wait till the second to last episode to see Kate and Anthony finally give in to their desires, but the delay, while maddening, made it all the more exquisite. Personally, I think it was worth it to watch Anthony go absolutely feral every time Kate walked into a room, because that's the kind of tension that often disappears once an onscreen couple finally gets together—and if that means a few less sex scenes, well, I suppose it's a fair trade.
… That being said, give us more Kate and Anthony scenes in season 3, please! I too would like to be freed from this torment.