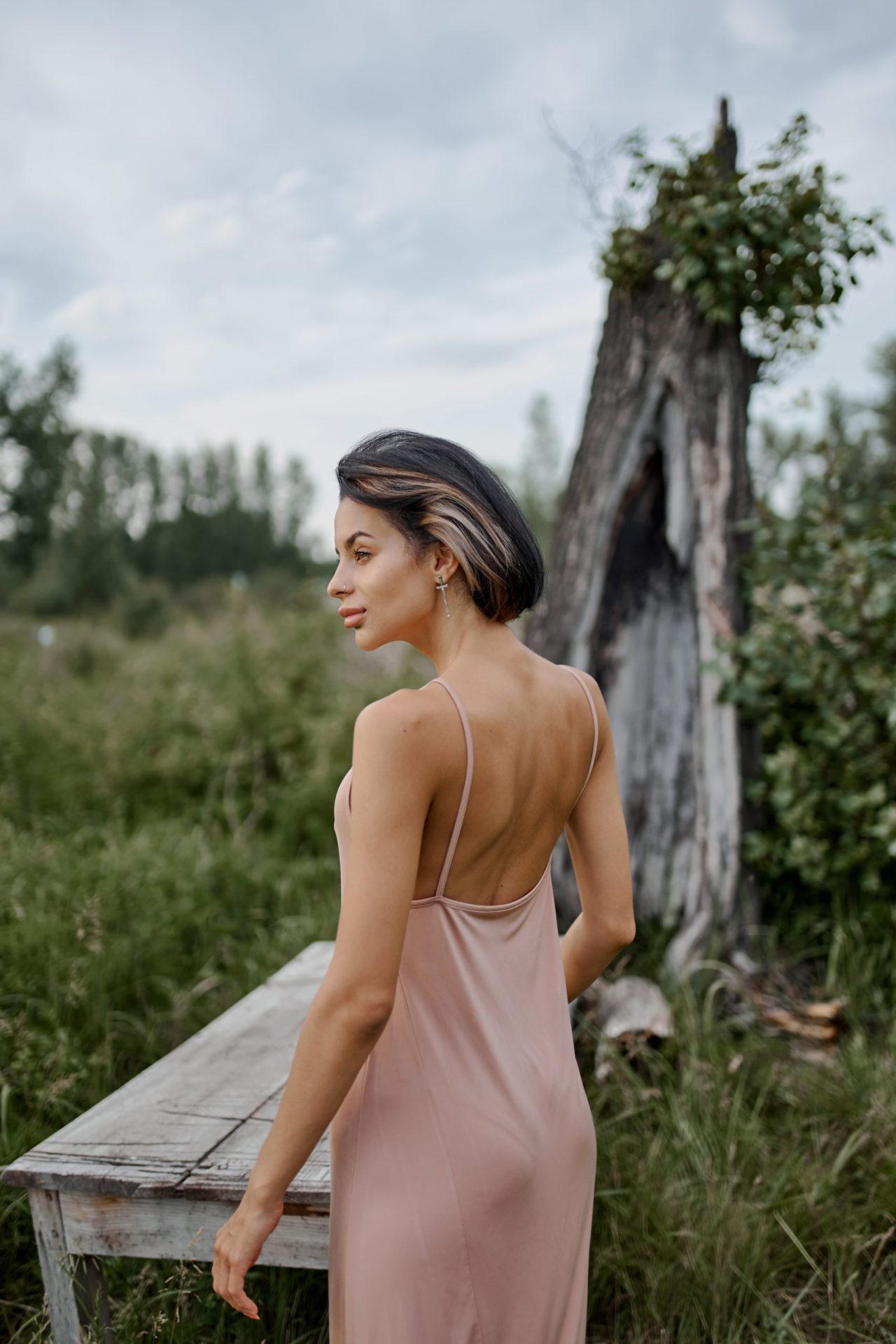 How Cutting Off All My Hair Helped Me Reinvent Myself
I cut off all my hair. Okay, that may have been a bit of an exaggeration. I didn't cut it all, but my stylist did use the word "bob envy" when she finished. I told her to cut off what I didn't need, what had been dead and holding on, pretending to be living. The damage was done once she flipped my chair and I looked in the mirror. My past-shoulder-length hair was now a chin-length cut.
At first, I wasn't sure that I loved it. I thanked her, paid her, and went straight to the restroom to silently contemplate what I had done. I messed with my freshly chopped hair standing in different positions in front of the bathroom mirror, as if that did anything to change the five inches I'd lost.
I wasn't sure I liked how I felt about it yet and somehow that intrigued me. Am I a masochist? No, but I am careful. I take calculated risks and make predictably comfortable moves until my tamed adventurousness bubbles beneath the surface. I'd been due for a rash decision and this was it. Just as I looked at myself intently in the mirror, no makeup, slightly purple shades underneath my moss green eyes, dangly earrings made from recycled water bottles, and short locks ending at my jaw. I didn't recognize myself for a moment… and I liked it.
A woman's relationship with her hair is sacred, even among those of us who pretend not to really care. I've been the person who states matter-of-factly that hair and all things beauty are vain endeavors that don't define a person or deserve my time. And I'm also the person who catches a reflection of herself in the mirror and grunts on frizzy hair days.
My relationship to my hair has been varied. I've fought with it for years, trying to make it something it isn't. My hair is dark brown and curly, a shade and texture revealing my Spanish-Cuban roots. For most of my childhood, it's been mid-length hair I have ironed into submission. As soon as I was old enough, I begged my mom to dye it. I grew it longer than it had ever been and made it blonde. It was my first bold reinvention right before my freshman year of high school, the years I wanted to fit in and emulate the standard of beauty shown to me in magazines (this was the pre-social media era). I'd be blonde until college, my experimental years and the first time MySpace and Facebook entered our lives. That was when my hair cuts would become something that needed to photograph well so as to communicate something about me in my profile picture.
From there I was a bit scattered, prompted by breaking up with my high school sweetheart, I went back to brown, then copper, then purple, then jet black. With each color I looked harder and harder in the mirror, hoping I'd found myself, the woman I could be to get over the breakup, the angst, the weight of my own emotions. Eventually, life slipped into a new groove. I felt confident, settled in my own skin, and I became blonde once again.
I looked in the mirror at my long blonde hair, wondering why I'd ever changed a color that worked so well for me. Blonde was my era of fun, carefree, frivolousness. I said yes to invitations, danced in VIP rooms. I wasn't preoccupied. I may have even gone through a short phase of being an "it girl." College was ending and I was happy to be home in a hair color that had been kind to me and made me feel sexy and free. All the other colors seemed to have weighed me down, they were heavy and came with phases of solitude, too much eyeliner and the contemplation of big questions I hadn't a clue how to answer.
This lasted a few years, well into my mid-twenties when I once again found myself staring into the mirror as I was about to go out. I was all made up. I never left my house without makeup. My hair was dry, of course, from all the bleach and blending to make this color look as natural as I felt in it. But it wasn't feeling so natural anymore. The maintenance, the length, the brittle ends were getting to me. The source of my greatest physical transformation didn't fit any more and I wasn't sure what to do. In fact, a lot about my life wasn't fitting anymore, and I didn't know what to do about that either.
My relationship status, which I had focused on for so long, was finally the best thing in my life. I met a man I loved and we were getting to know each other. Our honeymoon phase was drowning out the looming questions in my life. It had been years since I stopped and asked myself, "Is this working for me?" Before my love bubble distraction, it was my longing to be loved that drowned out the silent truth that I was outgrowing a lot of things and people. Now that I had settled into a partnership that felt healthy and stable, the realizations were too loud to ignore. Outdated friendships, my job, the manuscript I wrote and did nothing with, they were all screaming for my attention loudly, and it was time to listen.
I was so overwhelmed I didn't know what to do. So, I did nothing. I let my hair grow out and my roots began to reveal my natural color, which I hadn't seen since elementary school. I let everything grow out. I let the friendships that no longer worked fall by the wayside. I stopped showing up in any meaningful way to the job that wasn't satisfying me. Slowly and steadily, my hair turned into a long two toned mess of waves. To my convenient luck, the Ombre style hit it big. People constantly asked me where I got mine done. I'd laugh and tell them to drink enough wine and stop giving a fuck. It'll work like a charm.
Eventually, I had to do something. About my hair and all the things I wasn't thrilled with. Letting things rot away without making a decision is still a decision. I was kidding myself to think I had been on a pause when life stops for no one. So I made the decision to choose myself.
During the time of growing my blonde hair out, I'd made stronger friendships, I'd gotten engaged, I'd even started to write a new book, a little something fun about my twenties, something just for me. Eventually, the time had come again. I stared at the girl in the mirror, and it was time to cut the last remaining blonde ends away.
"It's the end of an era," I thought as I saw tiny pieces of faded blonde fall to the ground and get swept up at the saloon. Just like that, the last trace of my frivolous years were gone. I was brunette once again, but not the manufactured browns and coppers I'd experimented with when I was trying to be edgy in college. No, this was me. My own face set upon a backdrop of my own hair, the color and texture I'd been resisting for years finally fully present and visible.
Now that I stopped trying to make it something else, I noticed it had changed. Everything I did to it caught up with me. My hair stopped growing past my shoulders from that point on, and it was never as thick as it was during those long, blonde years. My hippy-length hair days were behind me––just in time for my thirtieth birthday. The moment was ripe for another impulsive move, so I signed my fiance and I up for a self-help workshop. I'd never done anything like that before.
The experience changed my life. I was reinvented and ready for a new decade. My book Embrace That Girl was published and the years following that workshop and haircut were as natural as can be. I'd never been more myself in my entire life. I parted ways with the last of what was not working, we left our life in Miami, Florida and moved to the mountains in North Carolina. We had a wedding in a vineyard in Spain staring at a panoramic view of Toledo laughing and dancing with all our friends. The perfect segway to our new life.
I thought I'd figured it all out. Just as I'd come home to my chestnut color, I'd come home to my own sensibilities and artistic freedom. This wasn't the carefree energy I confused for real freedom in my twenties, this was something different. Life was good… until it got hard again.
Life does this, I'm learning. Little by little, my self-doubts came back. Every road block we hit with our new mountain home chipped away at my newly found confidence. Every challenge with my book made me question if I was in over my head. And worst of all, I couldn't find anyone that knew how to cut my damn hair. Three bad haircuts and two years later, I found myself looking in the mirror once more.
My liberating natural color was becoming ever more dull in my eyes, and worse, sprouting gray hairs reminding me of a big decision I've put off making: starting a family. Will my eggs shrivel up before I decide I don't want to be in full control over my body and life? Am I really so selfish that my wanting to wait will actually mean I don't get to be a mother? I'm approaching the threshold women warned me about, the "at risk" mark. All of a sudden the things I was so proud of myself for were getting clouded. I'd just written a book about embracing myself, but here I am plucking another two gray hairs and wondering if people will like me once they read it.
I need a haircut. I need a really good haircut.
I told my husband this was a routine cut with a new hairdresser. "I want to try her out," I said. But perhaps after years of being together, he's picked up when I have an itch. "Don't cut it too short, okay?" he told me before I walked to my appointment. I kissed him on the cheek on my way out. "I won't."
And now I'm walking back, defiantly proud that I've cut it short, that I'm wearing sandals, not heels to make myself look taller, no makeup to cover up the sun spots, and I'm light as air. I'm floating. I don't even care if it looks good. I feel like I did something that reminded me I can do things.
I allow myself to fully feel this before I talk myself out of it, before I shrug it off, like "It's just hair." Because it's not. When I see my short hair, the rest of me grows into that new person. On the flip side, when I've gone through something so big, I've wanted to change something physical so I can see it.
I knew the moment I let that woman snip my locks I was on the precipice of another era. I can't tell what it is yet, but I can feel the shedding of something old being replaced by the electricity of new possibilities.