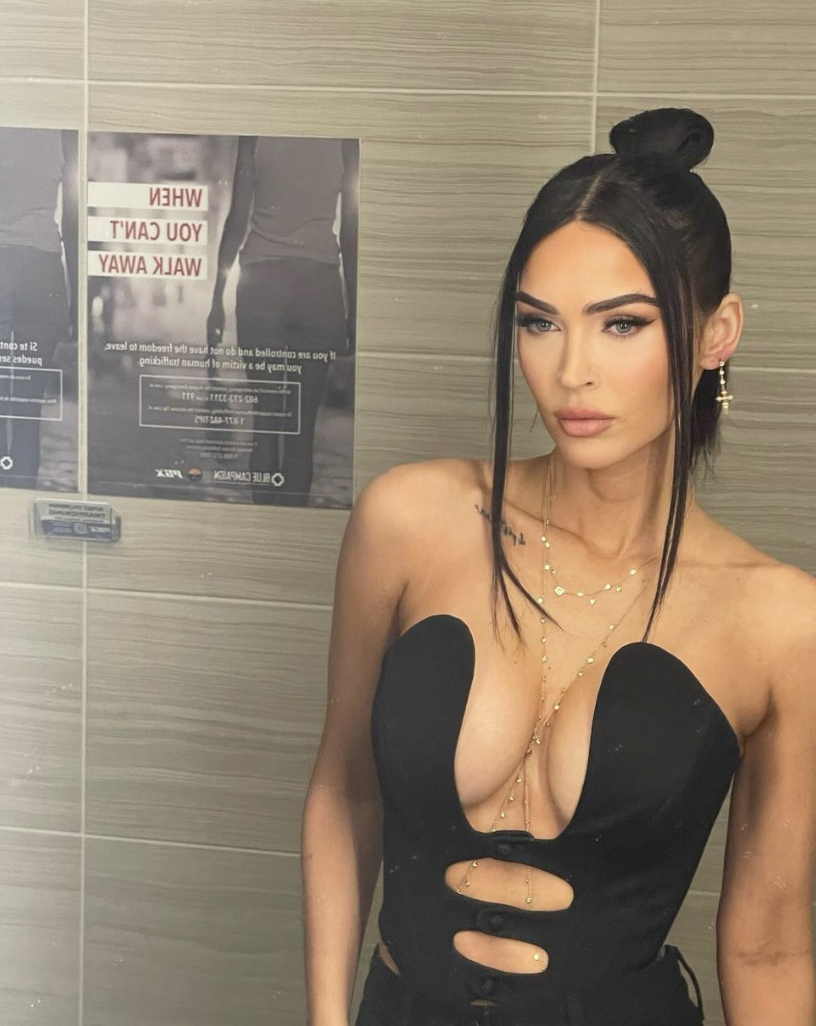 Updated on
How To Soft Launch Your Breakup, According To Megan Fox
Well. It turns out twin flames Machine Gun Kelly and Megan Fox could have finally burned out.
Speculations of the split arose this morning after Fox, 36, took to Instagram with a thirst trap (tysm). The caption to the post contained lyrics from Beyoncé's "Pray You Catch Me," a song off of her hit album Lemonade. "You can taste the dishonesty/ it's all over your breath," the caption reads, alluding to potential infidelity from Kelly, 32. The final image in the carousel is a video of a letter burning. Oh, and Fox also deleted all of their pictures together, including their engagement announcement.
While we can't 100 p confirm a breakup until Fox and Kelly comment on the matter explicitly, it seems pretty damn certain that this is a breakup soft launch. And what is a breakup soft launch, you ask? Allow me to explain!
Like a soft launch of an official relationship, a soft launch of a breakup hints to the fact you and your partner have called it quits. Someone may want to soft launch their breakup for a variety of reasons, be it because they aren't ready to fully admit the relationship is over to everyone or to control the narrative.
While it's more of an art than a science, there are a few steps one can take to soft launch a breakup. And we can learn a lot about this from what we saw this morning from Fox.
And so, without further ado, here's how to soft launch your breakup, according to Megan Fox.
Step 1: Delete the photos
First, you need to delete or archive the photos of you and your ex on your Instagram. This should be done right before posting your breakup soft launch post. Timing is important here because you want to soft launch the breakup on your own terms. You want people to see your post first and then go and investigate the rest of your feed for more clues of a breakup.
Step 2: Take your thirst trap
Next up, take the thirst trap to not only remind your ex of what they're missing but to show the world you are a free agent and ready for suitors and compliments. The sluttier, the better here. Don't be afraid to go all out.
Step 3: Perfect your caption
Cryptic song lyrics like it's an AIM Away message in 2006? Yes, please. Find a song that explains your current relationship status like Fox did. If you need inspiration, look to Taylor Swift's entire discography or 2000s pop punk that was full of songs about angst and heartbreak. The trick here is to keep it short and sweet, though. You don't want a novel of a caption, just short and compelling enough to get people wondering.
Step 4: Post in the morning
This will get more bang for your buck as it's when everyone is scrolling and refusing to get out of bed. As soon as you have all of your items ready to post, share it. Be sure to engage with the comments that seem to understand what's going on with a simple like. Mysterious, yet still validating to the breakup.
***
If you're about to breakup with your S.O. or have just done so and haven't announced the news just yet, a breakup soft launch may be your first step to healing. Or just being petty. Either way, you're moving on, right?