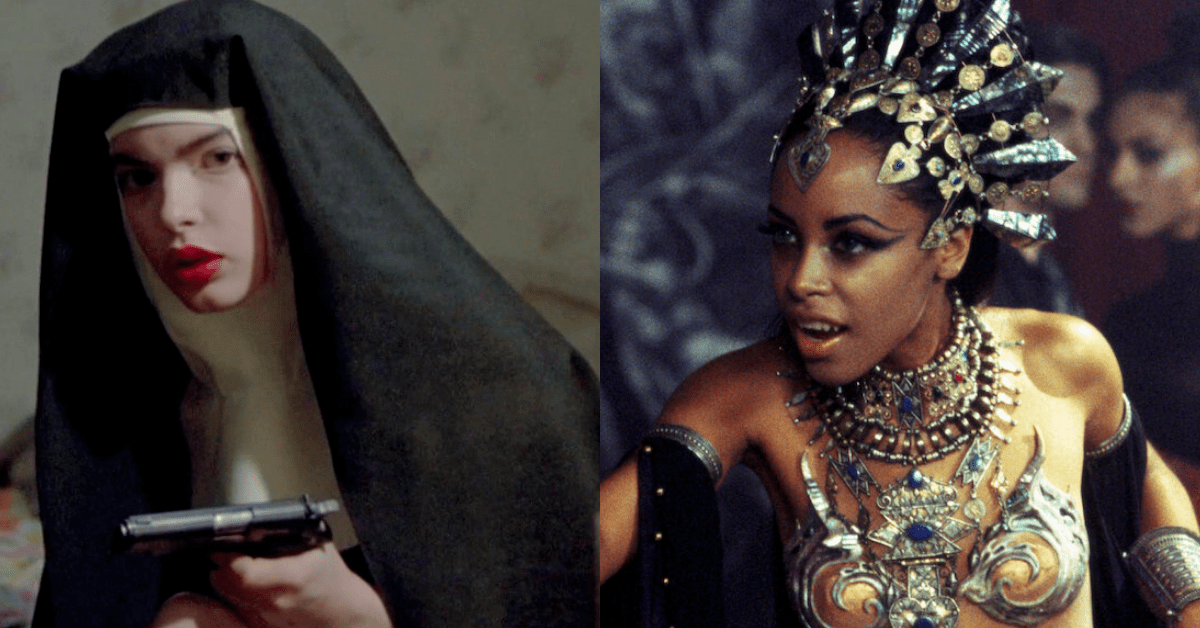 If Looks Could Kill: Hottest Fashion in Horror History
Horror movies aren't all about the thrill of the kill, and it's fair to recognize the elements that go into these films. When they say it's all about aesthetic, think back to your favorite horror flick, and realize what stands out to you the most! These films truly bring storytelling to the next level, with their impressive use of imagery, and costume design.
Rocky Horror Picture Show (1975)
If you're into glam-rock fashion this is the movie for you. This cult phenomenon is iconic not only for its incredible music, and it's magical wordplay, but their outlandish costume choices. One of the best examples of their fashion choice is Dr. Frank-N-Furter, played by Tim Curry. The doctor rocks a black outfit consisting of a corset, panties, a garter belt with thigh high stockings, a pearl necklace, and even an epic cape in the beginning of the film!
Sweeney Todd (2007)
Sweeney Todd is actually an extremely well known figure from the Victorian Era, with its start in the. penny dreadful serial The String of Pearls. Although that was in 1847, the tales of Sweeney Todd lived on, all the way into the 2007 adaption by Tim Burton. Using combined talent to create an amazing Gothic-Victorian world, Burton and costume designer Colleen Atwood brought things truly to life. This movie uses details in its characters such as textures, accessories, silhouettes, and color shows that it is possible to have a blend of glamour, and goth all in one.
The Bride of Frankenstein (1935)
First introduced in Mary Shelly's novel, this beautiful creation is most commonly known by its eccentric hairstyle, featuring white lightning-trace streaks on each side. The costume designer, Vera West truly captured the gothic essence of this era, with beauty in each bandage wrapped around her entire body, down to the gloves that look like something out of a Victorian ball.
Carrie (1976)
Carrie is one of the most popular Stephan King adaptations of all time, and Director Brian De Palma was able to capture this in one of the most intriguing coming of age story ever. In this film, you see Carrie grow and develop herself from beginning to end. With her deep commitment to modest looks in the beginning, all the way down to the now-iconic simple silk dress she crafted, just to be covered in blood and transitioning to the dress we all know today.
Ms. 45 (1981)
This exciting thriller doesn't only have an incredible plot, of a vigilante seeking her justice, but the entire ensemble of her being dressed as a nun with thick red lipstick and a .45 caliber pistol strapped to her side. Revenge style films are always a classic, but when an extremely traumatic event happens- and the main character goes off the edge, this portrayal truly makes this film what it is.
Queen of the Damned (2002)
When you think of beautiful vampire films, get Twilight out of your mind and think about this work of art. This movie stars the late Aaliyah as the vampire queen herself. Angus Strathie was the costume designer behind this film, and captured the essence of beauty behind each piece. With elaborate headdresses, jewelry, and body plates, it doesn't skimp out on any design.
Midsommar (2019)
Cults weren't known as chic before the release of Midsommar. With beautiful flower crowns, and white flowing dresses you wouldn't even know the horrors that lay within this. Everything was created from scratch, to match the Scandinavian traditional wear, and sticks to Swedish traditional clothing as much as possible down to the color, and linen composure and flow of the dresses. Each costumes embroidery shows off the. different families and jobs within the community.