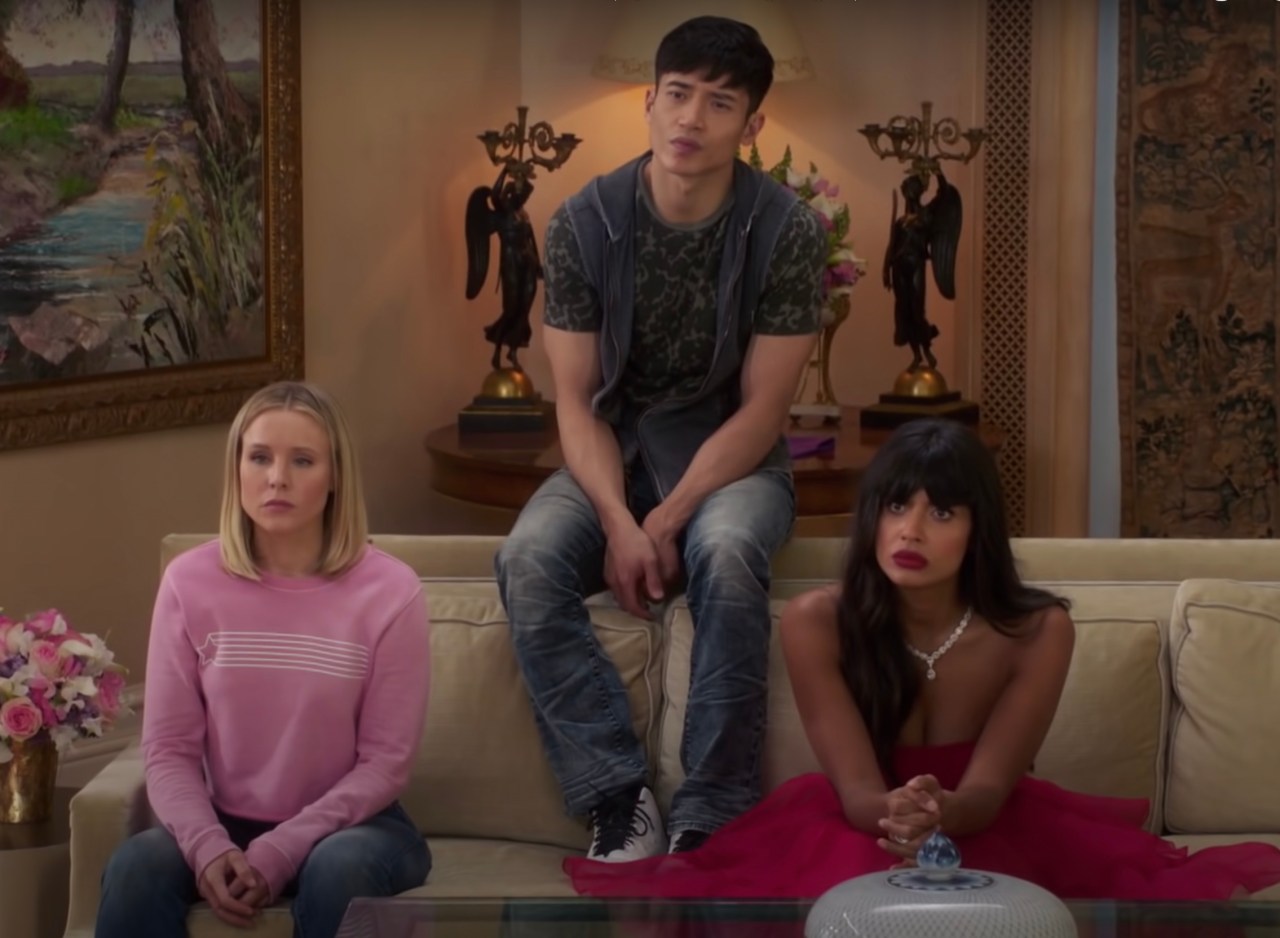 Instead Of Rewatching Your Favorite Shows (Again), Stream These Hidden Gems
With all the new streaming services out there today, we have run into the same problem that humans have always had with cable: There are too many things to watch! Through the spectacular internet, be it my recommendations lists for each service or social media, I have found many hidden gems that will replace those rewatch urges and will dare you to try something new!
FOR FANS OF RUPAUL'S DRAG RACE
Boulet Brothers Dragula, Found on: Shudder (Formerly on Netflix)
While on Facebook one day, I stumbled upon a drag queen named Biqtch Puddin' who was looking at nail art. Her commentary was hysterical and left me in stitches. After that, I set out on a quest to find who this person was and why I hadn't heard of them before. If you, like me, watch Rupaul's Drag Race and know who Bianca Del Rio is, you will get more laughs with Biqtch Puddin'.
Putting "Bitqtch Puddin'" into Google, it came up with the show Boulet Brothers Dragula. This series also happened to be on my recommended list for Netflix, but I never dived in. When I finally did, I was blown away by the absolute stunning creativity by these queens. While RuPaul's Drag Race is about "Finding America's Next Drag Superstar," Boulet Brothers Dragula wants to find the "World's Next Drag Supermonster." If you liked Sharon Needles, the season four winner of RuPaul's Drag Race, this series is for you. The show celebrates underground and alternative drag art and bases each episode's challenges on the four principles of the show: Drag, Filth, Horror, and Glamour.
The Boulet Brothers Dragula takes on a similar path to Rupaul's Drag Race with the challenges, but where it stands out is a thing they call "extermination." At the end of every episode, the bottom performing queens have a challenge, a psychological and physical test that has nothing to do with drag, to see if they have what it takes to keep fighting in the competition. I started the series in season 2 because I wanted to see more Bitqch Puddin', so the first extermination challenge I watched was to see who could be pierced by the most body modification needles, with the contestant who received the fewest piercings receiving extermination. This series, as you can tell, is not for the faint of heart.
FOR FANS OF THE GOOD PLACE
Single Parents, Found on: Hulu
This feel good series is exactly what I needed in 2020. After watching an episode of Superstore on Hulu, the first episode of Single Parents started to play because I picked up my phone to answer a text. The very first scene is of a man named Will, who is convincing his daughter that school will not be so bad. They start to sing her favorite song, "How Far I'll Go" from the movie Moana. Since I am a huge fan of the movie, this piqued my interest.
Then we learn that Will is a single parent who gets involved in everything at the school. He is the perfect PTA parent who attends all the events and meetings, volunteers to head committees, etc. The other single parents of the room are not as enthusiastic and take Will under their wing so that he can also see that being his own person is an important healthy balance in life.
The diverse set of characters and the simple concept that brings them together makes Single Parents worthwhile. Even the kids are very different from each other in how they problem solve. Those personalities make you want to root for those that you wouldn't normally root for in real life. Along with Will and his daughter Sophie is Angie and her son Graham (a very needy boy who Angie coddles), Douglas and his twin daughters Emma and Amy (who doesn't believe in expressing feelings or emotions and is a workaholic), Poppy and her son Rory (who has a knack for fashion and Poppy unconditionally encourages), and Miggy and his son Jack (who is still an infant and Miggy is clueless, but the group helps him with his responsibilities). The show doesn't solely focus on the adults or the kids, but is a great mix of both. Single Parents will make you laugh, make you cry, and most of all, will make you cheer when good things happen to them.
FOR FANS OF PARKS AND RECREATION
Good Girls, Found On: Hulu
For those who have seen Parks and Recreation, you may remember a very funny supporting character named Donna. She is played by Retta, who stars in the series Good Girls along with Christina Hendricks and Mae Whitman, who play mothers who come into different desperate situations that cause them to rob a grocery store. These are not your typical criminals and they are not committing a crime for fun, but rather to save their families. Beth Boland (Christina Hendricks) is a mother of four and learns that her husband, who is the sole breadwinner of the family, made some very bad decisions with their money and cheated on her. Ruby Hill (Retta) is a mother of two, one of which has a kidney disease that needs very expensive treatment or she will die. Annie Marks (Mae Whitman) is a single mother who is going through a nasty custody battle for her son and needs money for a lawyer.
The women joke about robbing the grocery store that Annie works at, but then decide to put the plan into action, intending to rob the place for 30 grand, just enough to pay for the things they need. Instead, they end up walking out with half a million dollars. This leads to many more issues, especially when the store manager sees Annie's back tattoo during the robbery and attempts to blackmail her so he will stay silent.
The entire series is exciting and thrills are around every corner. There is never a dull moment and the show will always keep you guessing and wondering if the ladies will ever pull themselves out of the major mess they got themselves into. What started out as a simple way to solve their money problems turned into something that may prove too much for them to handle.
FOR FANS OF ORANGE IS THE NEW BLACK
Wentworth, Found on: Netflix
While fans of Orange is the New Black are used to the comedy side of prison, Wentworth is the exact opposite of that. Set at Wentworth prison in Australia, this series is a reboot of the show Prisoner. For those outside of Australia, both of these shows are not well known, but for anyone who has watched either, it gains favorable reviews. Unlike Orange is the New Black, Wentworth is not a Netflix Original series but from a popular channel in Australia called SoHo. Finding this show in my recommendation list immediately piqued my interest.
Wentworth gives us a good view of the modern day Australian prison system, and Americans like me may be shocked to learn that it is very different from ours. First, all the prisoners have their own cell with a television inside of them. While they are to wear a standard uniform (teal), they are permitted to wear their own clothes while on remand and their own pajamas. In their recreation areas, they have a tea station (which they call cuppas). The biggest shocker was seeing a child stay with her mother in the prison, something that American prisons do not allow.
All is not blue skies and rainbows within the walls of Wentworth, however. We get a look at how the women interact with each other and the "screws" (correctional officers), as well as outside civilians.
We are first introduced to Bea Smith, who is accused of attempted murder of her husband. Come to find out that she was indeed guilty of the crime out of self-defense. However, when it came time to put her plan into action, her daughter unexpectedly came home early and foiled it.
Bea is not a typical criminal, but the longer she is in the prison, we see her evolve and change her entire personality. Being a ping pong ball between the two women vying for the revered "Top Dog" spot in the prison (basically the one who represents the prisoners and everyone respects), Bea tends to get herself into sticky situations that test her loyalty to herself, to the other prisoners, the screws, and even her daughter, Debbie, who is unknowingly involved with the prison politics.
Like Orange is the New Black, Wentworth also gives focus to a very strong and memorable ensemble cast, including other prisoners, civilians, and correctional officers.
One of the most memorable characters I have ever seen goes by the name of Joan Ferguson, played by Pamela Rabe. If you are into the suspenseful and sadistic, this character will be forever engraved into your mind. This master manipulator keeps you on your toes at every single turn and when she acts, you will never see it coming. Joan Ferguson was a character from the original series, Prisoner, and has been a staple in Wentworth since season two. With this series wrapping up later this year, I cannot wait for the conclusion of Joan Ferguson because I know it will not end without a fight that I am here for.
FOR FANS OF DOWNTON ABBEY
Harlots, Found on: Hulu
Sometimes simple scrolling gets me intrigued into watching a show. A good thumbnail is enough to make me start watching. In this case, Harlot's thumbnail contained women in powerful positions and historical clothing. This checked all the boxes for me.
Bringing us back to the 1700s, Harlots is not a show for minors or the easily offended. Starring Samantha Morton (Margaret Wells), Jessica Brown Findlay (Charlotte Wells), and Eloise Smyth (Lucy Wells), Harlots tells the story of Margaret Wells and her rise in Georgian society. As the only means to make any money outside of marriage, this group of sex workers face the law, religious fanatics, and another elite brothel operated by Margaret's nemesis and first employer, Lydia Quigley.
The series opens as Margaret is planning to move her brothel to Greek Street in order to bring in a richer clientele. Lydia, hearing about the move and the possibility of competition, hires religious zealots and constables to raid the brothel, as it is illegal to operate one. Most of the time, Margaret is able to convince those in power that her house is merely a boarding house and the girls that work for her are her tenants. This time, it does not work and Margaret is ordered to pay a fine, which comes out of the money she was going to use to purchase the new house. In order to raise the money, she auctions off the virginity of Lucy, who has just turned 15. Meanwhile, Charlotte, AKA the meteor of the hour, is being expected to sign a contract for an insufferable man named Sir George Howard, a child in the body of an adult, to be her permanent keeper.
Tensions are rising, power is fleeting. In order to hold on to both, the women of London must sacrifice everything and do things they never thought they would do. The lengths they travel in order to keep control of themselves, their money, and their power.