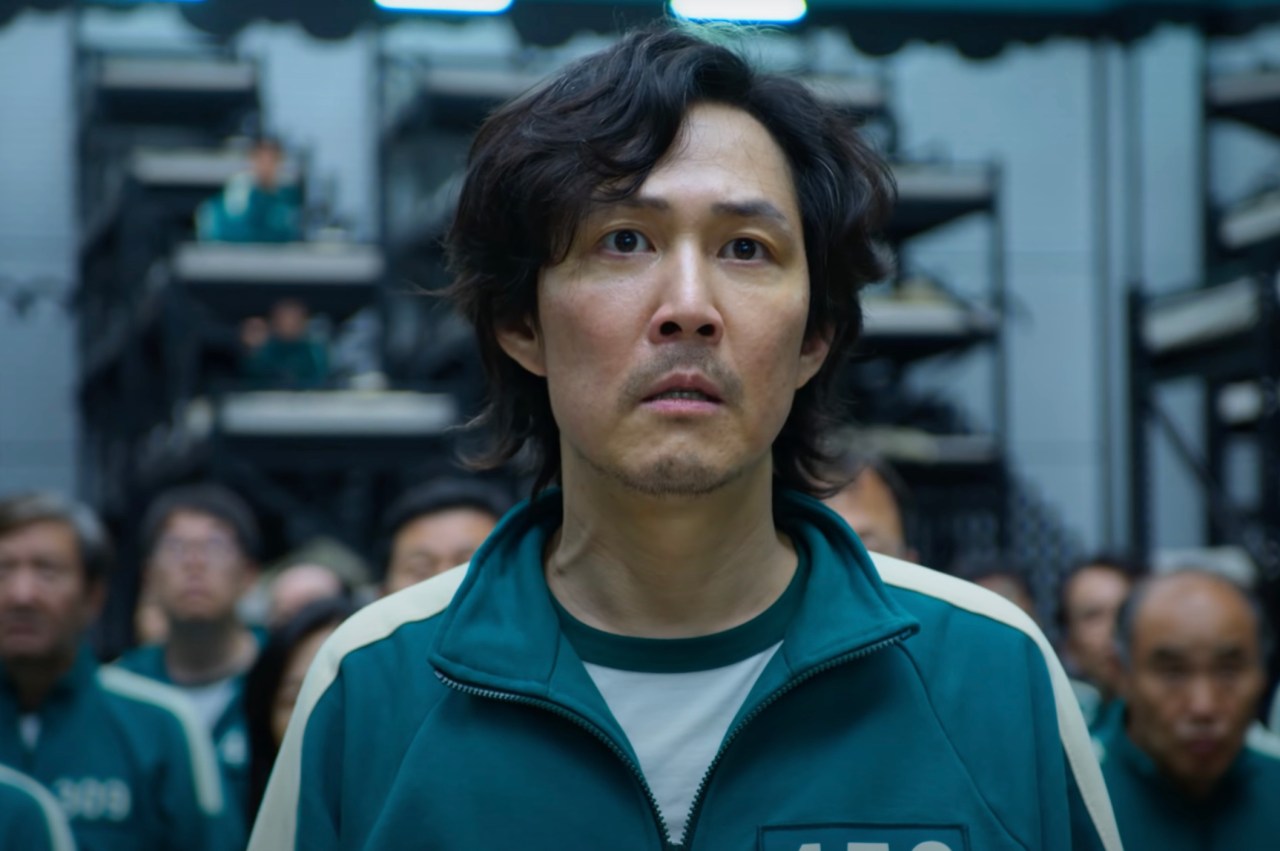 9 International Netflix Shows That Are Just As Addicting As 'Squid Game'
Squid Game took Netflix by storm this month and is on its way to becoming the streaming site's biggest hit—ever. And why shouldn't it be? The South Korean TV show is suspenseful, thoughtful, and has a chilling message that people all over the world can relate to. But what's perhaps one of the most interesting aspects of its popularity is its ability to convince English-speakers to take a chance on a foreign language show—especially when there is plenty of English content on the platform they could have opted for instead.
But Squid Game is far from the only top-tier international show on Netflix. And once you realize it's really not a big deal to watch with subs—or dubs—a whole world of great storytelling opens up for you.
So, if you loved Squid Game but haven't yet tried out any other international shows, check these out—you won't regret it.
1. Money Heist
Money Heist (or La Casa de Papel) was another big international hit on Netflix, which comes as no surprise if you've actually seen it. The show follows eight thieves all working under the criminal mastermind known as The Professor as they orchestrate the biggest heist in recorded history—break into the Royal Mint of Spain, take control, and then print billions of euros. But of course, a heist this legendary won't be easy, and as the thieves struggle to control their hostages and pull off their heist in time, The Professor finds himself in a cat and mouse game with an inspector from the National Police Corps. Like Squid Game, Money Heist is jam-packed with suspense and examines the divide between the impoverished and the elite—and the lengths people will go to in the depths of their desperation.
2. Dark
If you thought Squid Game was intense, just wait till you watch Dark, which is the definition of mind-blowing. This complex, twisted German show starts with a simple premise that we've all heard before: A group of friends from a small town called Winden go out into the forest late at night, but after a strange encounter that makes them all go running, they realize someone is missing from their group. Not long after, when the police search begins, a body is found, but it doesn't belong to the missing boy—in fact, it doesn't seem to belong to anyone from Winden at all. As more and more bizarre things begin happening around town—and more and more kids go missing—it's clear that everything in Winden isn't what it seems. And the key to it all may be Jonas, a teen boy who's grieving the loss of his father, who he realizes may have had some secrets of his own.
3. Alice In Borderland
If you're a fan of Squid Game because of its Battle Royale-esque premise, then you might be interested in Alice In Borderland, which focuses on a young gamer and his two friends who find themselves in an abandoned Tokyo, trapped and forced to play a series of deadly games, all of which are determined by playing cards. Like Squid Game's desperate contestants, Alice In Borderland's protagonist, Ryohei Arisu, is just a normal guy—he's not smarter or stronger than the average person, which makes the stakes so much higher when there's suddenly death at every turn. If you're looking for something to fill the void Squid Game left you with, this might just be it.
4. Elite
While Elite certainly doesn't have the same dark tone as Squid Game, it does examine some of the same themes—namely, class divide and how it can turn deadly. After a tragic accident at the public school, three low-income students are given scholarships to study at Las Encinas, a private school in Spain for the ultra-wealthy and ultra-influential. When it's clear these newcomers pose a threat to the social hierarchy, things turn deadly, and someone from Las Encinas may be to blame. Elite is what Gossip Girl would be if it were smarter and sexier, and the murder mystery alone will keep you sitting at the edge of your seat, wondering which characters you can trust—if you can trust any of them at all.
5. Bordertown
This gritty Finnish noir follows detective inspector Karl Sorjonen, one of the most respected officers at the National Bureau of Investigation, who leaves his job and relocates his family to the border of Finland and Russia, hoping they might find some peace and calm there. But it turns out the border is not the quiet life Karl imagined, and he quickly finds himself sucked back into the life of law enforcement to use his photographic memory and uncanny understanding of the way murderers think to help solve a series of horrifying (and baffling) crimes. If you're looking for something on the darker side, Bordertown is definitely the way to go.
6. Kingdom
If you're interested in trying out another South Korean show, you might want to put Kingdom on your to-watch list. Set in a fictional past, the Joseon Crown Prince stumbles across a bizarre plague that seems to not only kill the infected but also brings them back to life. That's right—we're talking zombies (with a little added realistic fear when watched in the pandemic age). Not only must the prince act to save his kingdom from the virus and those infected, but he must also try to prevent his political foes from taking advantage of the crisis and overthrowing the monarchy. Even if you're someone who feels the zombie trope is played out, the setting and context gives the premise a new life.
7. The Chestnut Man
Don't let the title fool you—The Chestnut Man is a creepy, gritty serial killer drama from Denmark that will keep you on the edge of your seat. In fact, the name comes from the token that was found at the scene of grisly murder: a small figurine man made out of chestnuts. Using this as a clue, two detectives hunt down the killer, who's been linked to the disappearance of a politician's child—a case that had been closed for over a year.
8. Young Royals
While Young Royals is devoid of Squid Game's heart-stopping thrills, this Swedish drama also critiques capitalism and highlights the dangers of class divide, though this time through the lens of a star-crossed love story. When Wilhelm, the youngest prince in the royal family, gets caught fighting at a nightclub during a wild night out, his family decides the best way to salvage his reputation is to send him to Hillerska, an elite boarding school where his older brother, the crown prince and future king, once attended. While it's the perfect opportunity for Wilhelm to rub shoulders with Swedish aristocracy, he instead finds himself drawn to Simon, a scholarship student who's struggling to make ends meet and who despises his entitled classmates. And though Wilhelm struggles to understand these newfound emotions, he is sure of one thing: despite Sweden's liberal culture, society might not take well to a gay prince.
9. Ragnarok
If you're interested in mythology (especially of the Norse persuasion), Ragnarok might just be for you. No, it's not connected to the Thor movie (aside from its mythological roots). But this Norwegian drama might remind you of another well-loved franchise: Percy Jackson. Here, a dyslexic teenage boy learns that he not only has strange superpowers but that he's actually the reincarnation of a divine entity. And what's a teenage boy to do but use those powers to fight against one of Gen Z's biggest threats: the impending climate disaster? If you liked the social commentary of Squid Game, you'll find a lot of that here, though Ragnarok focuses more on the dangers of industrial pollution and the very real threat it poses against us.