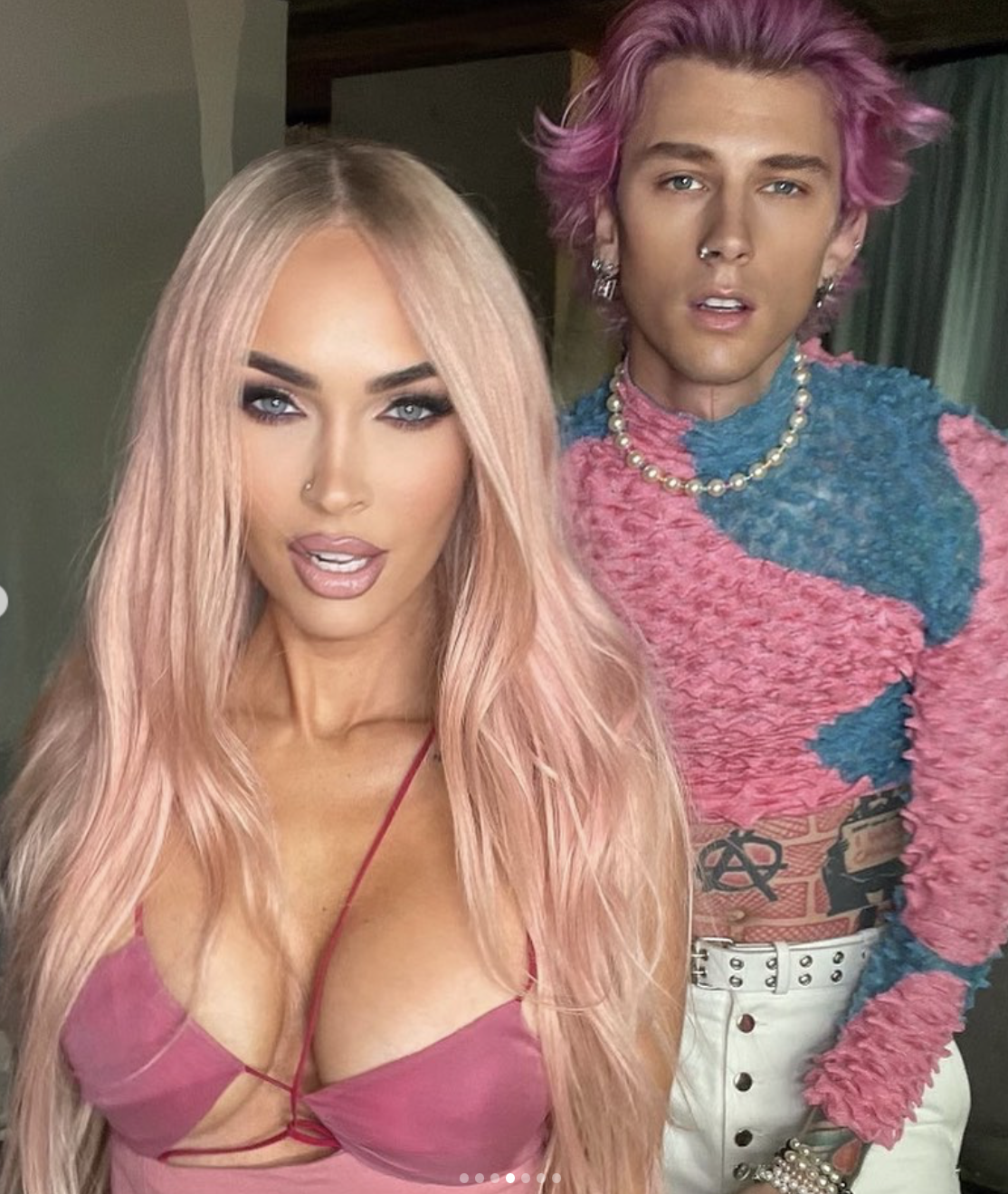 Megan Fox Allegedly Calls Machine Gun Kelly A Narcissist In New Book, Discusses Multiple Abusive Relationships
Actress and model Megan Fox released her poetry collection, Pretty Boys Are Poisonous this Tuesday, and people are officially mesmerized and intrigued. The collection touches on dark themes like trauma, sexual assault, physical and psychological abuse, and losing a child to miscarriage. In an interview with Good Morning America, Megan disclosed, "Throughout my life, I've been in at least one physically abusive relationship, and several psychologically very abusive relationships. I've only been publicly connected with a few people, but I shared energy, I guess we could say, with {partners} who were horrific people and also very famous, very famous people…but no one knows that I was involved with those people."
Themes of Narcissism and Toxic Soulmates
In her poem, A 32-year-old narcissist quantifies his crimes, Megan asks, "What is the difference between murder and manslaughter?" when she recalls how her partner kept telling her his abuse of her was an "accident," that he would never "hurt her on purpose." But either way, she says, she ends up dead. Many have speculated that this poem may refer to her fiancé, musician and actor Machine Gun Kelly, who is currently 33 years old, but given her history of past relationships, it could potentially also be a different ex-partner.
Her poetry effectively portrays the discrepancy between a beautiful exterior and hellish nightmare. "I often wonder / how something so pretty could be so iniquitous / but they say lucifer was god's most beautiful creation," she writes in An angel with a fully automatic. In her other poem, The Price of Fame: One Dead Soulmate, Megan writes, "you're imprisoned by all the demons you've bartered with / renting space in your body to them in exchange for a life that doesn't even make you happy / why do you sacrifice me to feed the things that haunt you."
In a more sassy excerpt, Megan writes in the poem fatality, "You've been fighting me for three hours like we're in a game of mortal kombat / I start daydreaming of the look on your face when I tell you / his d*ck was so much bigger than yours." Whew. Same, Megan. Same.
Themes of Trauma Bonds and Twin Flames
In her poem entitled martyrdom vs. monotony, Megan confesses that she prefers the "agonizing psychological abuse of this trauma bond / to the prosaic tedium of a regular life." Megan and Machine Gun Kelley are famous for having said they were twin flames, being in a tumultuous on-and-off relationship, and engaging in controversial ritualistic practices such as drinking each other's blood as a bonding method. In her poetry collection, Megan writes in her poem To Marry An Arsonist, "true love, twin flame, trusted friend, naïve girl, so many secrets hiding behind your scorched earth temper." Machine Gun Kelley also has a song called "Twin Flame," the performance of which he dedicated to he and Megan's unborn child.
Amidst break-up rumors, it's clear Megan and Machine Gun Kelley may have undergone a toxic relationship and may actually be "false twin flames" considering some of the unhealthy and disturbing behaviors and dynamics fans have noticed in this relationship. There are times when the concept of "twin flames" gets misused to foster destructive relationships, and this may be one of those times. A reminder to fans out there that you need not drink someone's blood or wear a ring filled with injury-causing thorns to stay bonded to a "true twin flame" or healthy relationship – and you should be wary of any relationship that does not carry with it mutual respect and empathy. Love is not pain.