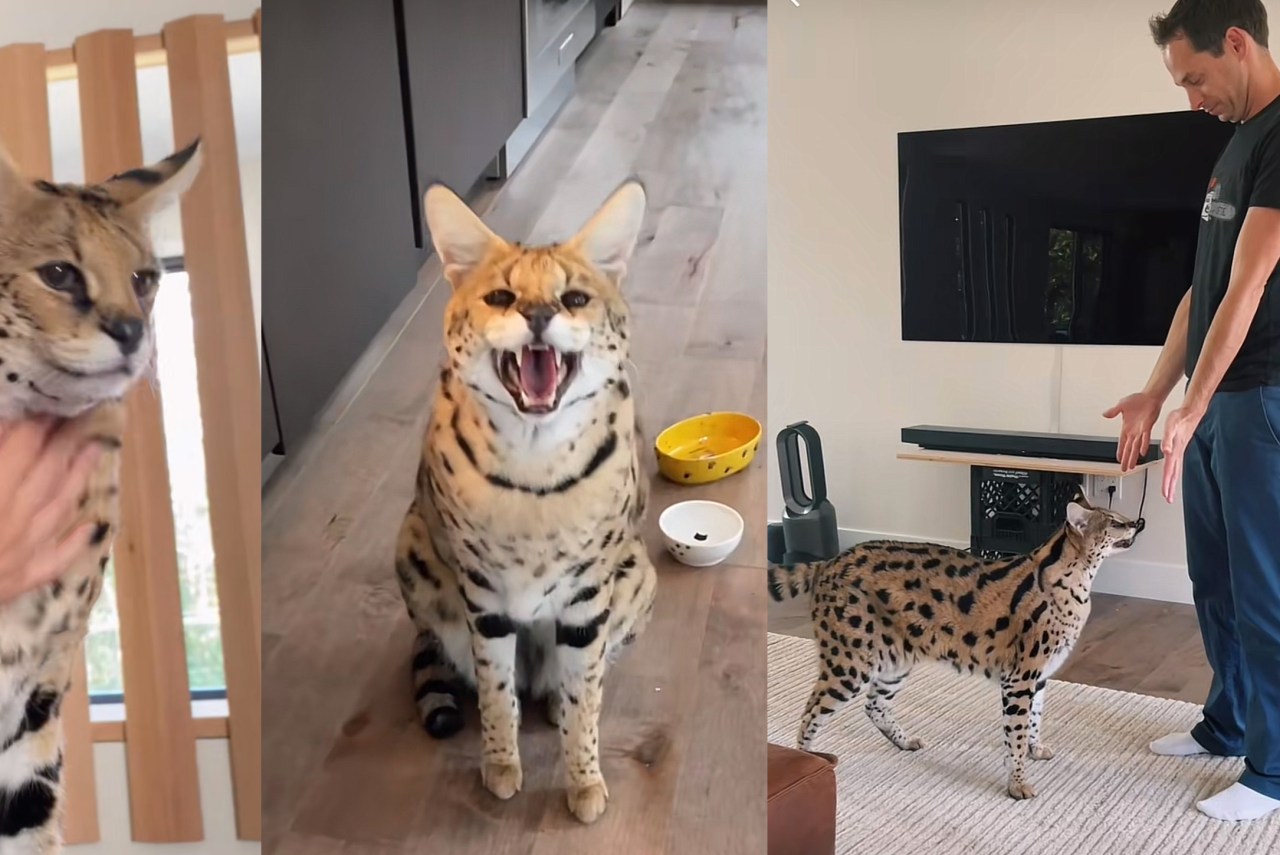 Updated on
People Are Freaking Out About The 'Housecat' In This TikTok Account
Any cat lover that sees @ChloetheServal on TikTok probably thinks to themselves – "I want one!" or "OMG, why would they have a wild cat in their house?" Owners Matt Corbeil and Shannon DePender make owning an exotic cat look easy to their 1.1 million followers. Chloe, the 16-year-old African serval, has been Corbiel's pet since she was just 7-weeks-old, so he's had a lot of time to figure out just how to successfully own the large kitty as a house pet.
Let Me Pet You!
In Chloe's first TikTok video captioned, "When you want to pet the cat but she wants to pet you," it's clear to see just how large and in charge this kitty is. Servals can stand about 20-24 inches tall making it difficult to keep the cat off the counter or anywhere else for that matter. (And are you going to argue with such a massive cat that looks like a leopard?)
Meeting a New Bestie
DePender met Chloe for the first time four years ago when the cat was 11-years-old. In one of their TikTok videos, she answers a followers question about what it was like meeting Chloe for the first time. "She let me pet her. She came up to me. She was loving on me. It probably took two or three months before she was totally comfortable," DePender explained. And now you can see that the two are best friends.
Everyday Adventures with Chloe
With plenty of videos to take a peek inside of life with a serval cat, it's easy to see she's got plenty of similarities to a housecat. She likes to spread out on the top of the couch, play with toys, run circles around the house, and most other normal cat things just like her smaller counterparts. It's her size that makes her a bit more intimidating.
Keeping a cat of this size occupied and happy could be a job for some, although Corbiel and DePender really do make it look easy and fun. Chloe loves playing with her toys, and looks adorable doing so. She has probably as many toys as a young child does. And of course, she has her favorites.
Owning a Serval Isn't For Everyone
Maybe you're wondering what it would be like to have a serval of your very own. There's a lot of thought and research that must go into such a decision. In some U.S. states, it's illegal to own one. In others, you must have a license and experience. These cats require a special diet, plenty of room to run, and lots of understanding on their specific species. They may require a larger than normal litter box, like to play hard, often will mark their territory, and enjoy hunting at night. Imagine you're sleeping soundly and a nearly 30-pound cat flops onto your head. Owning a serval means that's a possibility!