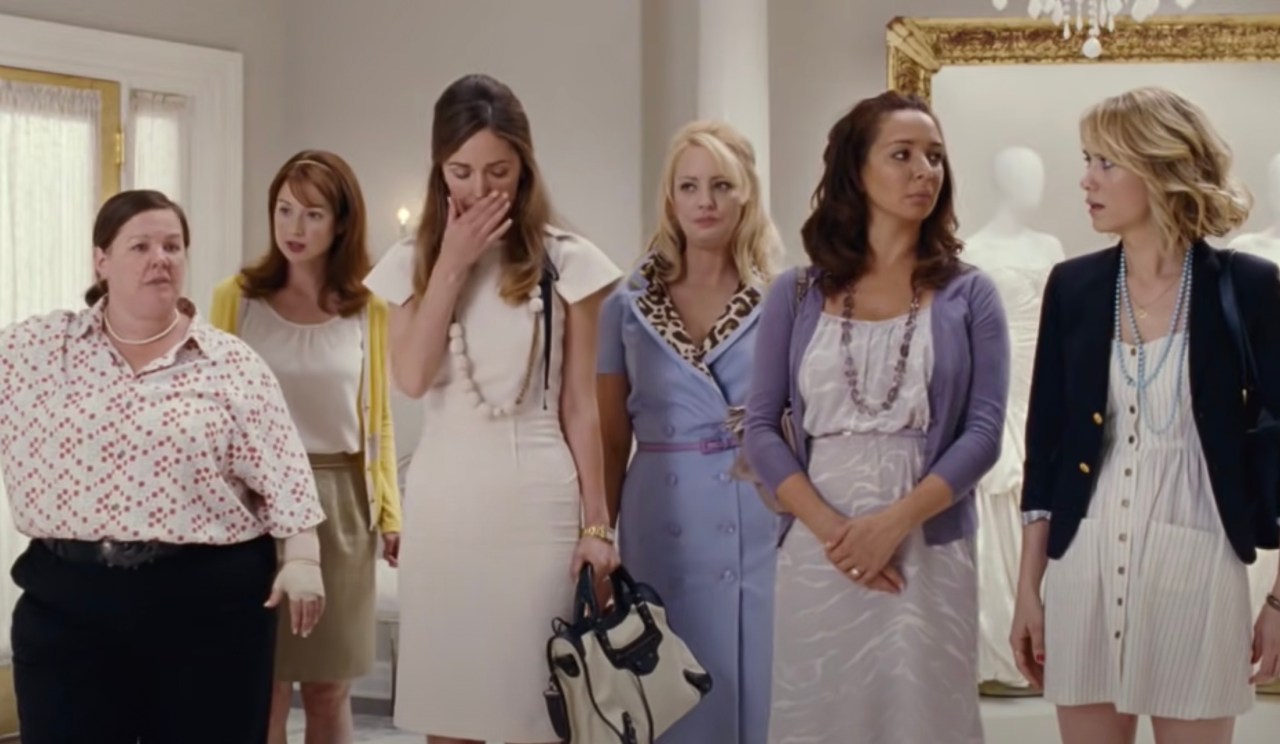 The Top 5 Best Wedding Movies For An Epic Girls' Night In
I love wedding season energy. It's a fun, exciting, and joyful time for planning, prepping, and celebrating couples who've fallen in love and have decided to make a lifelong commitment to one another in the name of love. And when I think about wedding season, it's hard not to think about some of the best wedding movies that have become fan favorites and even quoteworthy classics in movie cinema history (and of course ones that are great for an epic girls night in). So this season is a great time to gather some friends, grab some popcorn, candy, and maybe a bottle of wine—or two or three (who's counting?)—and enjoy the following top 5 wedding movies for your very own epic girls night in. Cheers!
My Best Friend's Wedding
This 1997 rom-com is one of the best (and most loveable) wedding movies I've ever seen. It's a film about a woman named Julianne (Julia Roberts) who's on a mission to sabotage her best friend Michael's (Dermot Mulroney) pending nuptials after learning that he's planning on marrying a beautiful young woman named Kimmy (Cameron Diaz). Originally, Julianne and Michael made a pact that they'd marry each other if they were both still single in their late twenties, but when Michael meets Kimmy and falls in love with her, Julianne decides that she loves Michael and will stop at nothing to try to win his heart. I don't want to spoil the outcome (just in case you're reading this and haven't seen it) but I will say that there's an unforgettable singing number in this film that you don't want to miss.
The Best Man
Three words that come to mind when I think about this wedding movie? Funny, sexy, and incredibly scandalous. It's a story about a writer and best man named Harper (Taye Diggs) who writes a book loosely based on his inner circle from college, all of whom are gathering for the weekend to attend his best friend Lance's (Morris Chestnut) wedding. There's only one problem. Harper's book contains a secret that the rest of the inner circle knows that Lance doesn't: Harper hooked up with Lance's fiancée Mia (Monica Calhoun) when they were all in college and never told him. See? Scandalous. This wedding movie has remained a popular classic in the Black community, mostly because there are rare wedding films such as this one that's been directed by a Black filmmaker (Malcolm D. Lee) and features a predominantly Black cast of characters who are college educated, wildly successful in their career endeavors, and are brilliantly written and portrayed in their roles.
Wedding Crashers
A wedding movie that will make you and your friends laugh is a must. And this pick will do the trick. This film is about two divorce mediators named Jeremy (Vince Vaughn) and John (Owen Wilson) who take on fake names and crash weddings to eat, drink, and hook up with different women. Though their actions have some awkward and hilarious consequences, this wedding movie has some touching moments that will make you and your friends want to root for certain characters while wiping away tears of laughter about some you'll never forget.
Bridesmaids
Some women can handle their best friend getting married… and some just can't. And this hilarious wedding movie will show you and your friends why. This wedding comedy tells the story of a woman named Annie (Kristen Wiig) who's been asked to be her childhood best friend Lillian's (Maya Rudolph) maid of honor. And from the moment Annie accepts, things spiral in some cringeworthy and terrible ways that will have you and your friends screaming with laughter. Before you watch this movie, just make sure you can contain your wine between laughs, because it'll be hard to.
Jumping The Broom
Because there is such a small amount of Black wedding films that are released, it's noticeable when a great one like this comes out. It's a wedding movie about a woman named Sabrina (Paula Patton) and a man named Jason (Laz Alonso) who fall in love after a brief courtship and decide to marry. But before these lovebirds can get down the aisle, they'll meet each other's families during their wedding weekend, which leads to some uncomfortable and sometimes dramatic moments that may make you and your friends want to duck for cover. Ultimately, the beautiful love story will capture your heart, as well as the visibility of the well-written and elegantly portrayed Black characters throughout the film. It's definitely a wedding movie you don't want to miss.