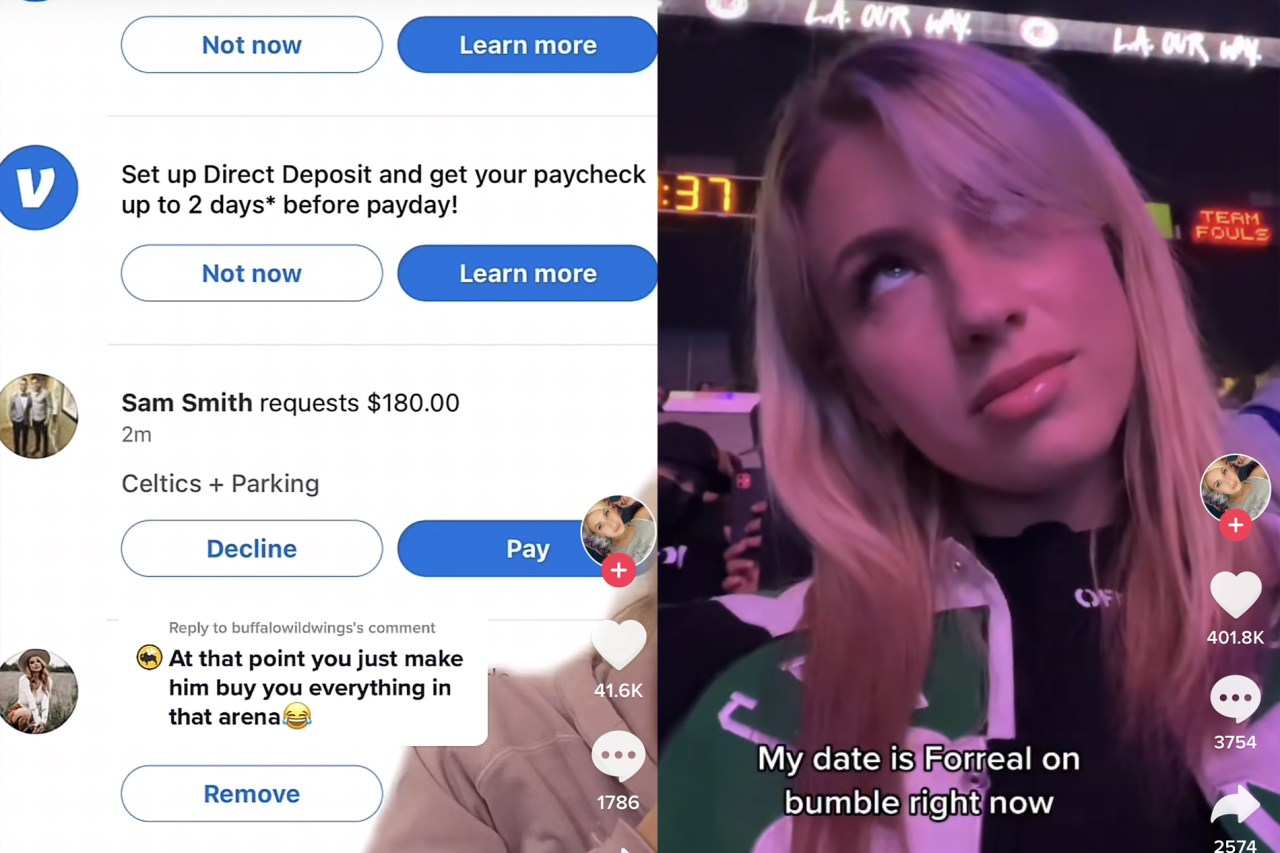 This Guy Really Swiped On Bumble During His Date And Then Venmo Requested His Date For $180
How it Started
Anyone who's currently online dating (or has recently given it a try) is probably willing to tell you how exhausting it all is. The struggle is real! TikToker emilyk8zz knows this struggle firsthand and shared it with her nearly 200k followers – from the first date, to the apology video from her date, and beyond.
Swiping Right While on a Date
Emily went on a first date to a Celtics game with Sam, who she met on Hinge. While watching the game, she glanced over and saw Sam swiping on Bumble. She posted the video to TikTok and Buffalo Wild Wings commented, "At that point you just make him buy you everything in that area." Emily then replied, "OMG he just Venmo requested me." Yes, you read that right – he sent her a Venmo request for $180 for "Celtics and parking." What happened next kept everyone watching and waiting to see how this drama would all play out.
Apology or Attempt at Saving Himself?
In a response video, Sam tries to save face for what the TikTok world has witnessed. "I'm getting a lot of hate on TikTok. Gotta make a response video," he said. He admitted in the video that he messed up and should not have been scrolling on Bumble while on a date. He explained that everyone was saying Emily was doing charity work by going on a date with him and he's getting a lot of Venmo requests because of it. He then discussed what his plan is to try to rectify this situation.
And so the video dating saga continues with her reaction to his video confession.
No More Online Dating
After all this insanity, it seems that maybe Emily is ready to take a break from dating; or at least from online dating. (But maybe not quite yet, since it's a hot topic for so many people currently.) And in walks Bumble to help her stick to the thought of no more online dating by blocking her.
Sam's Last Words
But wait…there's more! Sam had to have a last word in all of this. Looks like he's done dating anyone who's active on TikTok. (Cue the laughter.)