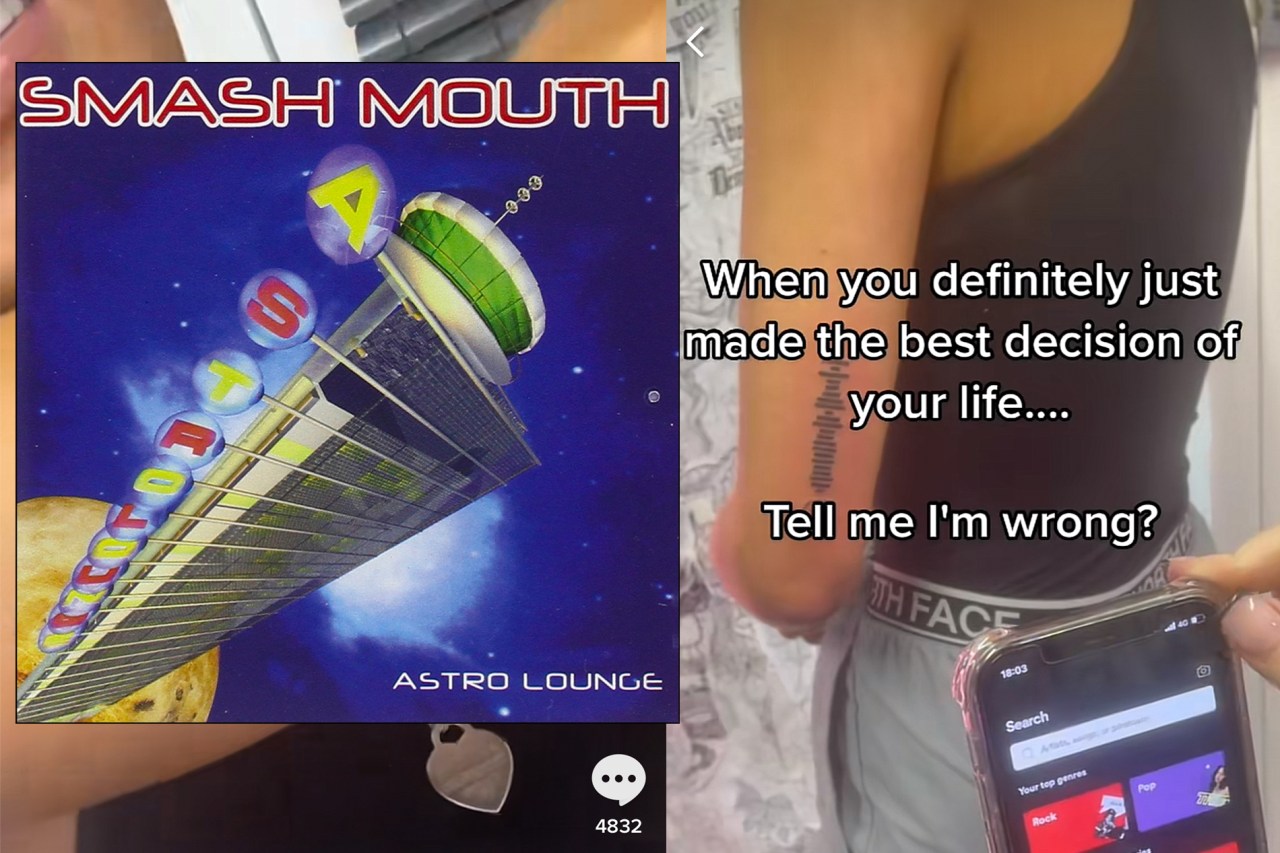 This Zoomer Got The 'Music QR Code' For The Smash Mouth Song Tattooed On Her Arm
Hey Now, She's an All Star
Not everyone agrees that TikToker @itstymarah made the smartest decision, but she doesn't care what anyone thinks – she knows she's an all-star (and Spotify agrees.)
Tymarah's decision to get a Spotify code that links to the Smash Mouth song, "All Star" tattooed on her left arm is something many commenters thought was a great idea, including Spotify who commented – "You are, in fact, an all-star."
What's a Spotify Code?
For those who are unaware, a Spotify code is similar to a QR code. To get a code, tap the three dots button on the right side of the screen while playing a song. To scan one, you go to the search bar, tap the camera icon, then hover your phone's camera over it.
Some People Love The Idea
Many commenters were supportive and thought it was a cool tattoo idea –
"When they ask you what your theme song is and you just show them your tattoo. Yesssss."
"The fact that the artist was this precise and the app recognized it. Absolutely amazing. Props to them. Amazing idea."
Some Thought It Wasn't an All Star Move
And then there were the naysayers –
"Let's hope Spotify servers are still up and running 40 years down the line."
"Imagine Spotify does an update and it don't work no more."
"This is like getting a QR code on your arm…obsolete in five to 10 years."
"Yeah, I thought my limewire tattoo was awesome at the time too."
"It will be hilarious in 10 years when Spotify no longer has this feature or has gone out of business. Granny got a joke tattoo."
The Laughs Keep Rolling In
And let's not forget the jokesters –
"Imagine you're 85 in the morgue and they check what this is."
"Honestly was expecting to get Rick rolled."
Many people commented similarly about expecting to be Rick rolled or how the song code should have been "Never Gonna Give You Up" instead of "All Star."
When a commenter asked if this done on a dare, Tymarah responded with a video explaining her love of Shrek, which is why she chose the song she did for her tattoo.