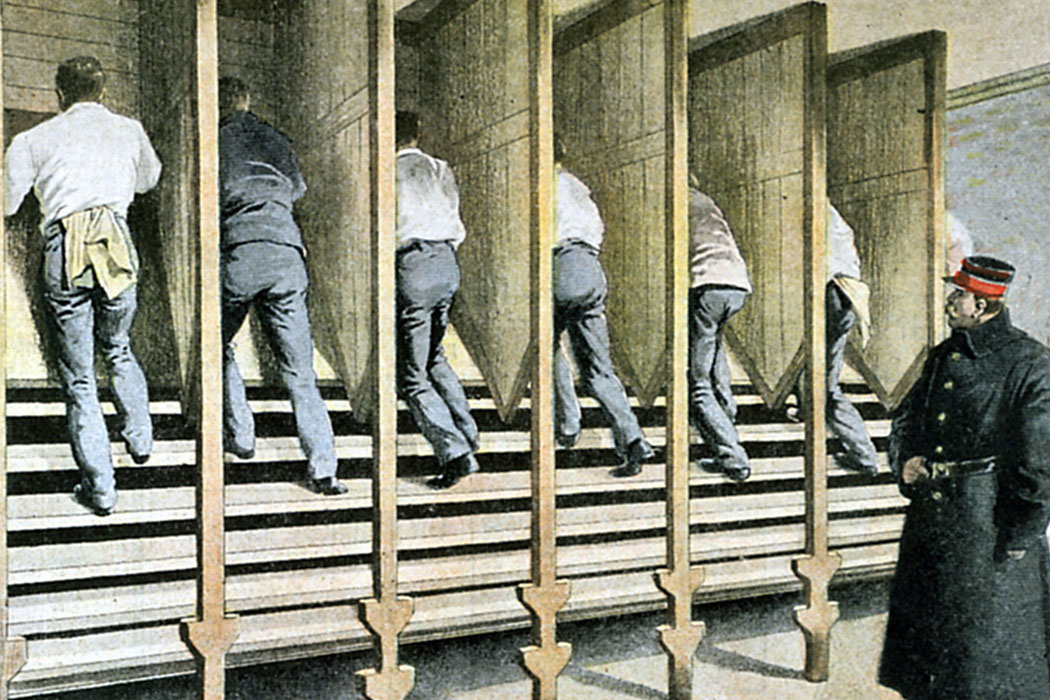 Treadmills Were Literally Invented As A Torture Device For Prisoners
Do you ever sit and think about the things you purchase, and how they're such a great idea? Oftentimes, the average consumer comes across inventions that were meant to be used for a totally different purpose. The creative process is always fluid, and it is truly wonderful how things have evolved over the years!
Treadmills
Running on a treadmill always can feel like torture, especially when you kick it up a notch during you last Pelaton workout. In the Victorian era, that is exactly what their purpose was. Sir William Cubitt invented the "everlasting staircase" in 1818 in an attempt to curb an uptick in crimes, and prisoner related troubles. These devices consisted of an imposing 24-spoked paddlewheel that could handle as many as 40 convicts endlessly climbing, which would be almost like physical labor, with the added touch of monotony. These were ultimately banned from British prisons in 1898.
M&Ms
M&Ms are everywhere, but they had very humble beginnings. M&Ms were originally developed for soldiers in World War II to carry chocolates without leaving them to melt in warm weather, and they soon became a cult favorite. The only way you could eat these candies were if you were in the military, because they were in such high demand. In 1941, Forrest Mars Sr., son of Mars started production under the company M&M Limited, and was the main wholesaler for the US Military. From there, it was history, and these delicious drops have hundreds of new flavors, and are loved across the entire globe.
Salt
Salt, a staple in our hearts, and our sodium intake. However, salt had a totally different meaning in Ancient Rome. Back in the ancient world, salt was actually a great treasure to its people. It was originally traded ounce by ounce for gold, and the Roman soldiers were paid in salt for their line of duty, called solarium argentum, which is the derived English word for salary!
PJs'
During WWI, night time raids were extremely common. It would oftentimes be cold, and with the frequency of night raids, people wanted to be prepared with decent, warm sleepwear. They quickly caught on, due to their loose flowy material, their ability to hide and cover you during raids, and ended up being extremely stylish!
Nutella
During WWII there was actually a cocoa shortage and then after the war ended cocoa was extremely scarce. Ferrero, originally from Piedmont in Italy, turned this tricky problem into a sweet solution by creating a paste made from hazelnuts, sugar and just a little of the rare cocoa.The paste of the first recipe was shaped into a loaf that could be sliced and spread on bread, and after much development in 1964, they produced the first cream jar of Nutella!
Artificial Christmas Trees
Originally these artificial trees weren't for convenience sake, but they were essential. In the 1800s the tradition of cutting live Christmas trees had seriously depleted the region's evergreen forests, and they couldn't celebrate without their precious trees!  In the early 1900s the Addis Housewares Company, a U.S. firm that manufactured the first toilet bowl brushes, used their technology to construct an artificial tree from brush bristles. At this point in time, they were made from aluminum, and that is exactly why you still see shimmery Christmas Trees each year! 
Monopoly
The game that tears families apart, and gruelling hours of taking as much land as you can. However in the early twentieth century, several individuals invented board games to teach fundamental properties of economics, and it was an instant hit. After approaching Parker Games, they originally turned this idea down, calling it too boring. In 1934, they tried again by putting it in mom and pop shops, and it was an instant hit. By 1935, Parker Brothers was selling 20,000 Monopoly sets a week and became the first board-game millionaire of the time.