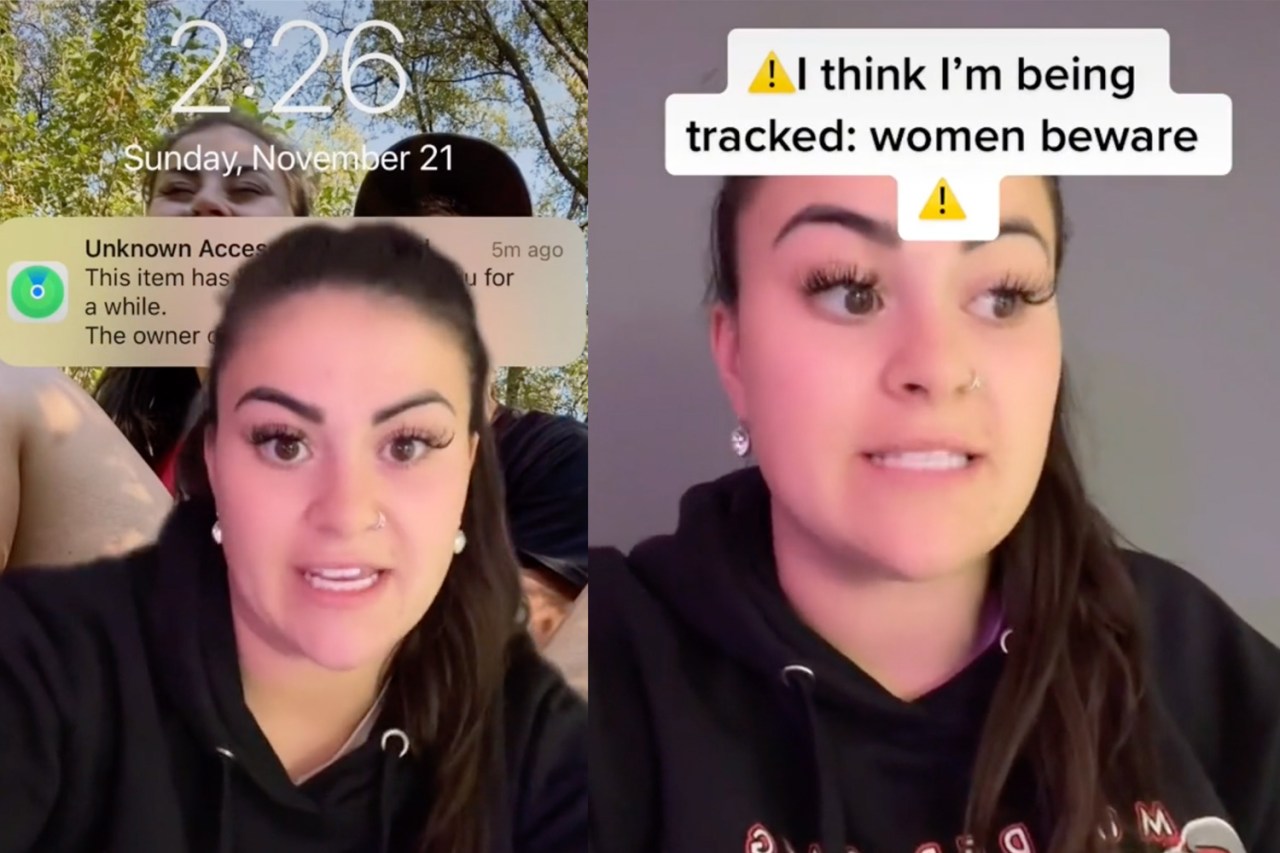 This Woman On TikTok Realized She's Being Stalked In Real Time
What happened to TikToker @angel.edge95, also known as biker baddie, is something that seems to be happening to many other people lately. When she got a notification on her iPhone, "unknown accessory detected near you," she quickly realized someone might be tracking her. The notification also told her the tracking device was first seen with her at 8:45 a.m. which is when she was in a Texas Walmart before boarding a plane to Maine. She was given the option to remove the device from her phone, but when she tried, she got a message, "unable to connect to server." There was also a message at the bottom of the screen stating that if you feel unsafe because of this device to contact law enforcement, but she was going to need the serial number of the tracking device for it to be shut off.
After another message telling her that the device has been moving with her for a while and the owner can see her location, she knew she had to act fast to find the device. Every time the owner of the tracker checked her location, she got a notification about it. After searching through her bags to see if she can find an AirTag, she decided to shut off her location services and bluetooth in the hopes that it would stop her from being tracked, but it didn't.
She posted an update after the police took her bags to check through them. They kept one of her bags and told her to carry on as normal, but didn't immediately tell her what they found.
Her second update video gave some answers to her more than 230K followers. An AirTag was found in her duffle bag, and since then she hasn't gotten any more notifications or new information. But what she did get was plenty of messages from people who have experienced the same thing; mostly women but also some men.
One thing she suggests is since only iPhone users will get AirTag notifications automatically, Android users should get the app – "AirGuard" to keep themselves protected. She also explained that sometimes AirPods will give you a similar message about an unknown accessory being near you. "If you are experiencing that issue with AirPods, if you own AirPods, first permanently disconnect them from your phone and reconnect them as if they are a new set of AirPods. That could fix the problem." If that doesn't work, start looking for an AirTag!
Biker Baddie wants this information to be shared with everyone. With the increase in AirTags being found by unsuspecting people, staying vigilant is the best way to stay safe.