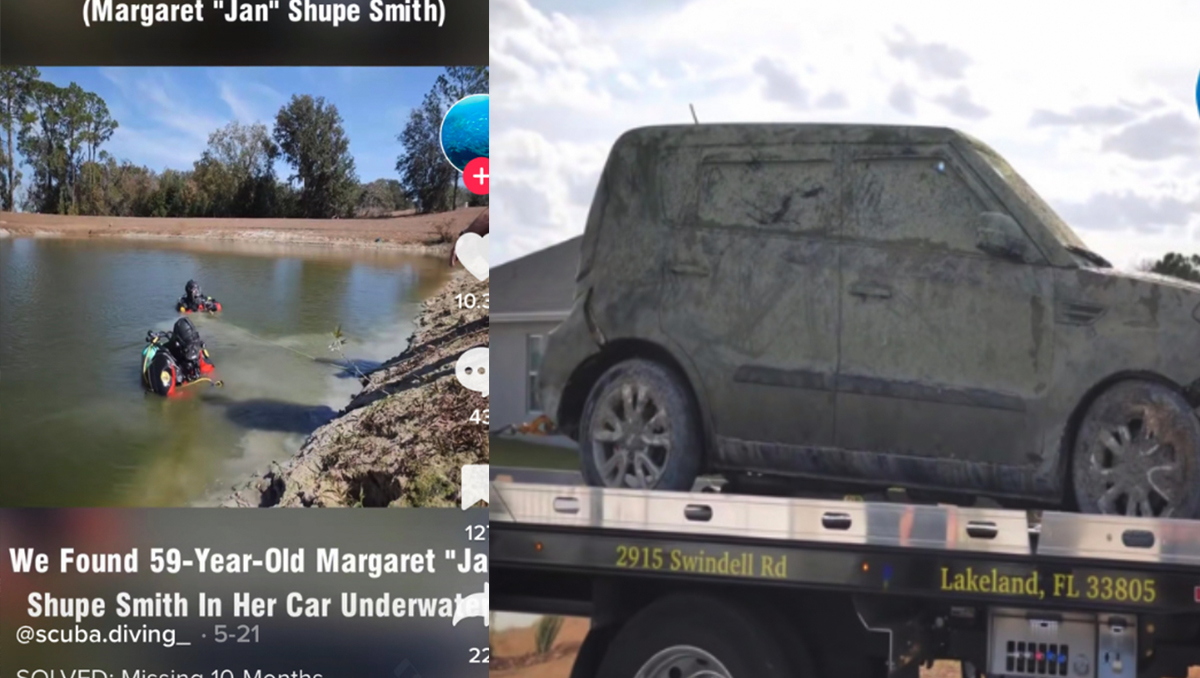 Watch As YouTube Group Finds Missing Florida Woman After A Two-Day Search
Police searched for a missing woman for 10 months before the YouTube group, Adventures With Purpose stepped in to do their own investigation. In just two days, they were able to locate Margaret "Jan" Shupe Smith, 59, in Lakeland, Florida. TikTok page, @scuba.diving_ has a series of videos on their page showing the process of what it took to find her missing vehicle underwater in a pond.
Finding Two Other Cars In The Process
The team first went to Christina Lake, located at a busy intersection. They got into their boat and used sonar equipment to positively identify a car underwater. A diver went down and discovered it was a Dodge Ram 2500, but that's not the kind of vehicle they were looking for. They further searched the area and found another car, but this time identified an older blue Chevy truck. Again, not the one they were looking for. After calling the authorities and reporting their findings, they decided to move the search to another area.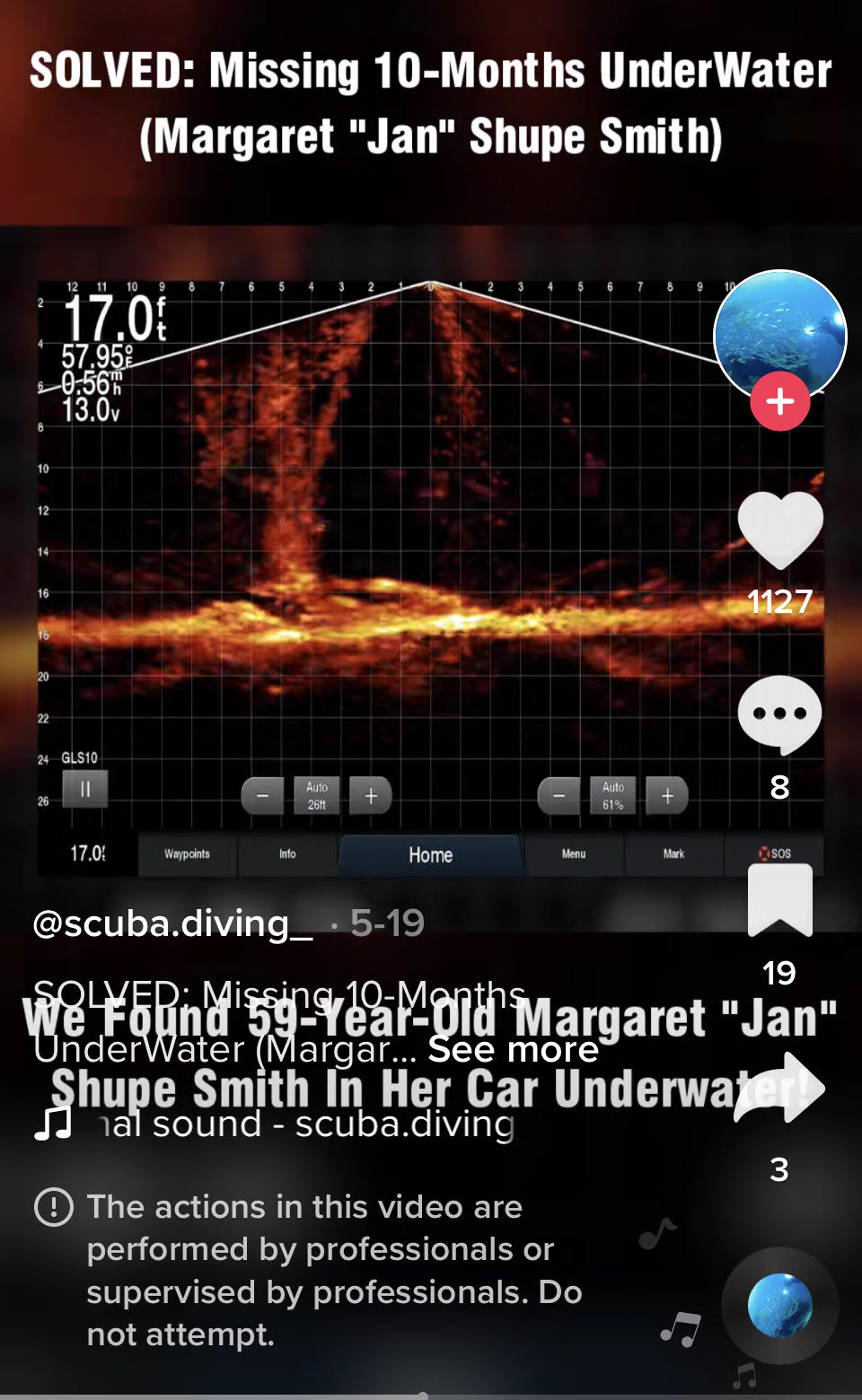 Searching A Different Area
The new area they were searching was a desolate area, off the beaten path, where the homes in the area were recently built. They used their sonar equipment to see if there was anything under the water and found a vehicle. A diver went down to check it out and reported that it was a Kia Soul, the kind of car Shupe Smith was driving when she went missing. They were able to see the license plate and identified it was indeed hers.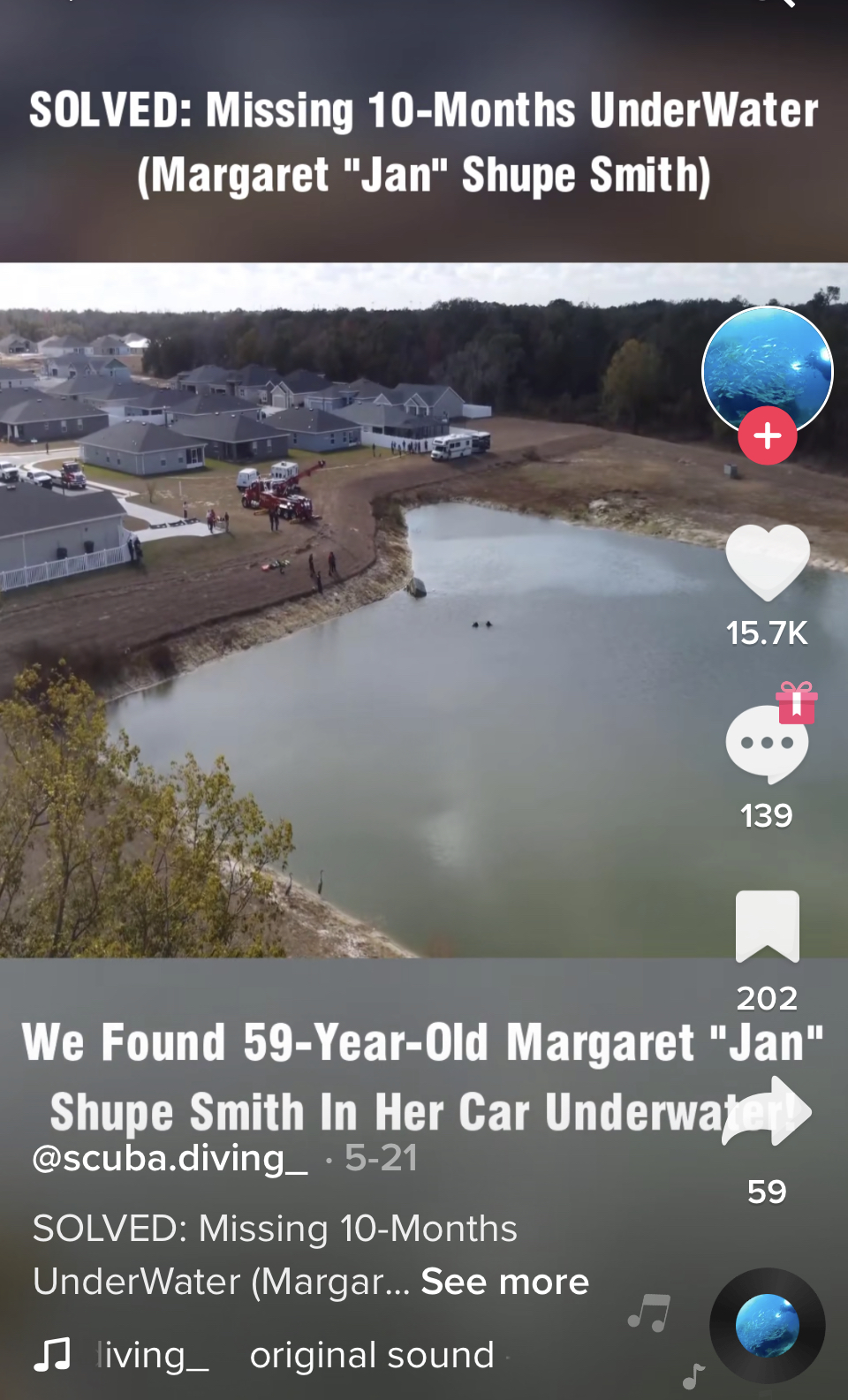 Missing 10 Months And Finally Found
Shupe Smith's daughter told Adventures With Purpose that her mom had pre-dementia and couldn't see well in the dark. She went missing on April 2, 2021 and was found 10 months later in a retention pond in a new residential development in North Lakeland called "Hunter's Crossing," according to a WFLA news report.
Adventures With Purpose Success Stories
Adventure With Purpose, a search and recovery dive team, dedicates their work to helping families find their missing loved ones. In addition to this case, they've solved many others – 23 to be exact. Their website states, "Because of your amazing support: 23 missing person cold cases have been solved since 2019, providing answers to families looking for their lost loved ones." Their website has a section dedicated to the memories of the missing people they were able to locate. They also sell shirts, wristbands, stickers, and other gear and products, including best seller 2-in-1 emergency window breaker and seatbelt cutter.