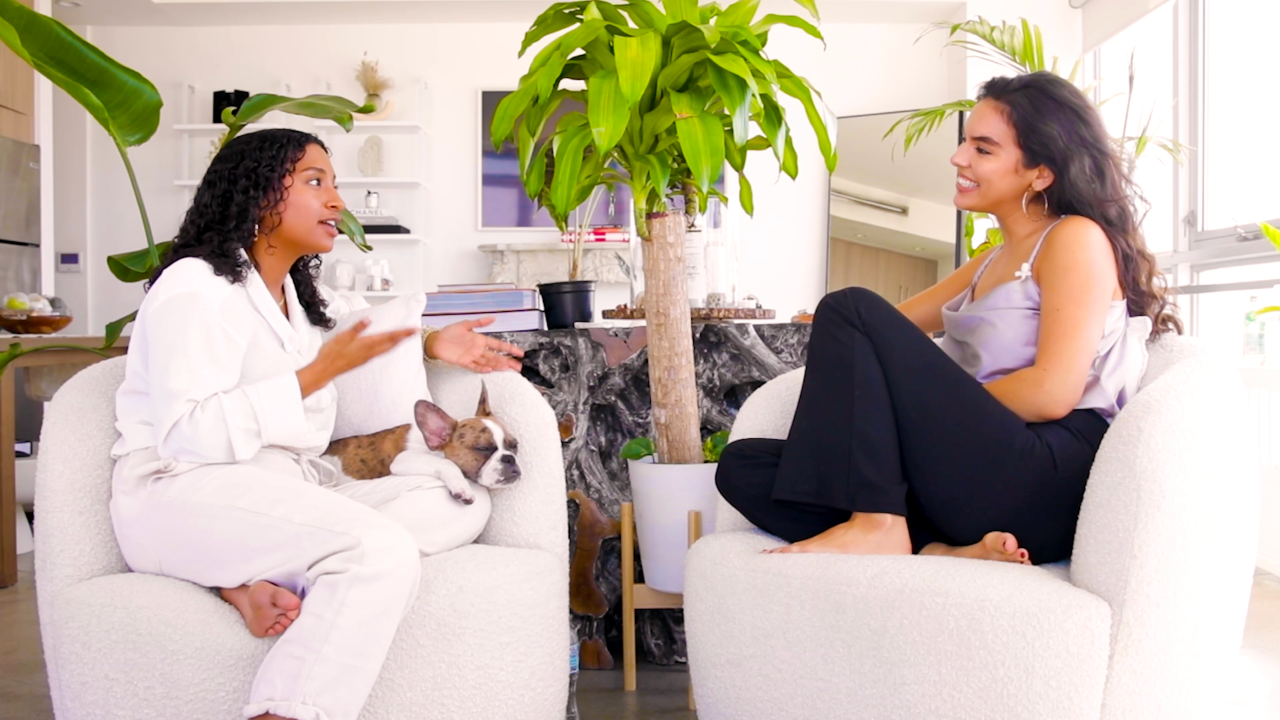 Why Your Food, Community, And Cultural Roots Are The Keys To Ultimate Wellness With Ana Acevedo
In this week's episode of On My Mind, producer and host Raquel Quintana sits down with celebrity makeup artist and alkaline chef Ana Acevedo to discuss honoring your body, following your passion, and finding yourself through losing yourself.
Born and raised in Brooklyn, NY to immigrant parents, Acevedo began her journey as an artist by painting in high school. Eager to unlock new channels of creative expression, she became a self-taught makeup artist focused on enhancing natural beauty rather than conforming to the latest beauty trends and standards.
Starting with hosting local makeup classes, Acevedo quickly made a name for herself in the celebrity market, working with A-list stars like Mariah Carey and Cardi B. After losing family members to health-related diseases, Acevedo felt a hunger to utilize her artistry and platform to inspire self-love and natural healing through the art of plant-based cooking.
According to Acevedo, healthy eating isn't just about discipline or giving into the pressure to look a certain way—instead, it is a love language to share with yourself and others. It's about understanding what you're putting into your body and how it can affect you, as well as treating your body with the respect it deserves.
"Food provides so many things for us that eventually trickle down into everything we want to be and to become," Acevedo shares. "Health is not just food. It's everything. Your entire being, your entire state of mind."
Acevedo's insights are oftentimes hilarious while remaining real and true to her beliefs. She's unafraid to be who she is, but it's clear that comes from her ability to reflect on her life and be honest with herself about what she wants and her life—and about what no longer serves her anymore.
"I was working every day, working with successful people, and being in all these rooms, but I still didn't feel fulfilled," Acevedo said. "Now that I'm in a state of wellness — mentally, physically, emotionally, and spiritually — every room I'm in, I'm in a state of 'I'm successful.'"
Alongside the benefits of conscious eating and her own path, Acevedo and Quintana's conversation covers trusting your intuition when it comes to healthy habits and relationships, connecting to your ancestral roots through holistic healing, and the importance of self-love and authenticity in a society that may not always value it.
"Taking care of your body, taking care of who you are and embracing your entire being—your curly hair, your skin color, your smile, your eyes—just loving small parts about yourself can eventually lead up to loving your entire self," says Acevedo.
Check out the entire conversation between Quintana and Acevedo in On My Mind's second episode, which premieres Sunday, January 16 at 9 a.m. EST exclusively on Thought Catalog's YouTube channel. You can also subscribe to On My Mind on Spotify.