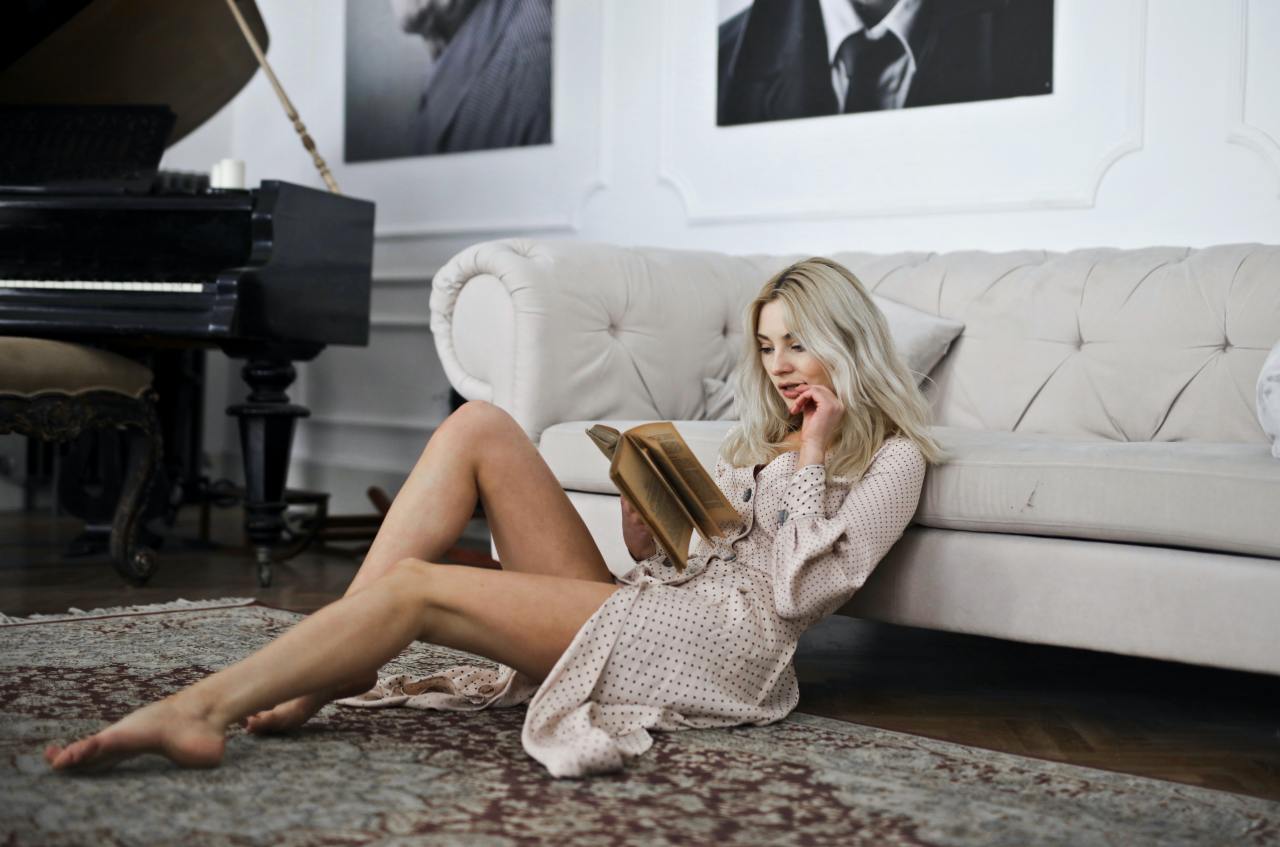 11 Books Blowing Up On TikTok That Are Worth The Hype
If you've been on TikTok recently, you've probably heard about the books listed below. Don't worry because they're not overrated. They're actually worth the hype!
The Love Hypothesis by Ali Hazelwood
"As a third-year Ph.D. candidate, Olive Smith doesn't believe in lasting romantic relationships–but her best friend does, and that's what got her into this situation. Convincing Anh that Olive is dating and well on her way to a happily ever after was always going to take more than hand-wavy Jedi mind tricks: Scientists require proof. So, like any self-respecting biologist, Olive panics and kisses the first man she sees.

That man is none other than Adam Carlsen, a young hotshot professor–and well-known ass. Which is why Olive is positively floored when Stanford's reigning lab tyrant agrees to keep her charade a secret and be her fake boyfriend. But when a big science conference goes haywire, putting Olive's career on the Bunsen burner, Adam surprises her again with his unyielding support and even more unyielding…six-pack abs.

Suddenly their little experiment feels dangerously close to combustion. And Olive discovers that the only thing more complicated than a hypothesis on love is putting her own heart under the microscope."
The Seven Husbands of Evelyn Hugo by Taylor Jenkins Reid
"Aging and reclusive Hollywood movie icon Evelyn Hugo is finally ready to tell the truth about her glamorous and scandalous life. But when she chooses unknown magazine reporter Monique Grant for the job, no one is more astounded than Monique herself. Why her? Why now?

Monique is not exactly on top of the world. Her husband has left her, and her professional life is going nowhere. Regardless of why Evelyn has selected her to write her biography, Monique is determined to use this opportunity to jumpstart her career.

Summoned to Evelyn's luxurious apartment, Monique listens in fascination as the actress tells her story. From making her way to Los Angeles in the 1950s to her decision to leave show business in the '80s, and, of course, the seven husbands along the way, Evelyn unspools a tale of ruthless ambition, unexpected friendship, and a great forbidden love. Monique begins to feel a very real connection to the legendary star, but as Evelyn's story near its conclusion, it becomes clear that her life intersects with Monique's own in tragic and irreversible ways."
These Violent Delights by Chloe Gong
"The year is 1926, and Shanghai hums to the tune of debauchery.

A blood feud between two gangs runs the streets red, leaving the city helpless in the grip of chaos. At the heart of it all is eighteen-year-old Juliette Cai, a former flapper who has returned to assume her role as the proud heir of the Scarlet Gang—a network of criminals far above the law. Their only rivals in power are the White Flowers, who have fought the Scarlets for generations. And behind every move is their heir, Roma Montagov, Juliette's first love…and first betrayal.

But when gangsters on both sides show signs of instability culminating in clawing their own throats out, the people start to whisper. Of a contagion, a madness. Of a monster in the shadows. As the deaths stack up, Juliette and Roma must set their guns—and grudges—aside and work together, for if they can't stop this mayhem, then there will be no city left for either to rule."
They Both Die at the End by Adam Silvera
"On September 5, a little after midnight, Death-Cast calls Mateo Torrez and Rufus Emeterio to give them some bad news: They're going to die today.
Mateo and Rufus are total strangers, but, for different reasons, they're both looking to make a new friend on their End Day. The good news: There's an app for that. It's called the Last Friend, and through it, Rufus and Mateo are about to meet up for one last great adventure—to live a lifetime in a single day."
"After her mother dies in an accident, sixteen-year-old Bree Matthews wants nothing to do with her family memories or childhood home. A residential program for bright high schoolers at UNC–Chapel Hill seems like the perfect escape—until Bree witnesses a magical attack her very first night on campus.

A flying demon feeding on human energies. A secret society of so called "Legendborn" students that hunt the creatures down. And a mysterious teenage mage who calls himself a "Merlin" and who attempts—and fails—to wipe Bree's memory of everything she saw.

The mage's failure unlocks Bree's own unique magic and a buried memory with a hidden connection: the night her mother died, another Merlin was at the hospital. Now that Bree knows there's more to her mother's death than what's on the police report, she'll do whatever it takes to find out the truth, even if that means infiltrating the Legendborn as one of their initiates.

She recruits Nick, a self-exiled Legendborn with his own grudge against the group, and their reluctant partnership pulls them deeper into the society's secrets—and closer to each other. But when the Legendborn reveal themselves as the descendants of King Arthur's knights and explain that a magical war is coming, Bree has to decide how far she'll go for the truth and whether she should use her magic to take the society down—or join the fight."
It Ends With Us by Colleen Hoover
"Lily hasn't always had it easy, but that's never stopped her from working hard for the life she wants. She's come a long way from the small town in Maine where she grew up – she graduated from college, moved to Boston, and started her own business. So when she feels a spark with a gorgeous neurosurgeon named Ryle Kincaid, everything in Lily's life suddenly seems almost too good to be true.

Ryle is assertive, stubborn, and maybe even a little arrogant. He's also sensitive, brilliant, and has a total soft spot for Lily, but Ryle's complete aversion to relationships is disturbing.

As questions about her new relationship overwhelm her, so do thoughts of Atlas Corrigan – her first love and a link to the past she left behind. He was her kindred spirit, her protector. When Atlas suddenly reappears, everything Lily has built with Ryle is threatened."
The Song of Achilles by Madeline Miller
"Greece in the age of heroes. Patroclus, an awkward young prince, has been exiled to the kingdom of Phthia to be raised in the shadow of King Peleus and his golden son, Achilles. "The best of all the Greeks"—strong, beautiful, and the child of a goddess—Achilles is everything the shamed Patroclus is not. Yet despite their differences, the boys become steadfast companions. Their bond deepens as they grow into young men and become skilled in the arts of war and medicine—much to the displeasure and the fury of Achilles' mother, Thetis, a cruel sea goddess with a hatred of mortals.
When word comes that Helen of Sparta has been kidnapped, the men of Greece, bound by blood and oath, must lay siege to Troy in her name. Seduced by the promise of a glorious destiny, Achilles joins their cause, and torn between love and fear for his friend, Patroclus follows. Little do they know that the Fates will test them both as never before and demand a terrible sacrifice."
"Ketterdam: a bustling hub of international trade where anything can be had for the right price—and no one knows that better than criminal prodigy Kaz Brekker. Kaz is offered a chance at a deadly heist that could make him rich beyond his wildest dreams. But he can't pull it off alone. . . .

A convict with a thirst for revenge. A sharpshooter who can't walk away from a wager. A runaway with a privileged past. A spy known as the Wraith. A Heartrender using her magic to survive the slums. A thief with a gift for unlikely escapes.

Six dangerous outcasts. One impossible heist. Kaz's crew is the only thing that might stand between the world and destruction—if they don't kill each other first."
"Olivia Prior has grown up in Merilance School for Girls, and all she has of her past is her mother's journal—which seems to unravel into madness. Then, a letter invites Olivia to come home to Gallant. Yet when Olivia arrives, no one is expecting her. But Olivia is not about to leave the first place that feels like home; it doesn't matter if her cousin Matthew is hostile, or if she sees half-formed ghouls haunting the hallways.
Olivia knows that Gallant is hiding secrets, and she is determined to uncover them. When she crosses a ruined wall at just the right moment, Olivia finds herself in a place that is Gallant—but not. The manor is crumbling, the ghouls are solid, and a mysterious figure rules over all. Now Olivia sees what has unraveled generations of her family, and where her father may have come from.
Olivia has always wanted to belong somewhere, but will she take her place as a Prior, protecting our world against the Master of the House? Or will she take her place beside him?"
Anna and the French Kiss by Stephanie Perkins
"Anna can't wait for her senior year in Atlanta, where she has a great job, a loyal best friend, and a crush on the verge of becoming more. So she's less than thrilled when her father unexpectedly ships her off to boarding school in Paris—until she meets Étienne St. Clair, the perfect boy. The only problem? He's taken, and Anna might be, too, if anything comes of her crush back home. Will a year of romantic near-misses end in the French kiss Anna awaits?"
"A beautiful and distinguished family. A private island. A brilliant, damaged girl; a passionate, political boy. A group of four friends—the Liars—whose friendship turns destructive. A revolution. An accident. A secret. Lies upon lies. True love. The truth.

Read it. And if anyone asks you how it ends, just LIE."