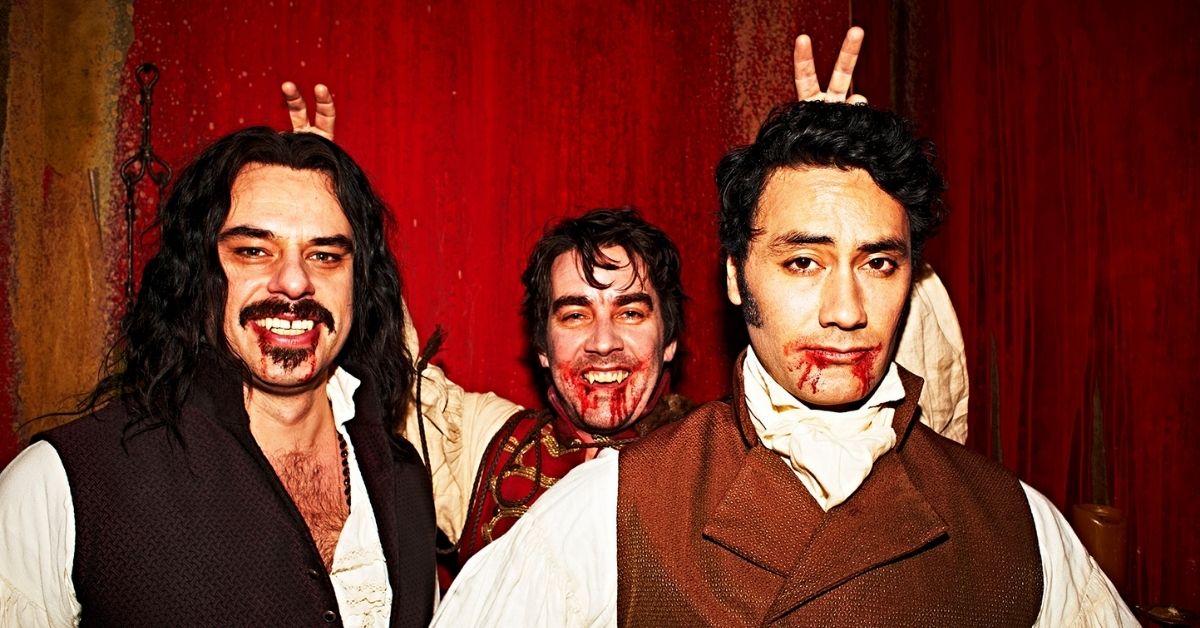 13 of the Best Horror Comedies You Can Watch Right Now–And Where To Find Them
What We Do in the Shadows (2014)
Whether you're trying to convince a friend to watch a scary movie with you, or you just need to lighten the mood after what a shit show the last few years have been, horror comedies are always the answer. While there are plenty of less-than-stellar horror spoofs and parodies out there, not all horror comedies are trash. Check out some of the best horror comedies ever made, along with where you can find them.
(If you're looking for new horror movies, just streaming on Netflix, check out this article on Creepy Catalog.)
What We Do in the Shadows (2104)
Before it was a successful TV show, What We Do in the Shadows killed it as a masterful mockumentary from everyone's favorite filmaking Kiwis, Taika Waititi and Jemaine Clement. A film crew is documenting a crew of vampire roommates living in modern New Zealand as they deal with technology, the local werewolf population, and not being invited into night clubs. It is 100% hilarious all of the time and a must-watch if you call yourself a horror comedy enthusiast.
Watch What We Do in the Shadows on Hoopla and Kanopy.
Happy Death Day (2017)
You'd think at this point we'd all be sick of Groundhog Day plots where someone lives the same day over and over, but nope. Happy Death Day does the trope right. College student Tree keeps living her birthday over and over, and at the end of each round, she's murdered by an unknown slasher. Unlike Groundhog Day, she can't just relive the same day forever because each round she gets sicker and sicker. Happy Death Day has perfect execution with the right amount of sassy comedy and even a cute little romance.
Watch Happy Death Day with an FXNow subscription or rent it form the various streaming services.
Scary Movie (2000)
When Scary Movie came out in 2000, it was fresh and new. Up until that point, there weren't a lot of parody movies that spoofed horror movies. It took on Scream, The Sixth Sense, Blair Witch Project, and more. It also introduced us to the comic genius of Anna Faris. While it had so many sequels, the original Scary Movie is by far the funniest and least ridiculous.
Watch Scary Movie with a Showtime subscription.
Shaun of the Dead (2009)
Nothing beats the comedic genius of Simon Pegg and Nick Frost, especially when they're directed by Edgar Wright. This dream trio gave us the masterpiece that is Shaun of the Dead, a British zombie comedy that rules all others. Now I'll just be at the Winchester if you need me, having a pint and waiting until this all blows over.
Rent Shaun of the Dead on Prime Video, Vudu, or other streaming services.
The Babysitter (2017)
It's not often you get a Netflix Original movie that's damn-near perfect. Alas, that's what we get with The Babysitter. Cole has a crush on his hot babysitter, Bee, but that crush ends when he discovers that she's a member of a murderous cult. Worst of all, the cult wants his blood. This is gory and fun and just what you need on a Saturday night.
Watch The Babysitter on Netflix.
Ready or Not (2019)
Speaking of The Babysitter's Samara Weaving, she's also in new horror comedy classic Ready or Not. Weaving's Grace just married into a wealthy family. Unfortunately they have a really shitty tradition for every time someone marries into the family: A deadly game. Grace chooses Hide and Seek and needs to fight for her life to survive. This has an 88% on Rotten Tomatoes for good reason.
Rent Ready or Not on Prime Video, Vudu, and other streaming services.
Freaky (2020)
From the director of Happy Death Day, here's another hilarious and surprisingly well-made horror comedy. There's a serial killer in town, and when he tries to kill teen Millie, they accidentally switch bodies. Yep, this is Freaky Friday meets Friday the 13th. If you've been wondering where Vince Vaughn has been, here he is–and he's doing great.
Watch Freaky on HBO Max.
Buffy the Vampire Slayer (1992)
Time to watch the movie that started it all. Although the Buffy the Vampire Slayer movie is very different from the subsequent show, it's humor and brightly colored '90s aesthetic makes it a classic in its own right. Watch for the late Luke Perry (RIP) and stay for Paul Reubens stealing the show with his extended death scene.
Rent Buffy the Vampire Slayer on Prime Video, Vudu, and other streaming services.
Creep (2014)
A man is hired to document a guy's life since he's been diagnosed with a terminal illness and doesn't have much longer to live. He begins filming him but quickly learns the guy is a bit of a weirdo. This mockumentary/found footage film is hilarious, especially considering most of it was improvised. Creep is written by and stars Mark Duplass and Patrick Brice, one killer duo.
Watch Creep on Netflix.
Evil Dead II (1987)
The Evil Dead series is interesting because the amount of humor varies so much. The original is mostly just your classic cabin-in-the-woods horror, while the third, Army of Darkness, is all slapstick comedy, all the time. I recommend Evil Dead II for its perfect blend of humor and spooky scares. Plus, it's a classic that you really shouldn't miss.
Watch Evil Dead II on HBO Max.
Scouts Guide to the Zombie Apocalypse (2015)
Ben just wants to have a Boy Scouts camping trip with his two best friends, yet all they want is to skip out and attend a massive party. All plans are foiled when a zombie outbreak ruins everything. Now they have to use their Scout skills to fight back. If you're on the fence about this movie, the absolutely killer opening scene will def change your mind.
Rent Scouts Guide to the Zombie Apocalypse on Prime Video, Vudu, and other streaming services.
Tucker and Dale Vs. Evil (2010)
Tucker and Dale are two sweet rednecks who are just happy to finally have a little fishing cabin to themselves. Unfortunately, a group of young college students camping nearby find them spooky as hell and keeping accidentally dying while they try to get away from the pair. This is one of those perfect movies that anyone can like, even if they're not into horror.
Watch Tucker and Dale Vs. Evil on Prime, Hoopla, or Kanopy.
Cooties (2014)
Something's gone off with the food in the elementary school cafeteria–to no one's surprise–and now the school is filled with murderous zombie children. The teachers have to take things into their own hands, all while trying to prevent the kids from getting outside of the school and killing everyone. If you've ever wanted to watch Elijah Wood bash kids in the face, here's your movie.
Watch Cooties on Vudu and the Roku Channel.