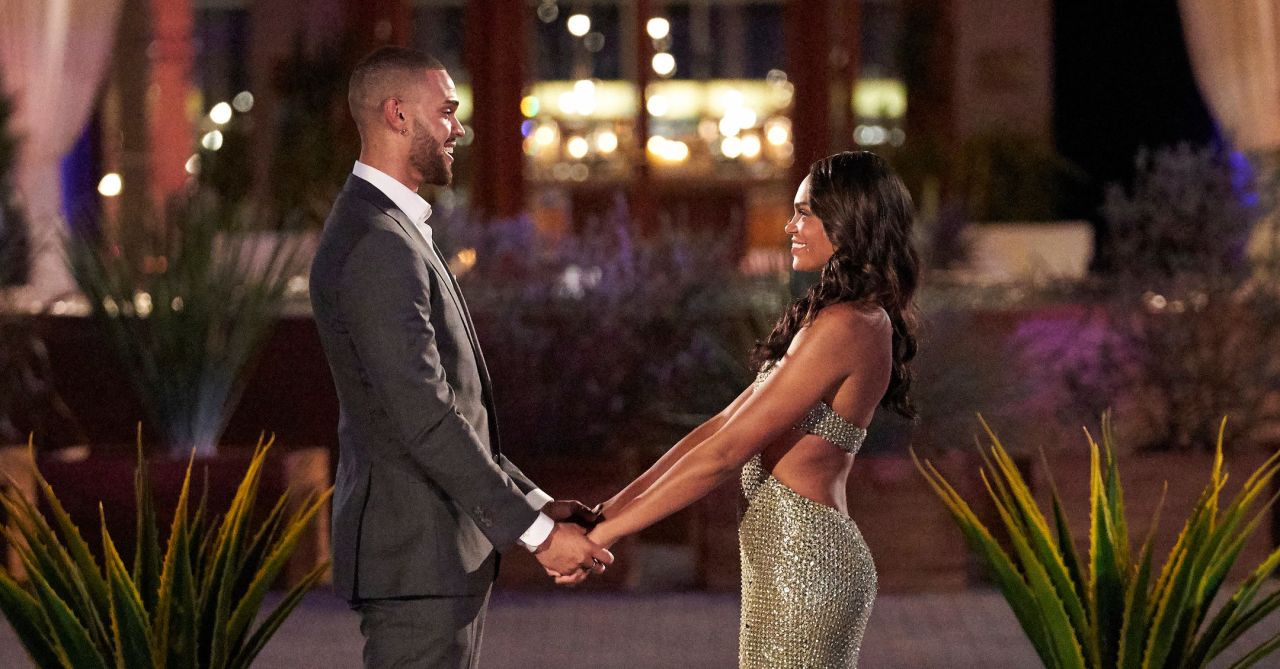 8 Real Lessons In Love You Can Learn From "The Bachelorette"
Nothing beats the ridiculous drama of The Bachelor and The Bachelorette. With fantasy leagues and regular Bachelor nights, watching this train wreck every season has become one of the main ways some of us bond with our friends.
The drama, the crying, the "can I steal you for a second"–it can make you think that ABC's dating reality show is just a lesson in what not to do. Sure, you can learn what kind of man you need to avoid, but you know what else? Even this highly produced competition can help you learn some valuable lessons in love. Right now, Michelle Young is trying to find the love of her life on this season's The Bachelorette, and maybe you can find your love, too.
1. First Impressions Carry More Weight Than You'd Think
Your gut can be a good way to measure whether someone is right for you. On The Bachelor and The Bachelorette, one contestant is given the First Impression Rose at the end of the first night. Here's the thing: The winners of the First Impression Rose are significantly more likely to win. Of the past 15 seasons that have had First Impression Roses, 8 of those have gone on to become the winner. Considering that most seasons start with over 20 guys, those are some great odds. Work on your first impression skills and trust your gut!
2. High Drama Moments Can Make You Fall in Love Faster
Have you ever noticed how completely bonkers some of these one-on-one dates can be? From going up in an antigravity airplane to scaling the side of a building, it almost feels like ABC is hoping they catch their bachelorette's demise. Actually, these high-octane dates just help make the couples fall in love faster.
Time did a great piece on how the adrenaline from these danger dates can mimic the feeling of falling in love. What does this science mean for you? If you want to feel like you're falling in love, set up dates that'll scare you–even if it's just a walk through a haunted house. Just remember that the adrenaline might be making you feel something that isn't there.
3. Not Everyone is Here for the "Right Reasons"
Just like how some of the contestants are on the show to get famous, not everyone you meet in the real world is on the same page as you. Maybe they're lying about wanting a relationship and are just in it for the sex? Heck, the hot model you're chatting with on Tinder could even be a bot. Sometimes you have to do a bit of digging to make sure they're in it for the right reasons.
4. Sometimes You Have to Ask for What You Want
The "can I steal you," moment of any group date has become so meme-able that it's a staple in Bachelorette drinking games. Contestants will interrupt the pair as they get to know each other so they have their own moment with the object of their affection. While it's hilarious to watch, it's also a good lesson. If you like someone, go over and talk to them. Don't be afraid to interrupt. Ask for what you want and you'll probably get it.
5. You Can Find Real Love in the Oddest Circumstances
Haters of The Bachelor and its spin-offs like to say how fake the show is. While it's been overly produced to oblivion, some contestants do find real love. Of all seasons of The Bachelor, The Bachelorette, and Bachelor in Paradise, 19 couples are still together long after the show has ended. Clearly they can find love even when producers are actively looking to start drama. If they can, why can't you?
6. There's a Good Chance You're Going to Choose the Wrong Guy
Okay, while there's been a lot of real love found on the show, it's still more likely for contestants to pick a dud. That's just how life works! You date different people until you finally find one you love. And that might take a lot of dating.
You might have seen the recent news that Ben Higgens from The Bachelor season 20 just got married. While it wasn't to his pick on the show, Lauren, he's clearly found the love of his life with Jessica. Good job, Ben!
7. Sometimes it isn't About the Guy
One of the most heart-warming parts of The Bachelor and its spin-offs is the real lifelong relationships made on the show. No, we're not talking about love. Contestants often create real bonds of friendship. Even though they're competing to win the heart of the bachelorette, they still manage to have friendships that can withstand the competition. Many friends from Ben Higgins' seasons showed up at his recent wedding, including Wells Adams and Nick Viall.
Even if you don't find the love of your life, make sure you're creating connections on the journey. You might just come out of it with some killer best friends.
8. Summer Flings are the Best
Remember those stats about how many couples are still together after their seasons finished? Most of those came from the spin-off show Bachelor in Paradise. Former contestants all meet up for one big free-for-all in a tropical location full of coconut-based mixed drinks and days spent in bathing suits. Even if they had no intention of falling in love, they certainly had fun.
The next time you're on vacation or enjoying the summers on the beach, let yourself fall for those around you. You're bound to have a lot of fun, and maybe even find the one.