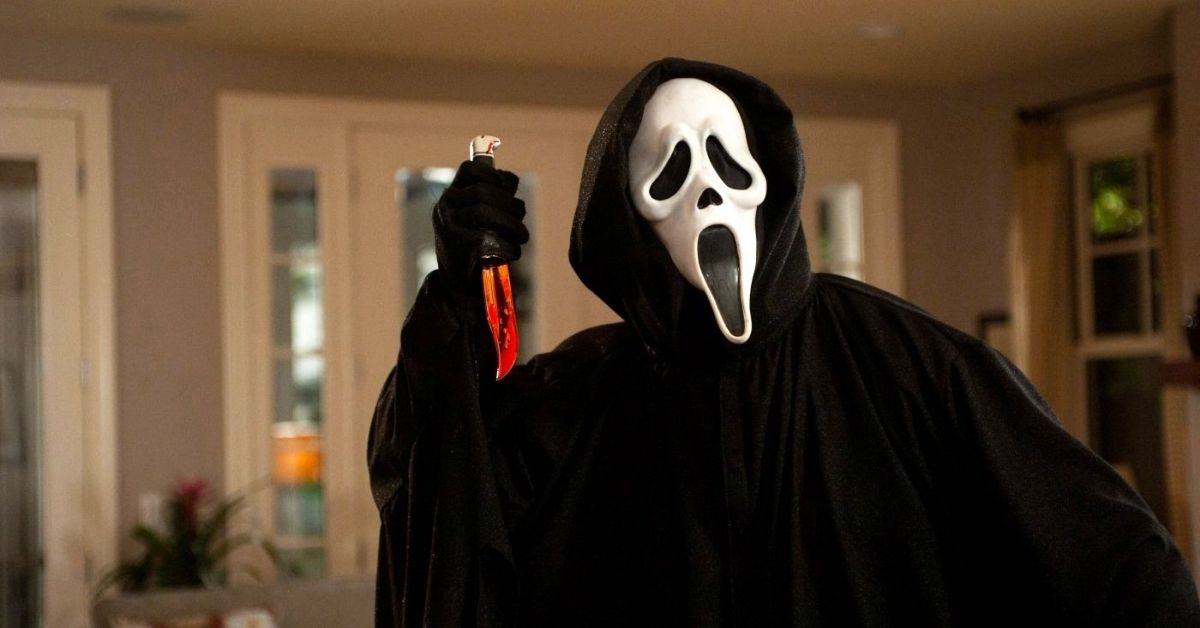 If You Like 'Scream,' Check Out These Movies And TV Shows You Can Stream Right Now
With the new Scream movie out now, superfans are getting their now decennial dose of self-aware slasher horror. Whether you're a new fan of the series or you've been loving the story and characters since 1996, you might love other movies and TV shows similar to the franchise. Not only are these movies and TV shows perfect for a Scream fan, they're also easily available to stream. If you like Scream, you're going to love these picks.
Halloween (1978)
Scream is a slasher movie for people who love slasher horror. Check out one of the best classic slasher movies, Halloween, to see Scream's predecessor. Michael Myers breaks out of confinement to head back to his hometown. He's got a bloodlust for babysitters and is intent on doing them in. Watch for original scream queen Jamie Lee Curtis who kills it as Laurie Strode.
Watch Halloween on Shudder or for free on Hoopla and the Roku Channel.
A Nightmare on Elm Street (1984)
Another classic slasher, A Nightmare on Elm Street shares a director with Scream, Wes Craven. The teens on Elm Street are having spooky dreams of a man with a striped sweater and knives for fingers. Unfortunately, if they die in the dream, they die in real life. This is Johnny Depp's very first movie and he has one of the most epic death scenes in all of horror cinema. (Sorry for the spoiler, but this movie is almost 40 years old, so…)
Watch A Nightmare on Elm Street for free on Tubi.
The Craft (1996)
If you love Neve Campbell, Scream's Sidney Prescott, check her out in another '90s classic, The Craft. A new girl's in town and she quickly falls in with the local weird girls. They're a coven of teen witches and they want Sarah to join. If you were a pre-teen or teen girl when this movie came out, you likely had short yet very active Wicca phase.
Watch The Craft with a Starz subscription.
I Know What You Did Last Summer (1997)
If you're a fan of the writing for Scream, the screenwriter, Kevin Williamson, also wrote I Know What You Did Last Summer. While it isn't as irreverent or self-aware as Scream, the film still captures the fun of slasher horror. In it, a group of teens accidentally hit a pedestrian on a winding coastal road. They leave the body and keep what happened a secret. The following summer, someone knows what they did and are intent on revenge.
Watch I Know What You Did Last Summer on Netflix.
The Faculty (1998)
Another banger from Kevin Williamson, The Faculty is an oft-forgotten '90s sci-fi horror. A group of students start noticing that their teachers are acting a little off. Then the student body starts to change as well. It's like Invasion of the Body Snatchers for teens. This one's a good watch if you're looking for something that flies under a lot of people's radars.
Watch The Faculty on HBO Max.
Scary Movie (2000)
Who doesn't love a good horror comedy? While Scary Movie spoofs many horror movies, it's main focus is Scream. While this kicked off a long series of sequels, the original is by far the best. Plus, you get to see Anna Faris in her breakout role as a spoofed Sidney Prescott, Cindy.
Watch Scary Movie with a Showtime subscription.
Cabin in the Woods (2012)
If you haven't already watched Cabin in the Woods, now's the time. Just like Scream, this instant classic plays with horror tropes and features a satisfying twist. A group of friends rent a cabin in the woods, and things quickly turn spooky and strange when they read a journal they find in the basement. This was made by Joss Whedon, but don't hold that against it.
Watch Cabin in the Woods for free on Peacock.
The Babysitter (2017)
For a newer slasher movie, try The Babysitter, a surprisingly great Netflix Original within the babysitter horror movie genre. Cole has a crush on his babysitter, which is unfortunate since it turns out she's trying to kill him with the help of her teen friends. This movie is hilarious and scary in equal measure. It also features the brilliant Samara Weaving, who you may know from Ready or Not.
Watch The Babysitter on Netflix.
Scream TV Series (2015-2019)
Did you know there was a Scream TV show? Originally airing on MTV, the show brought the series to the modern age. It has all the slasher horror you might be looking for. It's a horror anthology series, so the stories from season one and two are separate from season three. Just be aware that the Ghostface mask looks way different in the show.
Watch the Scream TV show on Netflix.
Scream Queens (2015-2016)
Don't let the name fool you: this isn't connected to Scream. Still, it's a great slasher horror show with lots of laughs. A slasher terrorizes a college campus and hilarity ensues. It stars Emma Roberts, who played Jill Roberts in Scream 4. And for an actual scream queen, Jamie Lee Curtis plays the college dean.
Watch Scream Queens on Hulu or watch free with Vudu, and Prime Video's IMDb TV.
I Know What You Did Last Summer TV Series (2021)
Did you know that the original I Know movie was based on a YA novel from the '70s? The author was upset that Kevin Williamson's adaptation was such a big departure from the novel. Well, this new take on the source material, the I Know What You Did Last Summer TV show, is supposed to be a lot more faithful. It was canceled after one season, so this will be a nice, short watch.
Watch the I Know What You Did Last Summer TV show on Prime Video.
Love Scream? Check out some behind-the-scenes facts you didn't know about the Scream series.