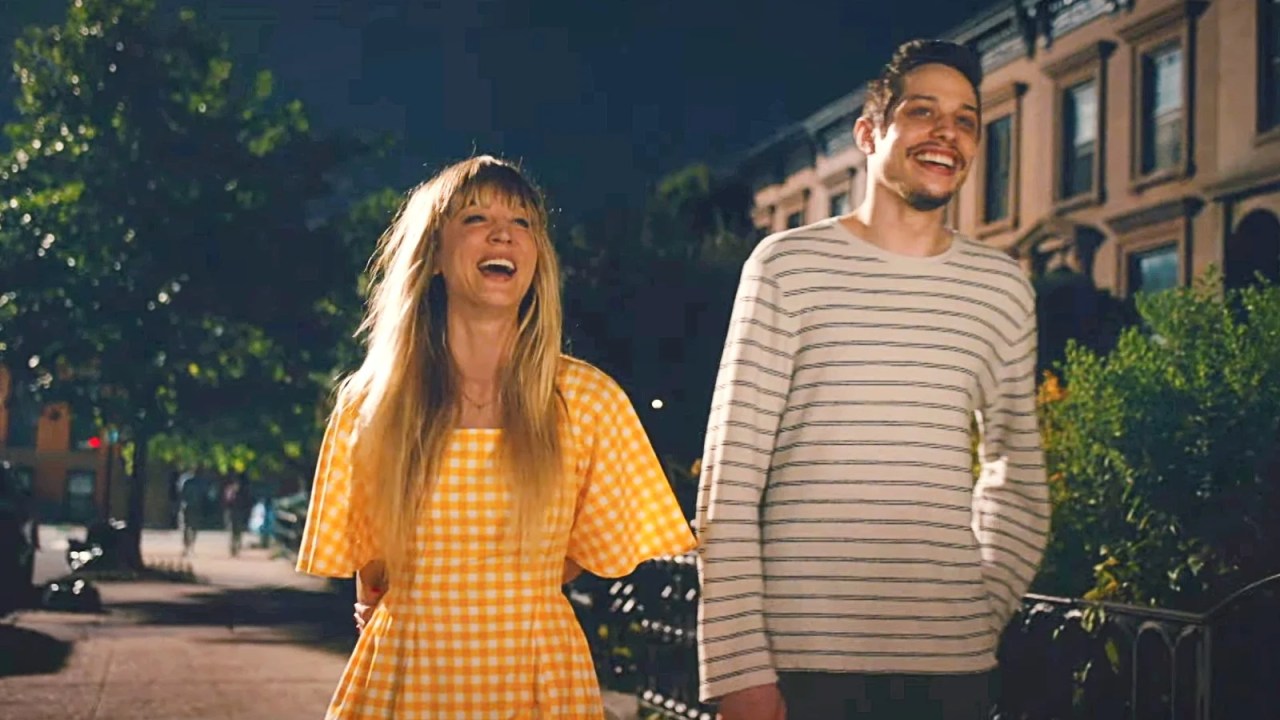 Updated on
'Meet Cute': Pete Davidson and Kaley Cuoco's New Movie ISN'T Cute, It's Terrifying
Meet Cute (2022) / Peacock
All us Pete Davidson fans have been clamoring for any romantic comedy we can get starring this unlikely sex symbol. We got it with Peacock's new original movie Meet Cute starring the SNL alum and Big Bang Theory's Kaley Cucoco. Or did we? While the Peacock Premium streaming service lists this as a comedy and Wikipedia says it's a romantic comedy, I have some sad new for you. Meet Cute is anything but cute and funny. It's better listed under stalker thrillers like Netflix's series You than joining a list of everyone's favorite rom-coms. And worse…it's just not that good. Here's why. (Only minor spoilers ahead.)
The plot could have worked…maybe.
It starts in a bar. Kaley Cuoco's Sheila stares longingly across the bar at Pete Davidson's Gary. (We get it.) Eventually she gets up the nerve to go over and talk to him, buying him an Old Fashioned. They quickly hit it off and have a great night being cute all over New York City. The banter is tops, including Sheila saying she's actually a time traveler from 24 hours in the future.
It's a fun premise, going back in time a day to have another date with this awesome guy. In someone else's hands, it could have lived up to the rom-com trope of the title. A "meet cute" is the moment when two characters meet in a fun and original way. And that certainly seems to be happening. But here's where things go downhill fast: It's only cute for about ten minutes. Then it dips right into the uncomfortable stalker movie I didn't realize I was watching.
This is scary.
Rather than playing the movie like an actual romantic comedy, Meet Cute instead centers Sheila as a deranged stalker. She only ever relives this one day, over and over for months and years. Her characterization doesn't just border on obsessive–it's in there to the fullest degree. It doesn't feel romantic or sweet. Instead, I recoiled at her obsession with a man she doesn't really know. Was this supposed to be cute? Because the way they made the movie is anything but. Maybe if they hadn't marketed it as a romantic comedy, things would be different. And the vibes between Sheila and Gary don't really help the cause…
The chemistry just isn't there.
Another huge stumbling block is the chemistry between Kaley Cuoco and Pete Davidson, or lack thereof. While Sheila is stumbling over herself to be with this guy, he seems barely into it the whole time. It's this weird dichotomy between overeager stalker and blasé slacker that probably contributes to the You-style spooky vibes I mentioned before. All of the hotness that normally swirls around Pete Davidson like flies has been stripped away. He doesn't seem to want to be there, thus making the romance between the two feel inauthentic at best. It's disappointing. But there is one silver lining…
At least Kaley Cuoco did a great job.
With all the complaints I clearly have about Meet Cute, there's one area where I really have none: Kaley Cuoco's acting. The woman is great at looking longingly–and a little crazily–at the object of her affection. She did stellar work at ranging from sweet and loving to totally deranged. Her character was convincing. Sure, I would have liked it better if it was more of a romantic comedy than a cautionary tale about stalking and obsession, but here we are. With all of this, the ending just didn't feel right. While Meet Cute didn't live up to my expectations, at least Cuoco showed off her acting chops.
Have see seen Meet Cute? Are you going to watch it? You can check it out on Peacock Premium.