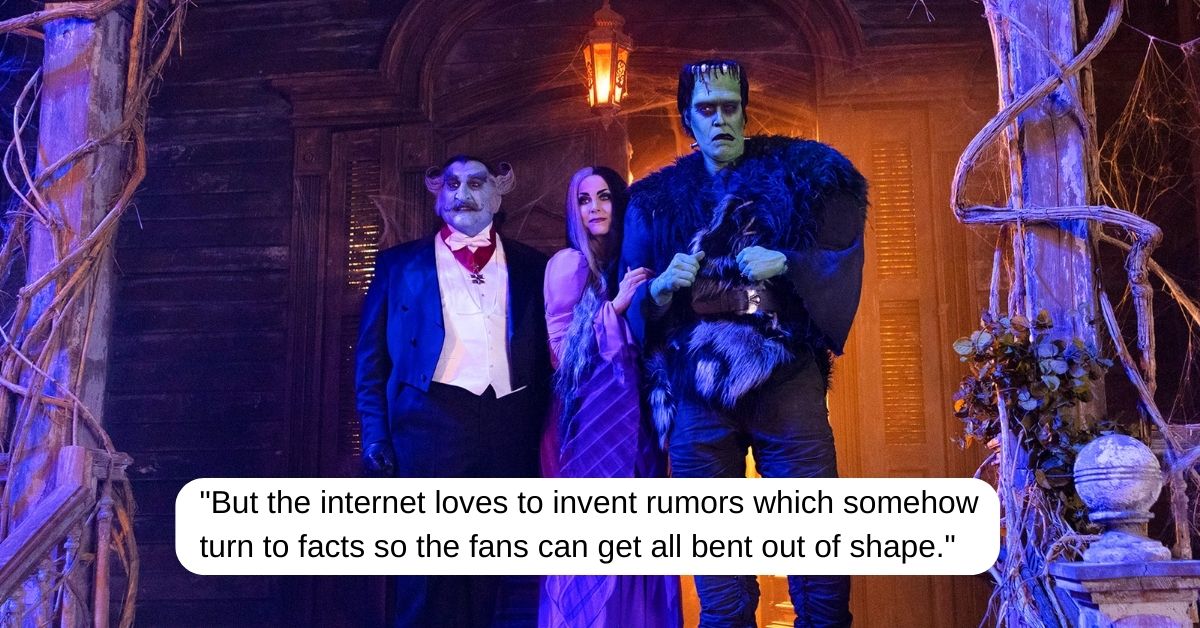 Rob Zombie Reacted To All The Criticism Of The Trailer For 'The Munsters'
Last week we talked about the new trailer that dropped for Rob Zombie's reimagining of the classic spooky family TV show, The Munsters. Plenty of fans had some scathing stuff to say once they saw the trailer, from poking fun at the style and quality to complaining about the casting. To say that some people were brutal would be a bit of an understatement. Well, clearly all that criticism has gotten to the legend himself, Rob Zombie. The writer/director/musician took to his Facebook today to address some of the complaints: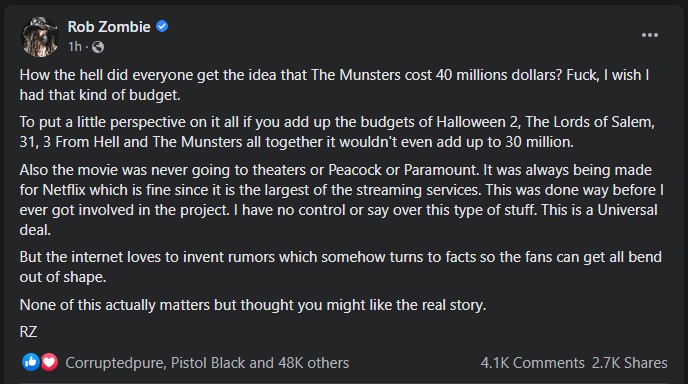 First he addressed the budget concerns. Many complaints were about how cheap the trailer looked, especially since there was a rumor going around that the budget was $40 million. With that kind of money, you'd think it'd look better. But Zombie said, "How the hell did everyone get the idea that The Munsters cost 40 millions dollars? Fuck, I wish I had that kind of budget." In fact, he lists many of his own movies, like The Lords of Salem and Halloween 2, and he said none of them added up to $30 million, even added together.
Clearly some people had a complaints about The Munsters going straight to Netflix. After all, Netflix's reputation hasn't been the greatest lately, what with layoffs, rising costs, and questionable relationships with certain comedians. He had this to say about the criticism:
Also the movie was never going to theaters or Peacock or Paramount. It was always being made for Netflix which is fine since it is the largest of the streaming services. This was done way before I ever got involved in the project. I have no control or say over this type of stuff. This is a Universal deal.

Rob Zombie, Facebook
Zombie ends the Facebook post with some sass about the Internet:
But the internet loves to invent rumors which somehow turns to facts so the fans can get all bend out of shape.

None of this actually matters but thought you might like the real story.

Rob Zombie, Facebook
Despite it only being a few hours since Rob Zombie posted this message on Facebook, it already has a ton of support from his fans. The comments section is mostly filled with positive energy from the fanbase. There's even a little cameo from Ari Lehman, the guy who played the original Jason in Friday the 13th (1980), among other things: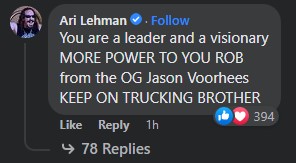 Now that Rob Zombie has cleared some things up, how do you feel about the new The Munsters? Did he change your mind? The Munsters is supposedly slated for a 2022 release on Netflix, so we'll soon found out if the criticism was on-the-mark or if it's actually a great remake after all.