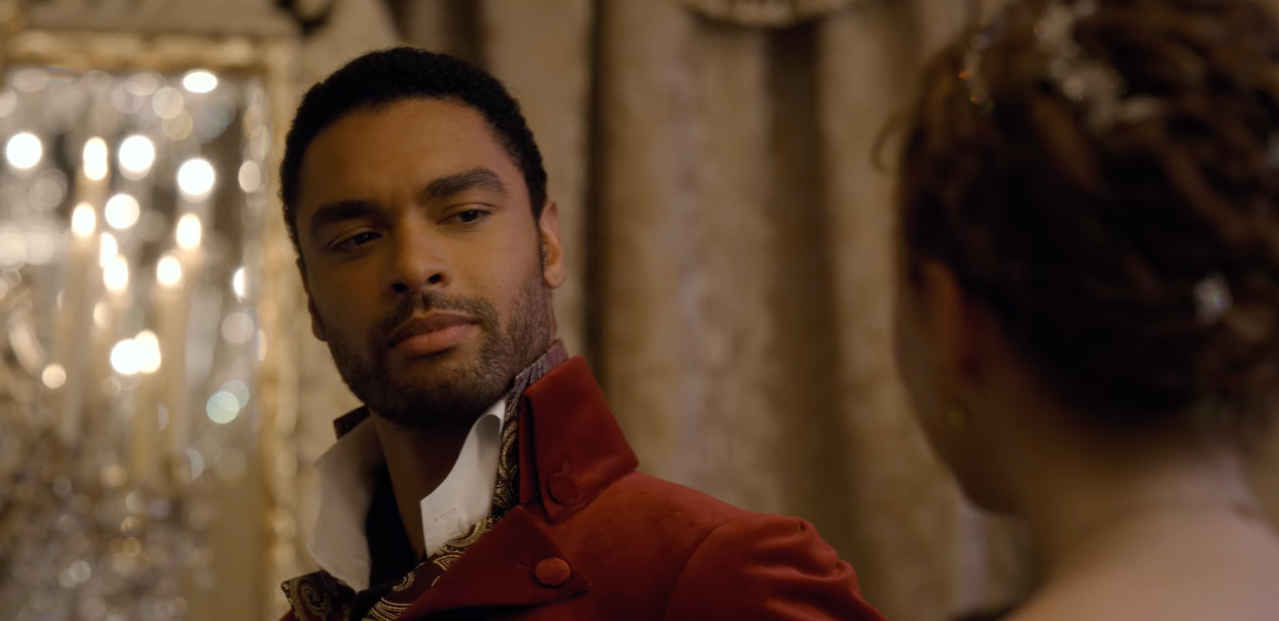 Steamy Books To Read After You Finish Binging 'Bridgerton'
If you can't get enough of Bridgerton, there are plenty of ways to fill the time before season three. First, start with the books that the series is based on so you can get more of your favorite characters. Then move onto the other steamy reads on this list!
Bridgerton: The Duke and I by Julia Quinn
"By all accounts, Simon Basset is on the verge of proposing to his best friend's sister—the lovely and almost-on-the-shelf—Daphne Bridgerton. But the two of them know the truth—it's all an elaborate ruse to keep Simon free from marriage-minded society mothers. And as for Daphne, surely she will attract some worthy suitors now that it seems a duke has declared her desirable.

But as Daphne waltzes across ballroom after ballroom with Simon, it's hard to remember that their courtship is a sham. Maybe it's his devilish smile, certainly it's the way his eyes seem to burn every time he looks at her . . . but somehow Daphne is falling for the dashing duke . . . for real! And now she must do the impossible and convince the handsome rogue that their clever little scheme deserves a slight alteration, and that nothing makes quite as much sense as falling in love."
Bringing Down the Duke (A League of Extraordinary Women Book 1) by Evie Dunmore
"England, 1879. Annabelle Archer, the brilliant but destitute daughter of a country vicar, has earned herself a place among the first cohort of female students at the renowned University of Oxford. In return for her scholarship, she must support the rising women's suffrage movement. Her charge: recruit men of influence to champion their cause. Her target: Sebastian Devereux, the cold and calculating Duke of Montgomery who steers Britain's politics at the Queen's command. Her challenge: not to give in to the powerful attraction she can't deny for the man who opposes everything she stands for.

Sebastian is appalled to find a suffragist squad has infiltrated his ducal home, but the real threat is his impossible feelings for green-eyed beauty Annabelle. He is looking for a wife of equal standing to secure the legacy he has worked so hard to rebuild, not an outspoken commoner who could never be his duchess. But he wouldn't be the greatest strategist of the Kingdom if he couldn't claim this alluring bluestocking without the promise of a ring…or could he? Locked in a battle with rising passion and a will matching her own, Annabelle will learn just what it takes to topple a duke…."
To Have and to Hoax by Martha Waters
"Five years ago, Lady Violet Grey and Lord James Audley met, fell in love, and got married. Four years ago, they had a fight to end all fights, and have barely spoken since.

Their once-passionate love match has been reduced to one of cold, detached politeness. But when Violet receives a letter that James has been thrown from his horse and rendered unconscious at their country estate, she races to be by his side—only to discover him alive and well at a tavern, and completely unaware of her concern. She's outraged. He's confused. And the distance between them has never been more apparent.

Wanting to teach her estranged husband a lesson, Violet decides to feign an illness of her own. James quickly sees through it, but he decides to play along in an ever-escalating game of manipulation, featuring actors masquerading as doctors, threats of Swiss sanitariums, faux mistresses—and a lot of flirtation between a husband and wife who might not hate each other as much as they thought. Will the two be able to overcome four years of hurt or will they continue to deny the spark between them?"
Mr. Malcolm's List by Suzanne Allain
"The Honourable Mr. Jeremy Malcolm is searching for a wife, but not just any wife. As the target of matchmaking mothers and desperate debutantes, he's determined to avoid the fortune hunters and find a near-perfect woman, one who will meet the qualifications on his well-crafted list. But after years of searching, he's beginning to despair of ever finding this paragon. Until Selina Dalton arrives in town.

Selina, a vicar's daughter of limited means and a stranger to high society, is thrilled when her friend Julia Thistlewaite invites her to London, until she learns it's all part of a plot to exact revenge on Mr. Malcolm. Selina is reluctant to participate in Julia's scheme, especially after meeting the irresistible Mr. Malcolm, who appears to be very different from the arrogant scoundrel of Julia's description.

But when Mr. Malcolm begins judging Selina against his unattainable standards, Selina decides that she has some qualifications of her own. And if he is to meet them he must reveal the real man behind…Mr. Malcolm's List."
Rebel (Women Who Dare) by Beverly Jenkins
"Valinda Lacy's mission in the steamy heart of New Orleans is to help the newly emancipated community survive and flourish. But soon she discovers that here, freedom can also mean danger. When thugs destroy the school she has set up and then target her, Valinda runs for her life—and straight into the arms of Captain Drake LeVeq.
As an architect from an old New Orleans family, Drake has a deeply personal interest in rebuilding the city. Raised by strong women, he recognizes Valinda's determination. And he can't stop admiring—or wanting—her. But when Valinda's father demands she return home to marry a man she doesn't love, her daring rebellion draws Drake into an irresistible intrigue."
"Abandoned by her parents, bookish and sheltered Georgiana Ellers is spending the summer with her stodgy aunt and uncle at their home in the English countryside. At a particularly dull party, she meets the enigmatic Frances Campbell, a wealthy member of the in-crowd who delights Georgiana with her disregard for so-called 'polite society.'

Lonely and vulnerable, Georgiana quickly falls in with Frances and her wealthy, wild, and deeply improper friends, who introduce her to the upper echelons of Regency aristocracy, and a world of drunken debauchery, frivolous spending, and mysterious young men. One, in particular, stands out from the rest: Thomas Hawksley, who has a tendency to cross paths with Georgiana in her most embarrassing moments. Sparks fly, but Thomas seems unimpressed with the company she is keeping. And soon, Georgiana begins to wonder whether she'll ever feel like she fits in––or if the price of entry into Frances's gilded world will ultimately be higher than she is willing to pay.

Set against a backdrop of lavish parties, handsome men on horseback––and in a time when one's reputation was everything––this edgy, hilarious romantic comedy explores sex, consent, belonging, and status through the eyes of an unforgettable heroine that Austen herself would have cheered for."
A Lady's Guide to Mischief and Mayhem by Manda Collins
"Newspaper columnist Lady Katherine Bascomb finds herself the subject of speculation when her latest article leads to an arrest in the murders plaguing London. The English believe women ought not to write about such vulgar things as crime, and a particularly attractive detective inspector is incensed that she's interfered with his investigation. To escape her sudden notoriety, Katherine heads to the country-only to witness a murder upon her arrival.
Detective Inspector Andrew Eversham is appalled when Lady Katherine entangles herself in one of his cases-again. Her sensationalist reporting already nearly got him kicked off the police force, and he'll be damned if he permits her to meddle a second time. Yet, her questions are awfully insightful, and he can't deny his attraction to both her beauty and brains. As the clues point to a dangerous criminal, the two soon realize their best option is working together. But with their focus on the killer lurking in the shadows, neither is prepared for the other risk the case poses-to their hearts."