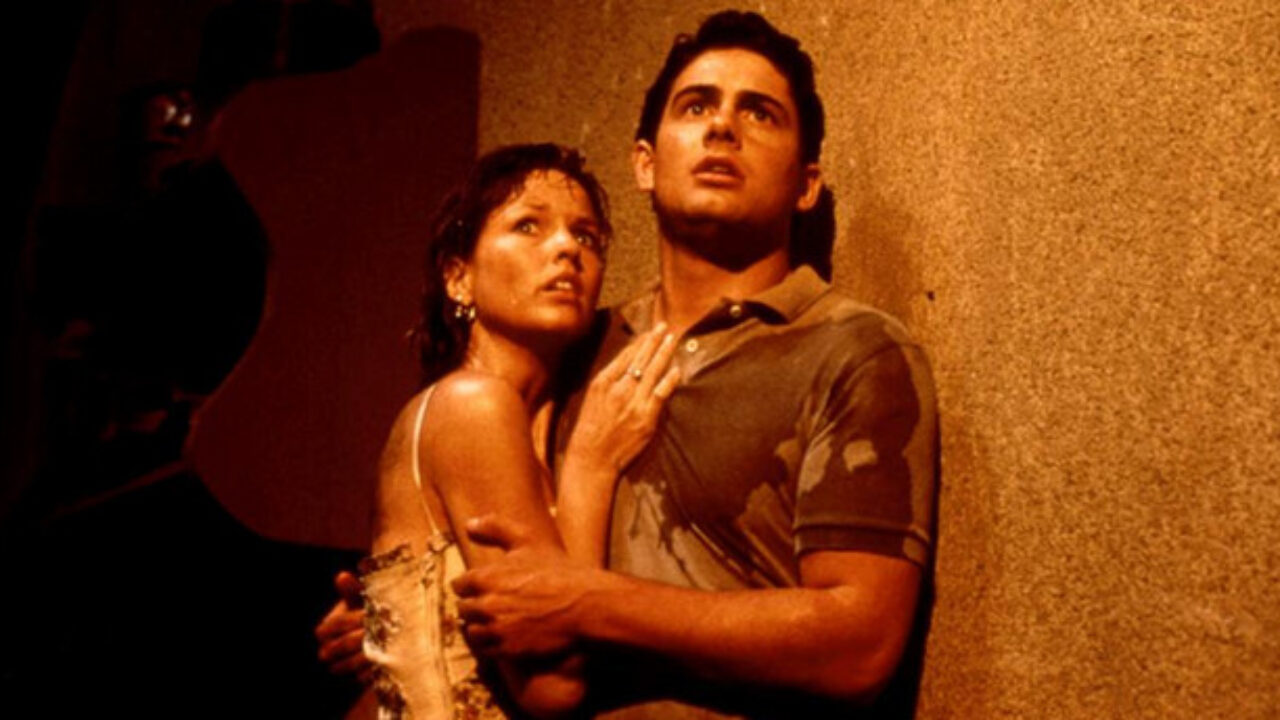 Updated on
The One Scene From 'Waxwork' That Always Stuck With Me (NSFW)
Horror fans might remember 1988's Waxwork. A group of teens are invited to a private midnight tour of a creepy wax museum that popped up in their neighborhood seemingly overnight. As teens are wont to do, they went against their better judgement and traipsed their way into uncertain death. As they tour the museum, without a helpful guide, they find scene after scene of classic horror stories. Wolf Man, Count Dracula, zombies galore–the gang's all there. It's a veritable playground for horror fans. As each teen steps into a different display, they live out each scary story and become a permanent part of the exhibit.
I loved this movie as a kid, along with its 1992 time-hopping sequel. It was that right mix of serious scares and brightly colored chuckle-inducing camp that made '80s horror movies so special. Watching Tony yelling at the sky, assuming he's in a hologram, as he ends up at the claws and gnashing teeth of the Wolf Man is horror comedy gold. There's always been one scene that stuck out to me though. Perhaps it was just a bit too risque for my childhood brain or maybe the raw sexuality of it was out-of-place in an otherwise lighthearted movie. Either way, if you've seen Waxwork, you probably know what scene I'm talking about.
Enter the Marquis de Sade
Most of the teens have been turned into wax figures. Mark, played by Zach Galligan from Gremlins, wants to go back to the waxwork to finally destroy the place for good. He enlists the help of remaining teen Sarah, played by Deborah Foreman. They need to burn down the museum before the last displays can claim victims or it may just mean the end of the world. Unfortunately Sarah, well-known sweet and innocent virgin that she is, is taken by the Marquis de Sade display. Before Mark can pull her away, she steps onto the display and enters the kinky world of the depraved Marquis de Sade.
The tone of the Marquis de Sade scene is a departure from the rest of the film. There's no camp to be found, no funny one-liners, no ridiculous practical effects. Instead, we enter a scene where Sarah is carted off to the Marquis as his offering to the prince. The men discuss her fate and they decide she needs to be whipped. Rather than struggle against her bonds or yell that this isn't real, Sarah immediately succumbs to her role in the scene. She's the terrified-yet-willing virgin about to be ravaged by a madman.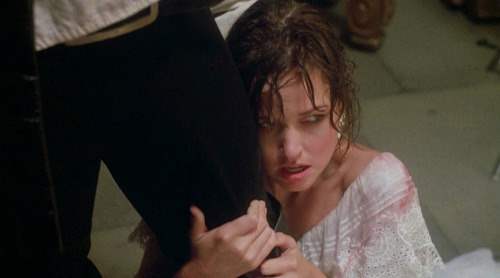 When Mark finally makes his way into the display to save her from the Marquis, he finds that she's not only enjoying being bound and whipped, but she actively wants to stay. She clings onto the leg of the Marquis de Sade and begs him to keep her. When Mark tears her away from him, the Marquis has to get in a final dig:
Oh, don't be angry just because she had her first orgasm at the end of a whip.
The intimacy of this line, the intimacy of the whole scene really, is way deeper than anything else that happens in the movie. Even watching it years later, the scene still sticks out to me. We're getting a glimpse into the mindset of Sarah that is far deeper than the surface-level characters that populate the film. And guess what: It gets even more intimate when you consider what was going on off-screen.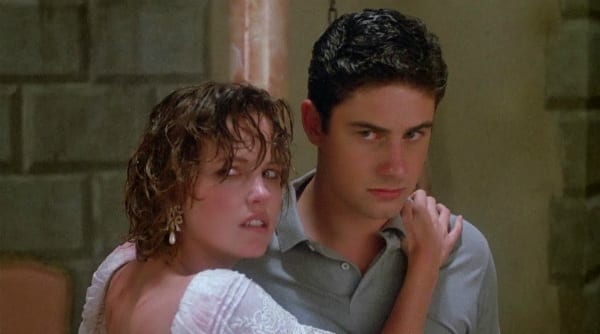 Waxwork was written and directed by Anthony Hickox. It was his debut feature film and, as is often the case in Hollywood, he used a bit of nepotism when it came to casting. He was actually in a relationship with Deborah Foreman during the making of the movie, making the out-of-place intimacy of the sexually-charged Marquis de Sade scene even more eyebrow-raising. Do you think he wrote that scene specifically with her in mind?
Foreman and Hickox broke up between Waxwork and its sequel, which explains why Foreman didn't reprise the role as Sarah in Waxwork II. Maybe that's for the best. Either way, the scene is forever burned into my memory, especially that epic line from the Marquis de Sade. If you want a reminder, you can watch Waxwork on the Roku Channel, Vudu, or Tubi.