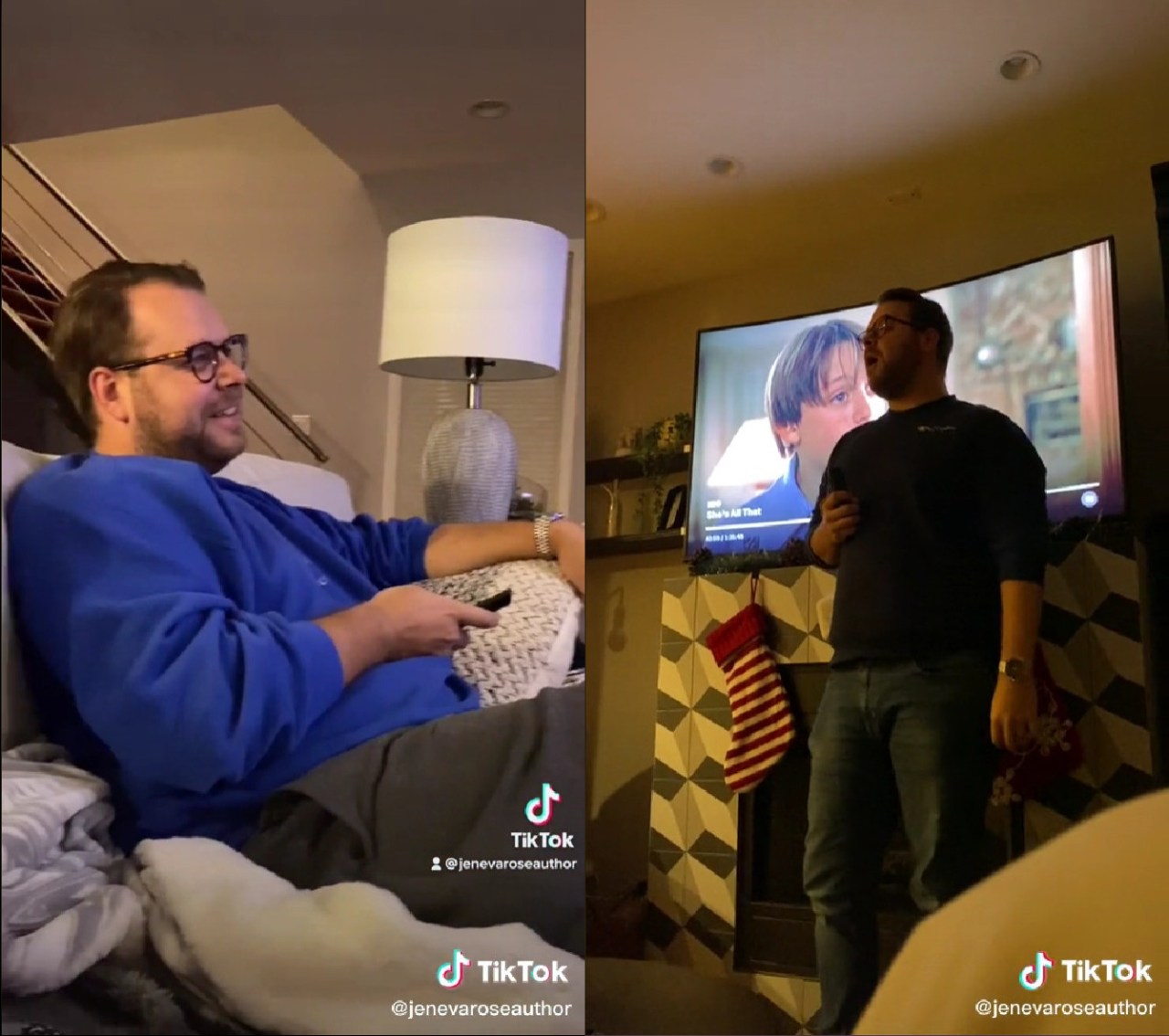 This TikTok Hubby Is Ruining All Your Favorite Teen Movies…And It's Hilarious
Some of the best, most popular teen movies came out in the late 90s and early 00s. Even if you weren't a teen at the time, you've likely spent hours watching and loving these movie must-sees. From She's All That to Sleepover, they're seriously great. But are they really? This TikTok hubby might just shatter your list of faves.
Bestselling author Jeneva Rose's husband Drew has become a sensation through her TikTok, @jenevaroseauthor. They've been watching all her favorite teen movies and he's come up with some seriously spicy hot takes that may just make you look at your faves differently from now on. His hot takes are going viral, gaining nearly 4 million views so far.
Sleepover is Creepy
This is the TikTok that started it all. Drew can't help but pause while watching Sleepover (2004) starring Alexa PenaVega. At the climax of the movie, when the homecoming king wants to find PenaVega's Julie, Drew stands up in front of the TV and rips the film a new one, all with remote in-hand like his own personal microphone.
"Wait, what?" he says. "Think about that playing out in real life…he's the homecoming king, so he's probably like 17 or 18 and she's a middle school girl." Now that he mentions it, that's creepy as hell.
Everyone is Hot in She's All That
Next, Drew took on probably one of the most beloved teen romantic comedies of the 1990s: She's All That. Of course, he brought up what we've all been thinking since the movie came out: It's criminal to imply that Rachel Leigh Cook is anything other than stunning.
The whole premise is that Freddie Prinze Jr.'s Zach Siler is tasked with turning the worst girl in school into a prom queen as a bet. The girl they choose? Laney Boggs, deemed ugly by the sheer fact that she's wearing glasses and paint-covered overalls. "Glasses off sweetheart," says Drew. I'd be so curious what he thinks of the new Netflix sequel, He's All That.
The Teacher is Clearly a Perv in Never Been Kissed
There's something so sweet about Drew Barrymore's 1999 teen rom-com, Never Been Kissed. A reporter goes back to high school to write about the teen experience, but ends up falling for her sexy English teacher.
Drew paused the movie at the pivotal moment when Mr. Coulson finds out that Josie Geller was in her 20s all along. The teacher says "Why? Because it's suddenly allowed for me to be attracted to you?" Big yikes!
Yet Another Pervy Teacher in 10 Things I Hate About You
How about the detention scene in 10 Things I Hate About You (1999)? It might not have seemed all that weird when you were a teen, but the way Julia Stiles' Kat helps Heath Ledger's Patrick get out of detention is beyond weird. Drew imagines what it must have been like in the writers' room: "Let's have a minor show her tits to an old man." Gross.
If you want more hot takes from Jeneva Rose's husband Drew, keep an eye on her TikTok where they'll hopefully post new TikToks in the series: @jenevaroseauthor.