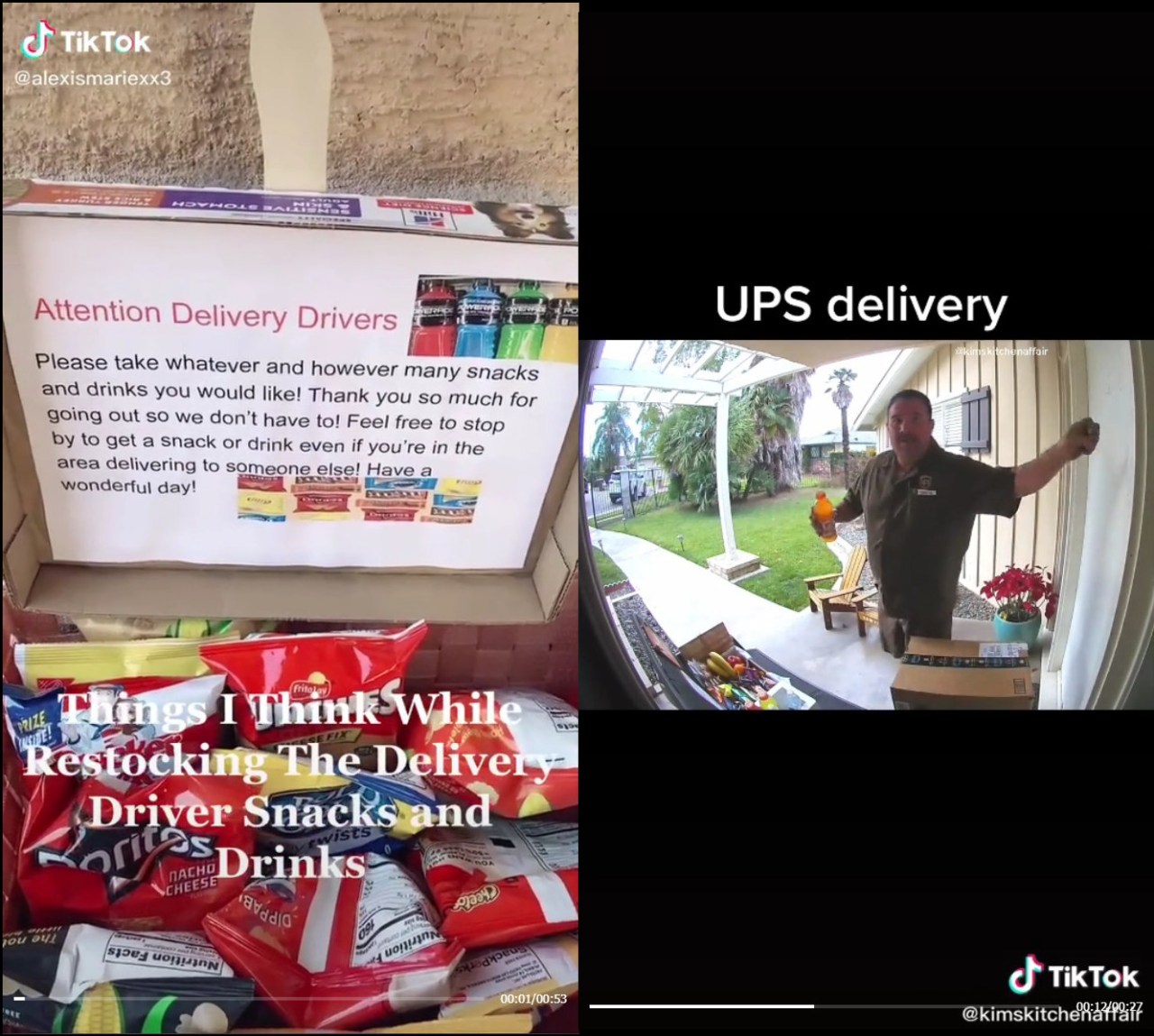 TikTok Users Are Thanking Delivery Drivers With Free Snacks… And Their Reactions Are Going Viral
Package and food delivery drivers already had it rough, but add in the pandemic delivery boom and the upcoming holiday season and they've got a workload few could handle. Add in overly aggressive dogs and unappreciative package recipients and you can imagine just how un-fun it can be to work the delivery beat.
Enter one of the most heart-warming TikTok trends: Free snacks for delivery drivers. TikTok users are posting their elaborate snack and drink setups along with heartfelt messages of thanks and it's started a snowball effect of appreciation. Best of all, the drivers are loving it!
Snacks, Drinks, and a Thanks
Everyone's snack setup is a little different, but it all starts with the thank you note.
TikTok user @alexismariexx3 lets delivery drivers know that these bags of chips, fun-sized Halloween candy bars, and bottles of water and energy drinks are free as thanks for all they do. At the top of her candy stash, she has a sign letting delivery drivers of all kinds know they can take as much or as little as they want, all for free.
And what snacks do they provide? Everyone's different. For @jenniferhenrynovich, that means healthy snacks like Wheat Thins, packs of Skippy peanut butter, and Honest Kids juice boxes. If it's something you'd like to snack on during a long day of hard work, you can bet the delivery drivers would love it, too.
Speaking of which…
Delivery Drivers' Reactions are Going Viral
By far the best thing to come out of this TikTok trend is the reactions these killer snacks and drinks get from those who arrive at their doors. With doorbell cams, TikTok users have all sorts of reactions from their package and food delivery drivers, and their posts are getting big numbers.
This UPS delivery driver was stoked to find the free snacks left out by @kimskitchenaffair. He gave a thank you to her doorbell cam after picking up a bottle of orange Gatorade. Good choice!
Some videos of thankful drivers are even going viral. The sweet reaction from this Amazon delivery driver, captured by the @simplymadeshop doorbell cam, ended up going viral with over 2 million views so far.
"Oh my god, y'all don't have to be nice…Oh that's so sweet." We agree with this Amazon driver. This trend is the sweetest.