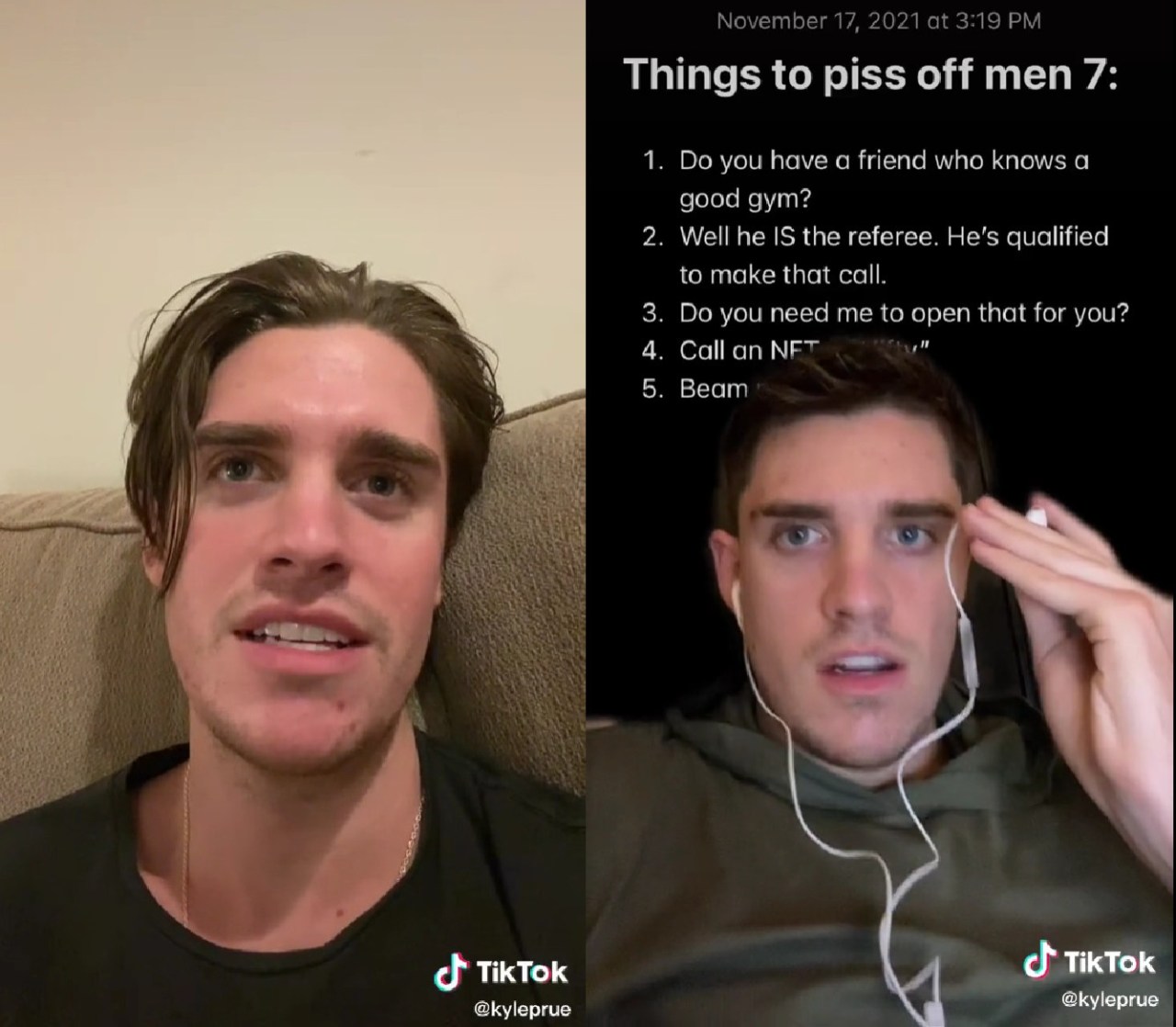 TikTok's Kyle Prue Teaches All Of Us What To Say To Piss Off Men
Imagine you're at a bar, excited to have a night out with your girls, when you feel a tap on your shoulder. A man is standing too close, nearly spilling his overpriced IPA on your new dress as he drones on about crypto. You need something scathing to say to get this guy to go away. If you're stumped, TikTok's Kyle Prue has gone viral for giving women exactly what to say to piss men off, and it's golden.
Kyle's "Things You Can Say to Piss Off Men" TikTok series regularly gets millions of views, and you can understand why. With the notes app on his phone, he lists several things you can say to upset the worst men's fragile egos and masculinity. It's honestly empowering.
The "What To Say To Piss Off Men" Series
It all started with this TikTok. He just had one thing ladies could say to piss off men: That they sound like a cartoon character when they sleep. With a half million likes and over two thousand comments, it was clear people wanted more.
Kyle began writing up lists of things women could say to men, and the series quickly became a hit. Now with almost 10 parts as of this writing, the series has become one of the main bangers on his TikTok.
In his most recent entry in the series, Kyle's holiday edition lists thing you can say to the men in your life when you're stuck at annoying family gatherings.
As you can imagine, the men have started coming out of the woodwork, proving Kyle right. They complain in the comments, get heated, and even stitch his videos going off on him. I guess his advice works!
Who Is Kyle Prue?
Kyle Prue definitely has some good advice on riling up the men-folk, but who is this guy really?
Kyle started his journey at 16 when he began writing a YA fantasy novel. The Sparks turned into the Feud Trilogy, three books that have won several literary awards. Realizing the importance of literature, Kyle then founded Sparking Literacy, an organization that hopes to reduce dropout rates by getting teens interested in reading. Although they haven't been big roles, Kyle Prue has also acted in a few films.
Some Of Kyle Prue's Best Gems For Pissing Off Men
Of course, some of his gems are better than others. Here are some of the best things you can say to men to piss them off, courtesy of Kyle Prue:
If you want to keep up with this series, follow Kyle on TikTok: @kyleprue. And if you end up using any of his advice, stitch his TikToks because we'd all love to hear a storytime.