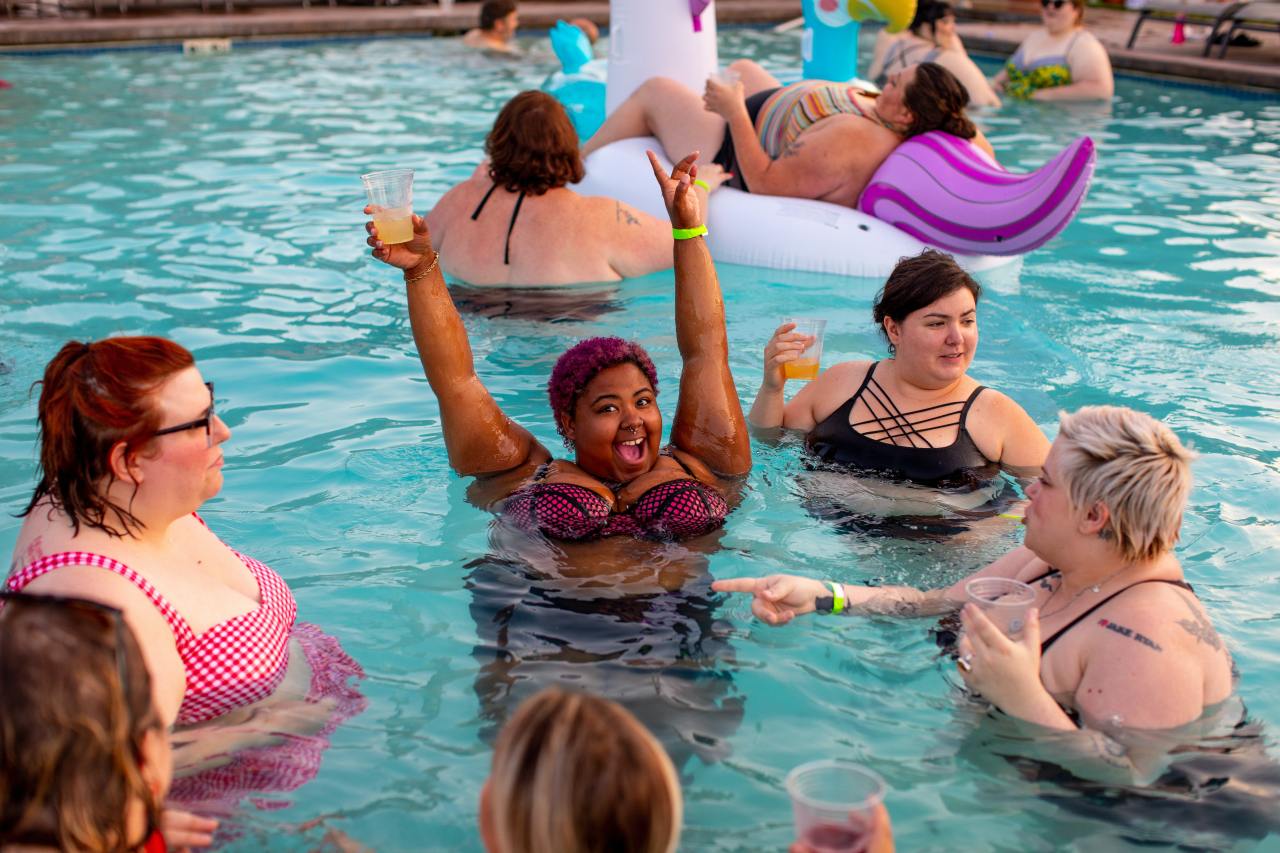 To The Women Who Shamed Me: Every Body Is A Bikini Body
I have a secret spot at the lake an hour north of my city. It's at the public beach, but tucked away, a tiny beach oasis just for me. I can wade out into the cool waters, the shivers running across my bare skin. When I'm spent, ready for a break, I lay out a colorful blanket onto one of the nearby picnic tables and eat cheese and crackers and homemade hummus. I play cards with friends, I talk about all of the relationships in my life. I provide a listening ear to a friend as we soak up the sun that dapples our skin, rays shining through the impossibly tall larch trees that surround us. And I do this all proudly, in a colorful bikini, in a larger body.
Last summer, on one such fabulous day at my secret swimming spot, I split up from my friend for a bathroom break. Emerging from the bathrooms, I crossed the crowded parking lot, striding confidently in my bikini and sandals. No coverup or sarong barred the world from seeing my body. But as I walked near a pair of young moms as they corralled their children out of their matching SUVs, I saw a look pass from one to the other. We all know this look.
The woman on the right shot a look at her friend, then darted her eyes to me and back, the international sign for "look at her." The other mom, the receiver of this classic stare, glanced at me as she tried to wrangle the shark-shaped floatee away from her young son. I could almost feel her gaze as it raked from my thick thighs, up to my high-wasted floral bikini bottom, to my exposed midriff and my cute floral bikini top. She took in every inch of me in that second. And when she turned her gaze back to her friend, I was unsurprised at the look they shared then. The raised eyebrow. The rolled eyes. The shared understanding that what they were seeing was not okay. This bigger body–because that's what I was, reduced to the frame I move in–had the audacity to show skin. To walk confidently in much less fabric than this body should feel comfortable wearing.
It was just a moment. I made consistent eye contact with them as I watched them judge my body, judge my choice of swimwear, judge the fact that I don't have shame. And then it was over. I rejoined my friend at the picnic table and continued our card game. I wasn't hurt. I didn't want to cover up. An emotion I did feel was surprise. Because this is the first time in over five years of wearing a bikini as a plus size woman that I actually noticed someone be disgusted.
I don't choose what I wear for the people who I might grace with my presence throughout the day. I don't wear dresses or skirts or crop tops because I think it's what people want to see. I do it because I like it, because it makes me feel good, because it's me. Choosing a bikini all those years ago was a no-brainer for me. I'm comfortable in my skin. My long torso makes one-pieces uncomfortable and impractical. And I want to feel cute. My body was made for a bikini. My large tummy was made for a bikini. And you know what? So was yours.
Nearly a year after those two women tried to shame me with their eyes, I'm left with one thought. In the next five or ten years, plus size bikinis will be so commonplace that those women will be used to seeing it. The population is getting larger, and fat shaming isn't going to keep people from living their lives anymore. But people–our plus-size pioneers–need to be unafraid and unashamed to get us to the point where it's okay and normal to be anybody in a bikini. I'm happy to be that ambassador, to be the first person those women see. Because soon, there'll be a lot more of us, and no one will have to feel ashamed.