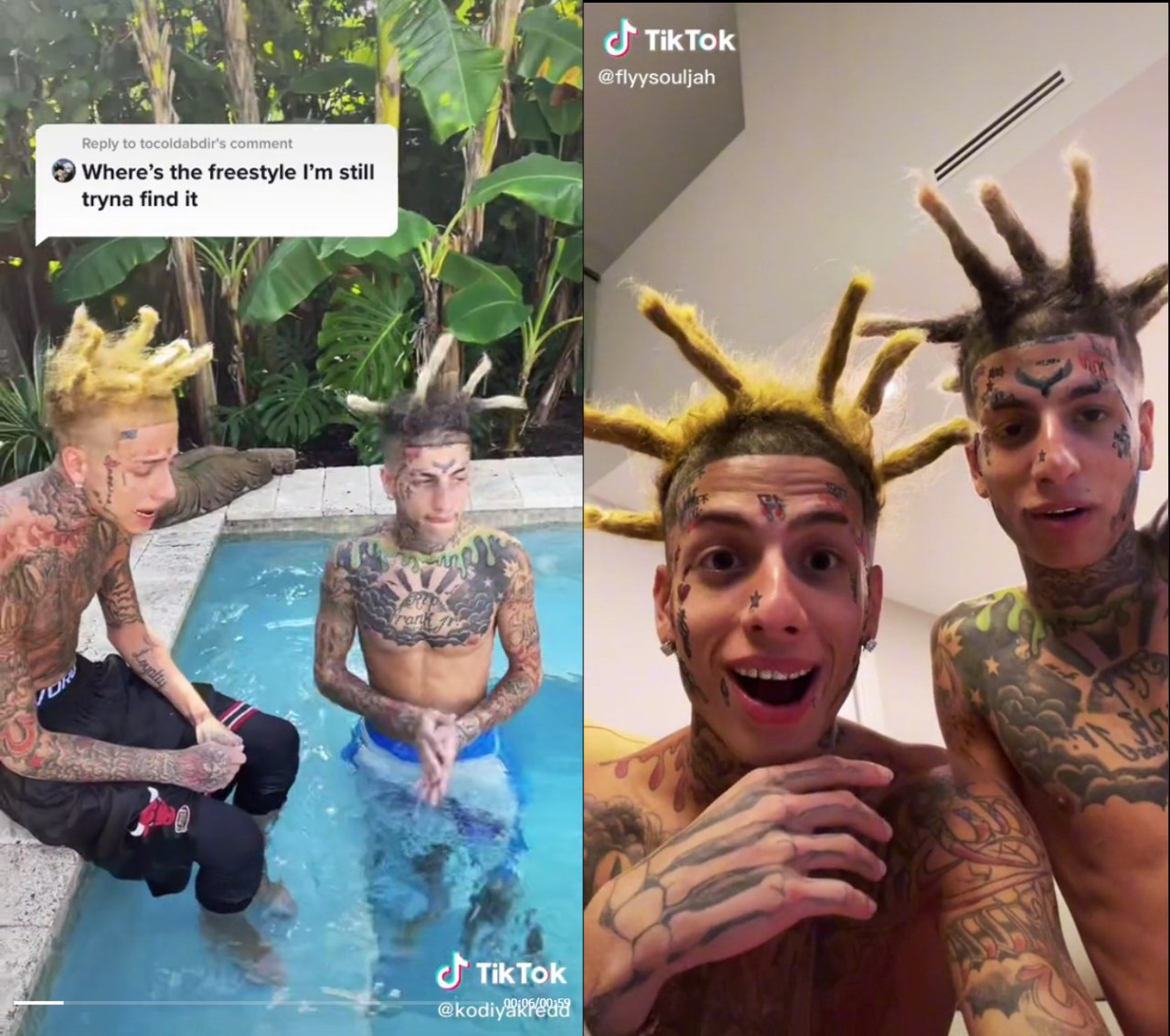 Who Are The Island Boys? Meet Viral TikTok Twins @Flyysouljah And @Kodiyakredd
There's a very good chance that your FYP has been filled with people using all the same sound: the "Island Boy" freestyle. You may even be confused by the high-flying spiked hairstyles — sometimes made with unconventional objects like empty beer cans — people are using while they mouth along to the rap.
You can thank viral TikTok twins The Island Boys for getting that little song stuck in your head. It all began October 13th, 2021, when Kodiyakredd (@kodiyakredd) posted a TikTok with his brother Flyysoulja (@flyysouljah), in the hot tub.
It started as a response to someone asking them to freestyle, and now their "Island Boy" rap has gotten nearly 14 million views and 800k likes. But what you might not have known is this duo was already huge on social media and there's seemingly no end to their rise.
Rough Teen Years for Flyysoulja and Kodiyakredd
Born in 2001 in West Palm Beach, Florida, Cuban American fraternal twins Frank and Alex Venegas found trouble as they entered their teen years. Frank (Kodiyakredd) and Alex (Flyysouljah) both spent years in and out of juvenile detention for several incidents including robberies, assault, and drug charges, according to BeforeTheyWereFamous.
A Distinctive Look for the Island Boys
Although the Island Boys once had more "traditional" looks, they've recently embraced a distinctive style that's gotten them a lot of attention.
Peep the wick dreadlocks they've now become known for. Sticking straight up from the tops of their heads, their matching style has caused many on TikTok and Instagram to nab their looks for duets and Halloween costumes.
Face tattoos are also a distinct look for the twins. In fact, there's now a TikTok filter called "island boy" so you can try out their face tattoos to complete the Island Boys transofrmation.
The Island Boys as Viral Sensations
Though the "Island Boy" freestyle has recently made them viral, it's not like they're fresh on the hot list. They've had a boom in followers, but their numbers were high to begin with. Flyysoulja currently has 2.7 million TikTok followers and just over 500k Instagram (@flyysoulja) followers. Kodiyakredd has 1.4 million on TikTok and just under 500k on Instagram (@kodiyakredd). Their joint YouTube channel Big Bag Entertainment, where they post their rap videos with massive production values, has over 40k subscribers. They're even finding success with Island Boys merch and a Cameo account.
It's not clear yet if they're going to have the staying power of Bhad Bhabie or disappear like Lil Tay. In the meantime, you might want to duet their "Island Boy" freestyle while it's still hot.