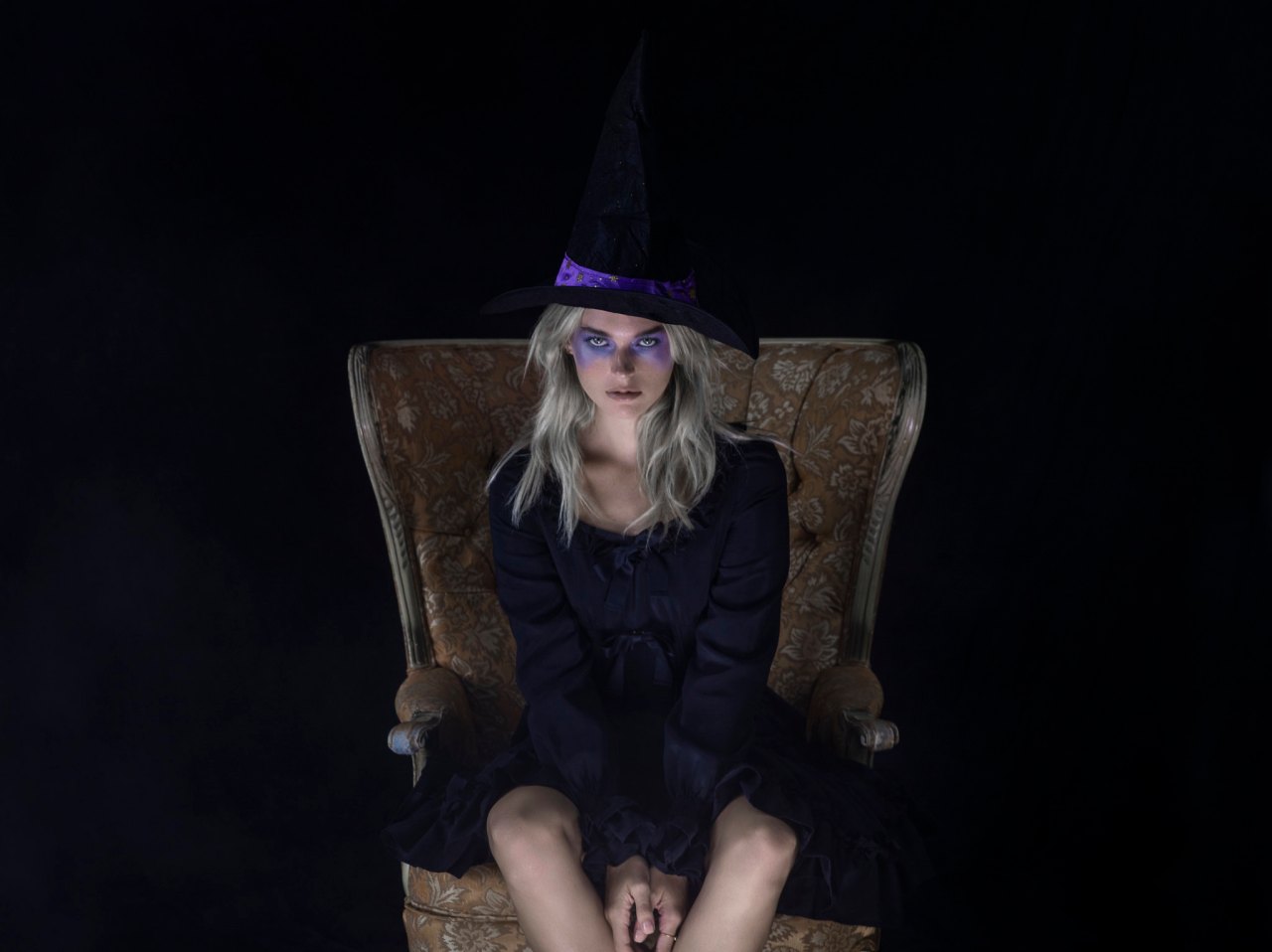 Witchy Books To Read During Halloween 2022
The best way to get into the Halloween spirit? Watching scary movies and reading spooky books. Here are some of the best ones involving witches to get you into the holiday spirit:
"Nine years ago, Vivienne Jones nursed her broken heart like any young witch would: vodka, weepy music, bubble baths…and a curse on the horrible boyfriend. Sure, Vivi knows she shouldn't use her magic this way, but with only an 'orchard hayride' scented candle on hand, she isn't worried it will cause him anything more than a bad hair day or two.
That is until Rhys Penhallow, descendent of the town's ancestors, breaker of hearts, and annoyingly just as gorgeous as he always was, returns to Graves Glen, Georgia. What should be a quick trip to recharge the town's ley lines and make an appearance at the annual fall festival turns disastrously wrong. With one calamity after another striking Rhys, Vivi realizes her silly little Ex Hex may not have been so harmless after all.
Suddenly, Graves Glen is under attack from murderous wind-up toys, a pissed off ghost, and a talking cat with some interesting things to say. Vivi and Rhys have to ignore their off the charts chemistry to work together to save the town and find a way to break the break-up curse before it's too late."
These Witches Don't Burn by Isabel Sterling
"Hannah's a witch, but not the kind you're thinking of. She's the real deal, an Elemental with the power to control fire, earth, water, and air. But even though she lives in Salem, Massachusetts, her magic is a secret she has to keep to herself. If she's ever caught using it in front of a Reg (read: non-witch), she could lose it. For good. So, Hannah spends most of her time avoiding her ex-girlfriend (and fellow Elemental Witch) Veronica, hanging out with her best friend, and working at the Fly by Night Cauldron selling candles and crystals to tourists, goths, and local Wiccans.

But dealing with her ex is the least of Hannah's concerns when a terrifying blood ritual interrupts the end-of-school-year bonfire. Evidence of dark magic begins to appear all over Salem, and Hannah's sure it's the work of a deadly Blood Witch. The issue is, her coven is less than convinced, forcing Hannah to team up with the last person she wants to see: Veronica.

While the pair attempt to smoke out the Blood Witch at a house party, Hannah meets Morgan, a cute new ballerina in town. But trying to date amid a supernatural crisis is easier said than done, and Hannah will have to test the limits of her power if she's going to save her coven and get the girl, especially when the attacks on Salem's witches become deadlier by the day."
The Glass Witch by Lindsay Puckett
"Adelaide Goode has never been good enough. Everyone knows she's the weakest witch born to the Goode family in centuries. And now her mom is betraying her in the worst way possible: abandoning her in Cranberry Hallow, where she has no friends at all, for three whole months! And she's pushing her to compete in the town Halloween pageant!
If Addie is going to be stuck in this town, her mother won't get away so easy…so she sets off the curse that's been haunting her family for centuries. But she doesn't plan on the curse turning her bones to glass and setting a 300-year-old witch hunter after her.
With the aid of a monster-obsessed neighbor and a twitchy-nosed, furry friend, Addie must hunt down the ingredients necessary to break the curse before the stroke of midnight. And if she doesn't…she might just erase magic from her family, and her town, forever."
Payback's a Witch by Lana Harper
"Emmy Harlow is a witch but not a very powerful one—in part because she hasn't been home to the magical town of Thistle Grove in years. Her self-imposed exile has a lot to do with a complicated family history and a desire to forge her own way in the world, and only the very tiniest bit to do with Gareth Blackmoore, heir to the most powerful magical family in town and casual breaker of hearts and destroyer of dreams.

But when a spellcasting tournament that her family serves as arbiters for approaches, it turns out the pull of tradition (or the truly impressive parental guilt trip that comes with it) is strong enough to bring Emmy back. She's determined to do her familial duty; spend some quality time with her best friend, Linden Thorn; and get back to her real life in Chicago.

On her first night home, Emmy runs into Talia Avramov—an all-around badass adept in the darker magical arts—who is fresh off a bad breakup . . . with Gareth Blackmoore. Talia had let herself be charmed, only to discover that Gareth was also seeing Linden—unbeknownst to either of them. And now she and Linden want revenge. Only one question stands: Is Emmy in?

But most concerning of all: Why can't she stop thinking about the terrifyingly competent, devastatingly gorgeous, wickedly charming Talia Avramov?"
Blood Like Magic by Liselle Sambury
"After years of waiting for her Calling—a trial every witch must pass to come into their powers—the one thing Voya Thomas didn't expect was to fail. When Voya's ancestor gives her an unprecedented second chance to complete her Calling, she agrees—and then is horrified when her task is to kill her first love. And this time, failure means every Thomas witch will be stripped of their magic.

Voya is determined to save her family's magic no matter the cost. The problem is, Voya has never been in love, so for her to succeed, she'll first have to find the perfect guy—and fast. Fortunately, a genetic matchmaking program has just hit the market. Her plan is to join the program, fall in love, and complete her task before the deadline. What she doesn't count on is being paired with the infuriating Luc—how can she fall in love with a guy who seemingly wants nothing to do with her?

With mounting pressure from her family, Voya is caught between her morality and her duty to her bloodline. If she wants to save their heritage and Luc, she'll have to find something her ancestor wants more than blood. And in witchcraft, blood is everything."
"Danica Waterhouse is a fully modern witch―daughter, granddaughter, cousin, and co-owner of the Fix-It Witches, a magical tech repair shop. After a messy breakup that included way too much family 'feedback,' Danica made a pact with her cousin: they'll keep their hearts protected and have fun, without involving any of the overly opinionated Waterhouse matriarchs. Danica is more than a little exhausted navigating a long-standing family feud where Gram thinks the only good mundane is a dead one and Danica's mother weaves floral crowns for anyone who crosses her path.
Three blocks down from the Fix-It Witches, Titus Winnaker, owner of Sugar Daddy's bakery, has family trouble of his own. After a tragic loss, all he's got left is his sister, the bakery, and a lifetime of terrible luck in love. Sure, business is sweet, but he can't seem to shake the romantic curse that's left him past thirty and still a virgin. He's decided he's doomed to be forever alone.
Until he meets Danica Waterhouse. The sparks are instant, their attraction irresistible. For him, she's the one. To her, he's a firebomb thrown in the middle of a family war. Can a modern witch find love with an old-fashioned mundane who refuses to settle for anything less than forever?"