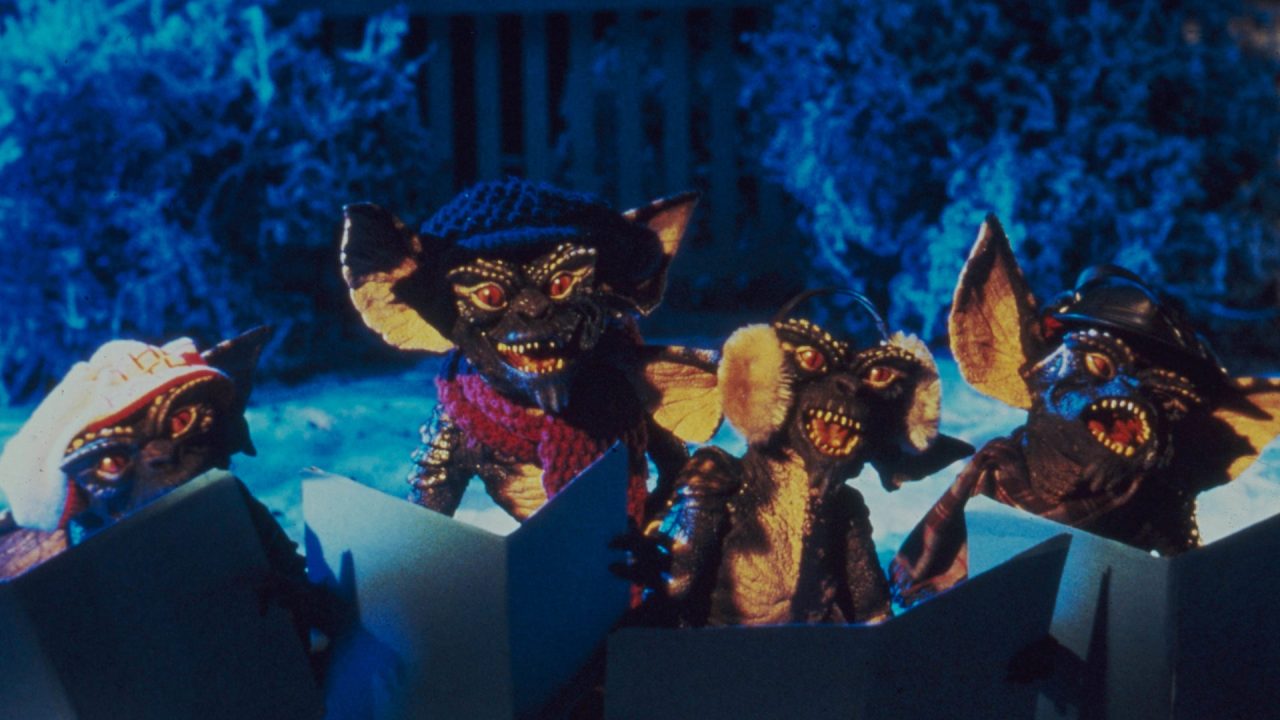 10 Christmas Horror Movies You Can Watch Right Now
Why spend your holiday watching sappy Christmas romance movies when you could be getting extra spooked? Christmas horror movies give that extra special festive feeling you've been looking for. Sure, some of them are campy as hell, but what do you expect? If you're looking to cuddle up on the couch with eggnog and a scary movie, check out these Christmas horror movies you can watch right now. I'll even tell you exactly where you can watch them.
Gremlins (1984)
There's no debating it: Gremlins is a Christmas movie. Set in a wintry small town, a man brings home just about the cutest gift ever: Gizmo, a Mogwai. His son loves Gizmo, but when he's kind of lax on following the rules of no feeding him after midnight and not getting him wet, the town now has a gremlin problem. Set around Christmas, the movie is equal parts creepy, sweet, and hilarious.
Watch Gremlins on HBO Max.
Better Watch Out (2016)
It's the holidays and this babysitter just wants to watch the kid, hang out, and earn some easy money. Yeah, okay, this isn't going to be that easy. When they get hit by a home invasion, the night changes for the worse. While most horror movies get terrible reviews, Better Watch Out actually has the distinction of having an 89% Rotten Tomatoes rating. If you want to make sure you watch something that's actually good, you could try this one.
Watch Better Watch Out on Prime Video.
Jack Frost (1997)
No, we're not talking about the Michael Keaton movie where a dad dies and is resurrected as a snowman. This Jack Frost is all evil, all the time. A serial killer gets transformed into a snowman and rather than packing things up and sitting in a field, he continues his reign of terror. This movie is campy and ridiculous, so it's a great choice when you want to make fun of a budget horror movie with some friends over the holidays.
Watch Jack Frost on Prime Video.
A Christmas Horror Story (2015)
William Shatner narrates an epic story where Santa has to fight the evils of Krampus and his own zombie elves. The battle is starting to affect a small town's innocent inhabitants. If you ever wanted to see Santa Claus be a total badass, here's your chance. Bonus: A Christmas Horror Story has an 83% on Rotten Tomatoes.
Watch A Christmas Horror Story on Shudder.
Anna And The Apocalypse (2018)
The world is ending, but Anna doesn't know it yet. She's just a regular Scottish teen excited about the Christmas holiday when a visit to the graveyard reveals a zombie inside a snowman costume. It's the perfect horror comedy musical set during Christmastime. I mean, it's the only one, but it's still great.
Watch Anna And The Apocalypse on Hoopla or Kanopy.
Black Christmas (2019)
There has already been one remake of the original 1974 horror Black Christmas, but the new 2019 version is particularly good. If you want to see some seriously badass sorority girls fight for their lives over Christmas break, this is the movie for you. We could always use some female empowerment over the holidays.
Watch Black Christmas on HBO Max.
If you want to watch the original instead, find it on Vudu or Peacock.
Mercy Christmas (2017)
Nope, that's not a typo. In Mercy Christmas, Michael Briskett (that last name is definite foreshadowing) jumps at the chance to go to Christmas dinner with the woman of his dreams. Unfortunately, they're not having turkey or ham for dinner–they're having him. As you might have already suspected, this one's a holiday horror comedy. Maybe be careful eating while you watch this.
Watch Mercy Christmas on Vudu and Paramount Plus.
The Children (2008)
In most of these Christmas horror movies, the killers are Santa, Krampus, or deranged snowmen. But won't anyone think of the children? In The Children, it's the kids you've got to worry about. It's Christmas and the kids of this British town are turning on their parents. Can't they just go sledding and drink hot cocoa like the rest of us? Ungrateful brats.
Watch The Children on Vudu and the Roku Channel.
The Advent Calendar (2021)
New this holiday season, French horror film The Advent Calendar turns everyone's favorite chocolate-a-day treat into something we'll all want to avoid. A woman gets a fancy advent calendar with some specific rules: Do a door each day or there will be consequences. Her friends think she's just hallucinating the resultant horrors, but she's not so sure.
Watch The Advent Calendar on Shudder or AMC+.
Rare Exports: A Christmas Tale (2010)
It turns out Santa is real, and you should be afraid. This Finnish horror has an archeological dig finding the real Santa, but he isn't the sweet old man with a belly that shakes when he laughs, like a bowl full of jelly. A Finnish family captures him with the intent to sell him to the archeologists but we learn this Santa is much more inclined to punish the naughty instead. Despite how cheesy this sounds, it's one of the higher-quality Christmas horror movies on this list.