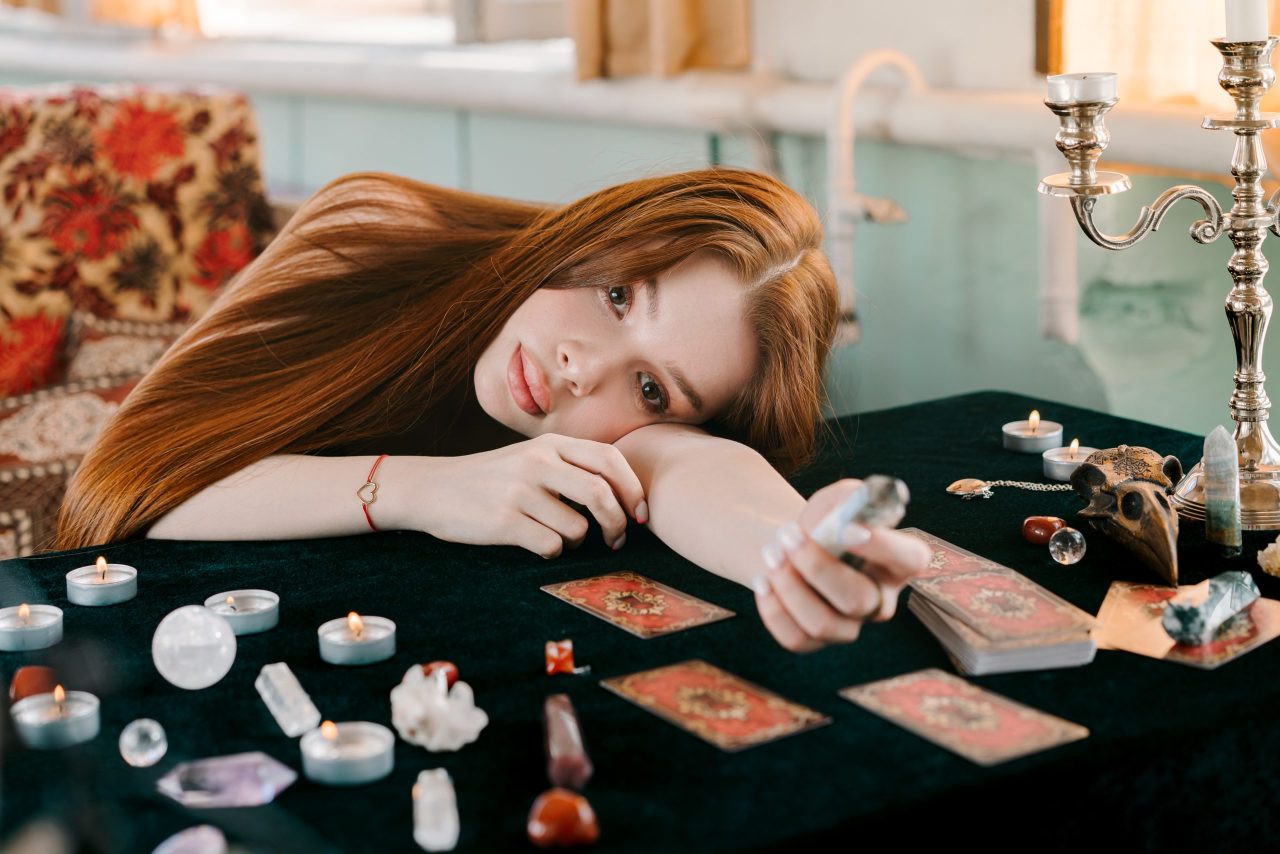 Updated on
What Each Zodiac Sign Can Expect This Valentine's Day, According To A Tarot Reader
Aries
Your card: Four of Swords
It might be a good idea to use this Valentine's Day to focus more on self-love than any other kind of romance, Aries. If you're single or have been dating around, this is a good time to press pause, step back, and focus your attention on yourself—while you may be tempted to mope about not having an official date, it's time to evaluate your priorities and make sure you're getting everything you deserve out of your life and love. And if you're in a relationship, instead of putting all your energy into your partner this Valentine's Day, make sure you save a little for yourself.
Taurus
Your card: The High Priestess
This Valentine's Day, it's time to listen to your heart—and your gut. You're well known for your clear, practical vision, Taurus, but it's time to really think about what you want and the way you feel without rationalizing your way out of it. The High Priestess often asks us to be patient in love—which, luckily for you, is one of your natural talents—and be honest with yourself and others. By planting the seeds of what you desire and giving it the time to grow, your relationship will only get stronger.
Gemini
Your card: Nine of Wands, reversed
This Valentine's Day, you may be feeling like all the work you're putting into your love life isn't yielding the results you're hoping for. That doesn't necessarily mean that your love life is bad—though, of course, it certainly can mean that if you feel more disappointed in it than happy—it can simply mean that you've set your expectations too high or you or your partner haven't effectively communicated what you need. Whatever the situation may be, instead of feeling hopeless or getting upset, really pay attention to what upset you and take it as a lesson to bring into your relationships in the future.
Cancer
Your card: The World
You're really going to encapsulate the spirit of Valentine's Day this year, Cancer! Whether or not you're in a relationship, you'll likely spend the day feeling happy, fulfilled, and ultimately loved. You've worked hard to cultivate the relationships in your life, romantic or not, and now you're seeing the fruits of your emotional labor, so to speak. Bask in the love and be sure to pass it on to those who need it most—knowing you, Cancer, giving some of that warmth to others will most likely brighten up your day even more.
Leo
Your card: Eight of Cups, reversed
This Valentine's Day, you may feel like something is off, even if you can't put your finger on what it is. The reversed Eight of Cups often signifies that you've found yourself stuck in a situation that is no longer right for you and it's holding you back. This might mean that you'll realize your current relationship isn't fulfilling you the way you once hoped, but it might also mean that it's time for a change-up in your love life—not necessarily in who you're dating, but maybe in how you are. If you aren't happy with something in your life, know that you have the power to change it, even if that means walking away or setting a boundary. Know that, no matter what the situation may be, you deserve to be loved fully.
Virgo
Your card: King of Wands
The King of Wands is fiery, passionate, and bold—just like your Valentine's Day is promising to be, Virgo! Whether or not you're in a committed relationship, it's likely you're going to be feeling the love (or lust) of the holiday pretty intensely. You may be someone who is used to having reservations, but allow yourself to get lost in your feelings and appreciate the day to its fullest.
Libra
Your card: King of Swords
You love love, Libra—and because of that, sometimes your standards might be a little high. You may find yourself trying to control everything this Valentine's Day to ensure that everything is perfect, but the fact of the matter is that it's likely many factors will be completely out of your hands. Don't let your need to play out your perfect vision get in the way of your day, because even if it turns out just right, you may realize that you and your partner were so focused on going through the motions that neither of you fully got to enjoy it.
Scorpio
Your card: Seven of Cups
You have a lot of options this Valentine's Day—whether that means having to choose between different lovers, plans, or even just trying to decide if the offer you've been given is the right one for you. This may make you stress out more than actually enjoy the day, especially if you feel particularly indecisive about it. Instead of letting lust or infatuation drive your decisions, dig deep and pay close attention to your intuition—it's likely you'll find all the answers you need there.
Sagittarius
Your card: Three of Swords, reversed
If you're in a relationship that's felt a bit bumpy lately, the Three of Swords ensures that you'll be able to come up with a solution to your problems on Valentine's Day and start looking toward your future together. If you've been heartbroken in the past or have had trouble moving on, this is the sign that you're finally taking the steps to healing—whether that means with a new love or not. Either way, Valentine's Day will be full of growth and healing energy for you, Sagittarius—let yourself enjoy it.
Capricorn
You card: Page of Cups, reversed
This Valentine's Day, you may feel more down on yourself than usual. You may feel like you're lacking in love or that you aren't measuring up to what you think you should be to your partner. It's possible your insecurities are getting the best of you (or that your partner is suffering from these same problems). Understand that you are human and worthy of love nonetheless—even if your love life doesn't feel the most secure at the moment, know that this does not reflect on who you are or what you deserve.
Aquarius
Your card: Nine of Coins, reversed
You may find yourself more resistant to love than usual this Valentine's Day, Aquarius—even if you've found the person you'd like to spend your life with, you may be reluctant to give up your independence or find yourself guarding your heart from the people you love most. This is your reminder to open your heart to the people in your life, even when it's scary—address your fears, and if you're in a relationship, be honest with your partner about them. Love grows best when we can be fully ourselves without fear holding us back.
Pisces
Your card: Wheel of Fortune
Expect the unexpected this Valentine's Day, Pisces—especially regarding your love life. There might be a sudden change in plans or even in your relationship, and while this may not necessarily be a bad thing, it will likely make you feel off-balance or blindsided. Luckily, you were born to go with the flow, so trust you can maneuver these choppy waters, whether that means with a partner or alone. Whatever happens, you'll be okay.