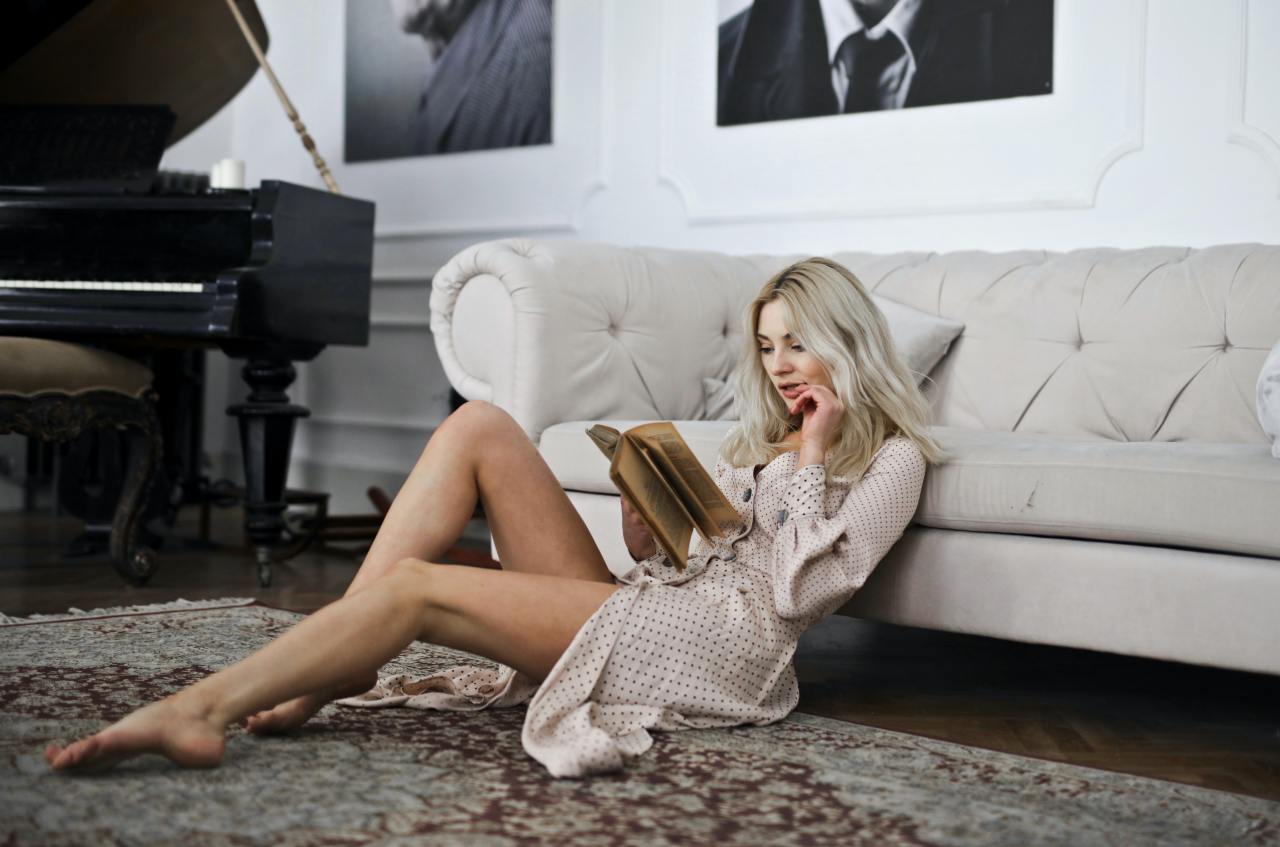 The Book Each Zodiac Is Meant To Read This June
June is Pride Month, so there's no better time to read novels with LGBTQ+ characters. Here are the best queer books for each zodiac to check out this month (although you might as well read them all!):
Since you crave twisty books that keep on surprising you, you should read The Guilty Twin, a sapphic thriller written by CW staff writer (and fellow Aries) Holly Riordan.
"Evan has spent the last decade trying to forget senior year—the panic when Faith Flynn disappeared, the lies she told the police, the secrets she still plans to take to her grave. After graduation, she couldn't move away fast enough, but divorce has forced her back to her dreary hometown. As if living with her parents at almost thirty isn't punishment enough, she's welcomed home with messages from Faith. Or, at least, someone claiming to be her.
Fiona has been receiving similar messages from Faith, her twin, the one everyone believes she murdered in cold blood. And it doesn't feel like a coincidence that this is happening as soon as her ex-best friend Evan has arrived in town. As the ten-year anniversary of Faith's disappearance looms closer, the encounters grow more disturbing. No one is safe from the mysterious person stirring up trouble in their small town, but Evan and Fiona will risk death to expose lies. Or to keep them."
Since you're a romantic who doesn't always like admitting you're a romantic, you should read the twisty yet adorable I Kissed Shara Wheeler by Casey McQuiston.
"Chloe Green is so close to winning. After her moms moved her from SoCal to Alabama for high school, she's spent the past four years dodging gossipy classmates and the puritanical administration of Willowgrove Christian Academy. The thing that's kept her going: winning valedictorian. Her only rival: prom queen Shara Wheeler, the principal's perfect progeny. But a month before graduation, Shara kisses Chloe and vanishes.
On a furious hunt for answers, Chloe discovers she's not the only one Shara kissed. There's also Smith, Shara's longtime quarterback sweetheart, and Rory, Shara's bad boy neighbor with a crush. The three have nothing in common except Shara and the annoyingly cryptic notes she left behind, but together they must untangle Shara's trail of clues and find her. It'll be worth it, if Chloe can drag Shara back before graduation to beat her fair and square.
Thrown into an unlikely alliance, chasing a ghost through parties, break-ins, puzzles, and secrets revealed on monogrammed stationery, Chloe starts to suspect there might be more to this small town than she thought. And maybe—probably not, but maybe—more to Shara, too."
Since you have a soft spot for old Hollywood stars and usually stick to nonfiction, you should read The Seven Husbands Of Evelyn Hugo by Taylor Jenkins Reid.
"Aging and reclusive Hollywood movie icon Evelyn Hugo is finally ready to tell the truth about her glamorous and scandalous life. But when she chooses unknown magazine reporter Monique Grant for the job, no one is more astounded than Monique herself. Why her? Why now?

Monique is not exactly on top of the world. Her husband has left her, and her professional life is going nowhere. Regardless of why Evelyn has selected her to write her biography, Monique is determined to use this opportunity to jumpstart her career.

Summoned to Evelyn's luxurious apartment, Monique listens in fascination as the actress tells her story. From making her way to Los Angeles in the 1950s to her decision to leave show business in the '80s, and, of course, the seven husbands along the way, Evelyn unspools a tale of ruthless ambition, unexpected friendship, and a great forbidden love. Monique begins to feel a very real connection to the legendary star, but as Evelyn's story near its conclusion, it becomes clear that her life intersects with Monique's own in tragic and irreversible ways."
Since you are always searching for books that make you feel more understood and/or comfortable with who you are, you should read The Lesbiana's Guide To Catholic School by Sonora Reyes.
"Sixteen-year-old Yamilet Flores prefers to be known for her killer eyeliner, not for being one of the only Mexican kids at her new, mostly white, very rich Catholic school. But at least here no one knows she's gay, and Yami intends to keep it that way. 
After being outed by her crush and ex-best friend before transferring to Slayton Catholic, Yami has new priorities: keep her brother out of trouble, make her mom proud, and, most importantly, don't fall in love. Granted, she's never been great at any of those things, but that's a problem for Future Yami. 
The thing is, it's hard to fake being straight when Bo, the only openly queer girl at school, is so annoyingly perfect. And smart. And talented. And cute. So cute. Either way, Yami isn't going to make the same mistake again. If word got back to her mom, she could face a lot worse than rejection. So she'll have to start asking, WWSGD: What would a straight girl do?" 
Since you enjoy fun, lighthearted books with a splash of romance (and hilariously edgy characters), you should read Delilah Green Doesn't Care by Ashley Herring Blake.
"Delilah Green swore she would never go back to Bright Falls—nothing is there for her but memories of a lonely childhood where she was little more than a burden to her cold and distant stepfamily. Her life is in New York, with her photography career finally gaining steam and her bed never empty. Sure, it's a different woman every night, but that's just fine with her.
 
When Delilah's estranged stepsister, Astrid, pressures her into photographing her wedding with a guilt trip and a five-figure check, Delilah finds herself back in the godforsaken town that she used to call home. She plans to breeze in and out, but then she sees Claire Sutherland, one of Astrid's stuck-up besties, and decides that maybe there's some fun (and a little retribution) to be had in Bright Falls, after all.
 
Having raised her eleven-year-old daughter mostly on her own while dealing with her unreliable ex and running a bookstore, Claire Sutherland depends upon a life without surprises. And Delilah Green is an unwelcome surprise…at first. Though they've known each other for years, they don't really know each other—so Claire is unsettled when Delilah figures out exactly what buttons to push. When they're forced together during a gauntlet of wedding preparations—including a plot to save Astrid from her horrible fiancé—Claire isn't sure she has the strength to resist Delilah's charms. Even worse, she's starting to think she doesn't want to…"
Since you're always searching for something powerful (that's also plenty of fun), you should read Cemetery Boys by Aiden Thomas.
"Yadriel has summoned a ghost, and now he can't get rid of him.

When his traditional Latinx family has problems accepting his true gender, Yadriel becomes determined to prove himself a real brujo. With the help of his cousin and best friend Maritza, he performs the ritual himself, and then sets out to find the ghost of his murdered cousin and set it free.

However, the ghost he summons is actually Julian Diaz, the school's resident bad boy, and Julian is not about to go quietly into death. He's determined to find out what happened and tie off some loose ends before he leaves. Left with no choice, Yadriel agrees to help Julian, so that they can both get what they want. But the longer Yadriel spends with Julian, the less he wants to let him leave."
Since you're in love with the idea of love (and never turn down a steamy read), you should read Mistakes Were Made by Meryl Wilsner.
"When Cassie Klein goes to an off-campus bar to escape her school's Family Weekend, she isn't looking for a hookup—it just happens. Buying a drink for a stranger turns into what should be an uncomplicated, amazing one-night stand. But then the next morning rolls around and her friend drags her along to meet her mom—the hot, older woman Cassie slept with.

Erin Bennett came to Family Weekend to get closer to her daughter, not have a one-night stand with a college senior. In her defense, she hadn't known Cassie was a student when they'd met. To make things worse, Erin's daughter brings Cassie to breakfast the next morning. And despite Erin's better judgement—how could sleeping with your daughter's friend be anything but bad?—she and Cassie get along in the day just as well as they did last night.

What should have been a one-time fling quickly proves impossible to ignore, and soon Cassie and Erin are sneaking around. Worst of all, they start to realize they have something real. But is being honest about the love between them worth the cost?"
Since you're interested in twists, turns, and morally gray characters who are trying their best, you should read The Girls I've Been by Tess Sharpe.
"Nora O'Malley's been a lot of girls. As the daughter of a con-artist who targets criminal men, she grew up as her mother's protégé. But when her mom fell for the mark instead of conning him, Nora pulled the ultimate con: escape.

For five years Nora's been playing at normal. But she needs to dust off the skills she ditched because she has three problems: #1: Her ex walked in on her with her girlfriend. Even though they're all friends, Wes didn't know about her and Iris. #2: The morning after Wes finds them kissing, they all have to meet to deposit the fundraiser money they raised at the bank. It's a nightmare that goes from awkward to deadly, because: #3: Right after they enter the bank, two guys start robbing it. The bank robbers may be trouble, but Nora's something else entirely. They have no idea who they're really holding hostage."
Since you love comedy with heart (and will squeal when you see adorable robot friends), you should read in The Lives Of Puppets by TJ Klune.
"In a strange little home built into the branches of a grove of trees, live three robots—fatherly inventor android Giovanni Lawson, a pleasantly sadistic nurse machine, and a small vacuum desperate for love and attention. Victor Lawson, a human, lives there too. They're a family, hidden and safe.

The day Vic salvages and repairs an unfamiliar android labelled "HAP," he learns of a shared dark past between Hap and Gio–a past spent hunting humans.

When Hap unwittingly alerts robots from Gio's former life to their whereabouts, the family is no longer hidden and safe. Gio is captured and taken back to his old laboratory in the City of Electric Dreams. So together, the rest of Vic's assembled family must journey across an unforgiving and otherworldly country to rescue Gio from decommission, or worse, reprogramming.

Along the way to save Gio, amid conflicted feelings of betrayal and affection for Hap, Vic must decide for himself: Can he accept love with strings attached?"
Since you're a workaholic who has struggled in the love department before, you should read Astrid Parker Doesn't Fail by Ashley Herring Blake.
"For Astrid Parker, failure is unacceptable. Ever since she broke up with her fiancé a year ago, she's been focused on her career—her friends might say she's obsessed, but she knows she's just driven. When Pru Everwood asks her to be the designer for the Everwood Inn's renovation, which will be featured on a popular HGTV show, Innside America, Astrid is thrilled. Not only will the project distract her from her failed engagement and help her struggling business, but her perpetually displeased mother might finally give her a nod of approval.
 
However, Astrid never planned on Jordan Everwood, Pru's granddaughter and the lead carpenter for the renovation, who despises every modern design decision Astrid makes. Jordan is determined to preserve the history of her family's inn, particularly as the rest of her life is in shambles. When that determination turns into some light sabotage to ruffle Astrid's perfect little feathers, the showrunners ask them to play up the tension. But somewhere along the way, their dislike for each other evolves into something quite different, and Astrid must decide what success truly means. Is she going to pursue the life that she's expected to lead or the one that she wants?"
Since you're a creative who has huge dreams you're trying to reach, you should read The Writing Retreat by Julia Bartz.
"Alex has all but given up on her dreams of becoming a published author when she receives a once-in-a-lifetime opportunity: attend an exclusive month-long writing retreat at the estate of feminist horror writer Roza Vallo. Even the knowledge that Wren, her former best friend and current rival, is attending doesn't dampen her excitement.
But when the attendees arrive, Roza drops a bombshell—they must all complete an entire novel from scratch during the next month, and the author of the best one will receive a life-changing seven-figure publishing deal. Determined to win this seemingly impossible contest, Alex buckles down and tries to ignore the strange happenings at the estate, including Roza's erratic behavior, Wren's cruel mind games, and the alleged haunting of the mansion itself. But when one of the writers vanishes during a snowstorm, Alex realizes that something very sinister is afoot. With the clock running out, she must discover the truth—or suffer the same fate."
Since you can't get enough romance in your life (and are a sucker for enemies to lovers), you should read Red, White & Royal Blue by Casey McQuiston.
"When his mother became President, Alex Claremont-Diaz was promptly cast as the American equivalent of a young royal. Handsome, charismatic, genius―his image is pure millennial-marketing gold for the White House. There's only one problem: Alex has a beef with the actual prince, Henry, across the pond. And when the tabloids get hold of a photo involving an Alex-Henry altercation, U.S./British relations take a turn for the worse.

Heads of family, state, and other handlers devise a plan for damage control: staging a truce between the two rivals. What at first begins as a fake, Instragramable friendship grows deeper, and more dangerous, than either Alex or Henry could have imagined. Soon Alex finds himself hurtling into a secret romance with a surprisingly unstuffy Henry that could derail the campaign and upend two nations and begs the question: Can love save the world after all? Where do we find the courage, and the power, to be the people we are meant to be? And how can we learn to let our true colors shine through? Casey McQuiston's Red, White & Royal Blue proves: true love isn't always diplomatic."