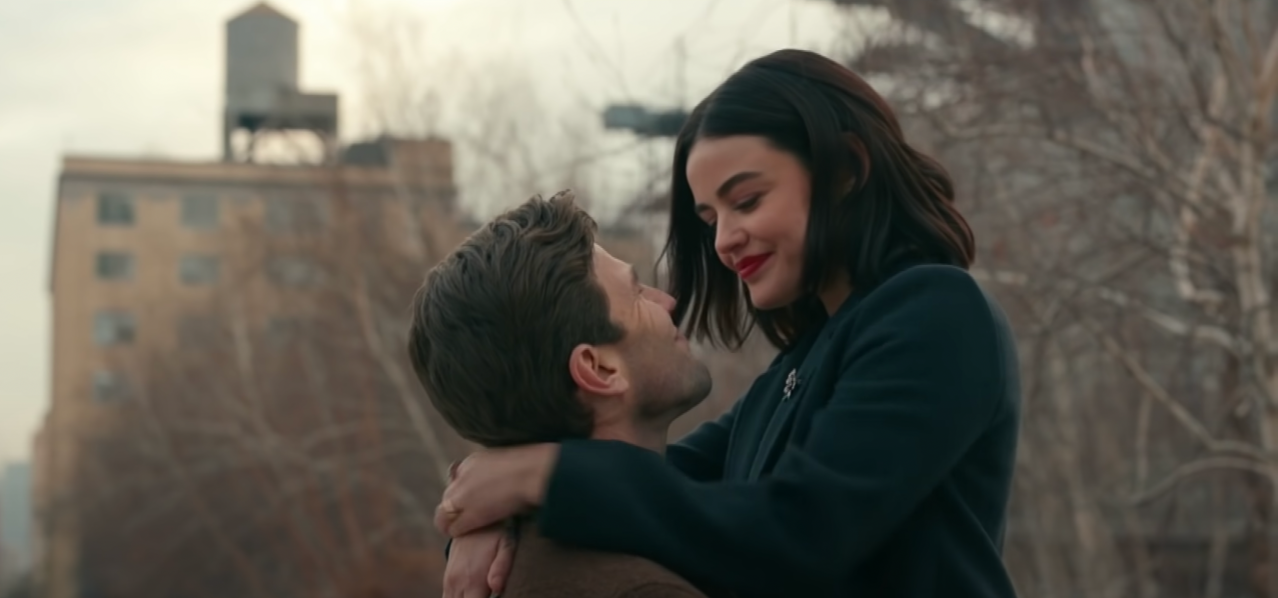 12 Movies Based On Steamy Romance Books And Thrilling Mysteries You Can Stream Today
If you need a new show or movie to watch (or book to read), look no further!
The Hating Game by Sally Thorne
Where to watch: Amazon
"Lucy Hutton and Joshua Templeman hate each other. Not dislike. Not begrudgingly tolerate. Hate. And they have no problem displaying their feelings through a series of ritualistic passive aggressive maneuvers as they sit across from each other, executive assistants to co-CEOs of a publishing company. Lucy can't understand Joshua's joyless, uptight, meticulous approach to his job. Joshua is clearly baffled by Lucy's overly bright clothes, quirkiness, and Pollyanna attitude.
Now up for the same promotion, their battle of wills has come to a head and Lucy refuses to back down when their latest game could cost her her dream job…But the tension between Lucy and Joshua has also reached its boiling point, and Lucy is discovering that maybe she doesn't hate Joshua. And maybe, he doesn't hate her either. Or maybe this is just another game."
The Flight Attendant by Chris Bohjalian
Where to watch: HBO Max
"Cassandra Bowden is no stranger to hungover mornings. She's a binge drinker, her job with the airline making it easy to find adventure, and the occasional blackouts seem to be inevitable. She lives with them, and the accompanying self-loathing. When she awakes in a Dubai hotel room, she tries to piece the previous night back together, counting the minutes until she has to catch her crew shuttle to the airport. She quietly slides out of bed, careful not to aggravate her already pounding head, and looks at the man she spent the night with. She sees his dark hair. His utter stillness. And blood, a slick, still wet pool on the crisp white sheets. Afraid to call the police—she's a single woman alone in a hotel room far from home—Cassie begins to lie. She lies as she joins the other flight attendants and pilots in the van. She lies on the way to Paris as she works the first class cabin. She lies to the FBI agents in New York who meet her at the gate. Soon it's too late to come clean-or face the truth about what really happened back in Dubai. Could she have killed him? If not, who did?"
Murder On The Orient Express by Agatha Christie
Where to watch: Amazon
"Just after midnight, the famous Orient Express is stopped in its tracks by a snowdrift. By morning, the millionaire Samuel Edward Ratchett lies dead in his compartment, stabbed a dozen times, his door locked from the inside. Without a shred of doubt, one of his fellow passengers is the murderer.
Isolated by the storm, detective Hercule Poirot must find the killer among a dozen of the dead man's enemies, before the murderer decides to strike again."
One Of Us Is Lying by Karen M. McManus
Where to watch: Peacock
"Pay close attention and you might solve this.
On Monday afternoon, five students at Bayview High walk into detention.
Bronwyn, the brain, is Yale-bound and never breaks a rule.
Addy, the beauty, is the picture-perfect homecoming princess.
Nate, the criminal, is already on probation for dealing.
Cooper, the athlete, is the all-star baseball pitcher.
And Simon, the outcast, is the creator of Bayview High's notorious gossip app.
 
Only, Simon never makes it out of that classroom. Before the end of detention Simon's dead. And according to investigators, his death wasn't an accident. On Monday, he died. But on Tuesday, he'd planned to post juicy reveals about all four of his high-profile classmates, which makes all four of them suspects in his murder. Or are they the perfect patsies for a killer who's still on the loose?

Everyone has secrets, right? What really matters is how far you would go to protect them."
To All The Boys I've Loved Before by Jenny Han
Where to watch: Netflix
"What if all the crushes you ever had found out how you felt about them…all at once?

Lara Jean Song keeps her love letters in a hatbox her mother gave her. They aren't love letters that anyone else wrote for her; these are ones she's written. One for every boy she's ever loved—five in all. When she writes, she pours out her heart and soul and says all the things she would never say in real life, because her letters are for her eyes only. Until the day her secret letters are mailed, and suddenly, Lara Jean's love life goes from imaginary to out of control."
Big Little Lies by Liane Moriarty
Where to watch: Hulu
"A murder…A tragic accident…Or just parents behaving badly? What's indisputable is that someone is dead.

Madeline is a force to be reckoned with. She's funny, biting, and passionate; she remembers everything and forgives no one. Celeste is the kind of beautiful woman who makes the world stop and stare but she is paying a price for the illusion of perfection. New to town, single mom Jane is so young that another mother mistakes her for a nanny. She comes with a mysterious past and a sadness beyond her years. These three women are at different crossroads, but they will all wind up in the same shocking place."
Wheel Of Time by Robert Jordan
Where to watch: Amazon
"The Wheel of Time turns and Ages come and pass, leaving memories that become legend. Legend fades to myth, and even myth is long forgotten when the Age that gave it birth returns again. What was, what will be, and what is, may yet fall under the Shadow.

Moiraine Damodred arrives in Emond's Field on a quest to find the one prophesized to stand against The Dark One, a malicious entity sowing the seeds of chaos and destruction. When a vicious band of half-men, half beasts invade the village seeking their master's enemy, Moiraine persuades Rand al'Thor and his friends to leave their home and enter a larger unimaginable world filled with dangers waiting in the shadows and in the light."
Where to watch: Amazon
"On a warm summer morning in North Carthage, Missouri, it is Nick and Amy Dunne's fifth wedding anniversary. Presents are being wrapped and reservations are being made when Nick's clever and beautiful wife disappears. Husband-of-the-Year Nick isn't doing himself any favors with cringe-worthy daydreams about the slope and shape of his wife's head, but passages from Amy's diary reveal the alpha-girl perfectionist could have put anyone dangerously on edge. Under mounting pressure from the police and the media—as well as Amy's fiercely doting parents—the town golden boy parades an endless series of lies, deceits, and inappropriate behavior. Nick is oddly evasive, and he's definitely bitter—but is he really a killer?"
Nine Perfect Strangers by Liane Moriarty
Where to watch: Hulu
"Nine people gather at a remote health resort. Some are here to lose weight, some are here to get a reboot on life, some are here for reasons they can't even admit to themselves. Amidst all of the luxury and pampering, the mindfulness and meditation, they know these ten days might involve some real work. But none of them could imagine just how challenging the next ten days are going to be.

Frances Welty, the formerly best-selling romantic novelist, arrives at Tranquillum House nursing a bad back, a broken heart, and an exquisitely painful paper cut. She's immediately intrigued by her fellow guests. Most of them don't look to be in need of a health resort at all. But the person that intrigues her most is the strange and charismatic owner/director of Tranquillum House. Could this person really have the answers Frances didn't even know she was seeking? Should Frances put aside her doubts and immerse herself in everything Tranquillum House has to offer – or should she run while she still can?

It's not long before every guest at Tranquillum House is asking exactly the same question."
Good Omens by Neil Gaiman and Terry Pratchett
Where to watch: Amazon
"According to The Nice and Accurate Prophecies of Agnes Nutter, Witch (the world's only completely accurate book of prophecies, written in 1655, before she exploded), the world will end on a Saturday. Next Saturday, in fact. Just before dinner.
So the armies of Good and Evil are amassing, Atlantis is rising, frogs are falling, tempers are flaring. Everything appears to be going according to Divine Plan. Except a somewhat fussy angel and a fast-living demon—both of whom have lived amongst Earth's mortals since The Beginning and have grown rather fond of the lifestyle—are not actually looking forward to the coming Rapture. And someone seems to have misplaced the Antichrist . . ."
Sharp Objects by Gillian Flynn
Where to watch: HBO Max
"Fresh from a brief stay at a psych hospital, reporter Camille Preaker faces a troubling assignment: she must return to her tiny hometown to cover the murders of two preteen girls. For years, Camille has hardly spoken to her neurotic, hypochondriac mother or to the half-sister she barely knows: a beautiful thirteen-year-old with an eerie grip on the town. Now, installed in her old bedroom in her family's Victorian mansion, Camille finds herself identifying with the young victims—a bit too strongly. Dogged by her own demons, she must unravel the psychological puzzle of her own past if she wants to get the story—and survive this homecoming."
Looking For Alaska by John Green
Where to watch: Hulu
"Miles Halter is fascinated by famous last words—and tired of his safe life at home. He leaves for boarding school to seek what the dying poet François Rabelais called the 'Great Perhaps.' Much awaits Miles at Culver Creek, including Alaska Young, who will pull Miles into her labyrinth and catapult him into the Great Perhaps."