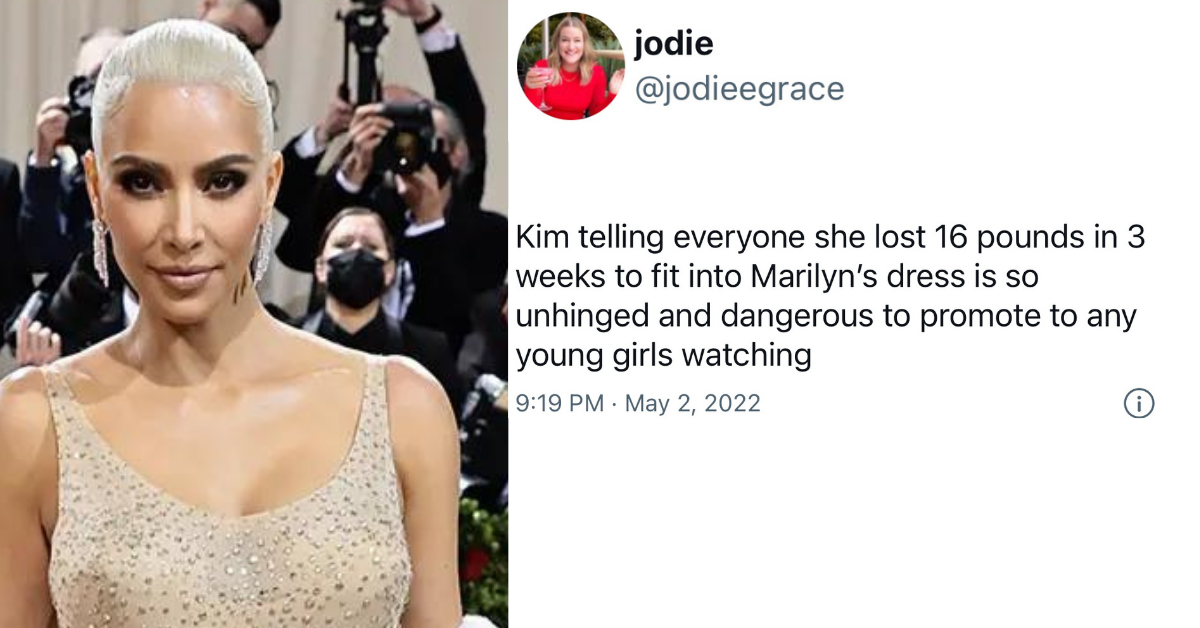 Kim Kardashians Newest Comment About Dangerous Weight Loss Should Stay in 2002.
TW: Disordered Eating, Body Image.
There are a lot of things that have been left behind on the red carpet from the early 2000s. This time I'm not talking about chunky highlights, or all denim attire. I'm talking about the toxic conversations about body image, and crash dieting, that obviously made them the star of the ceremony (not).
In 2022, we're always looking for some sort of nostalgia to get us by, because obviously the 2000s were when times were perfect right? What's more 2000s than the Kardashians? Their toxic conversations on body image, and how normal it is to the public eye.
The 2022 Met Gala was business as usual, stars making questionable fashion choices, seeing our favorite celebrity couples, and feasting our eyes on the most exclusive gala we see all year.
Kim Kardashian's outfit, borrowed Marilyn Monroe, was a moment of history for The Met. Exactly 60 years after Marilyn first wore the shimmery, nude, hip-clinging gown, Kim took it to the Met, making her the only other person to ever wear the iconic dress. Covered in more than 6,000 hand-sewn crystals, it is currently valued at over $10 million dollars. In Kim K's mind, why alter something that beautiful?
Kim Kardashians proudly told Vogue at the Met Gala the story of how she fit into Marilyn Monroe's iconic dress right on the red carpet by stating "I tried it on, and it didn't fit me, and so I looked at them and I said, 'give me like three weeks,'" she said. "And I had to lose 16 pounds down today to be able to fit this, but it was such a challenge, it was like a roll. I was determined. I was determined to fit it… "I would wear a sauna suit twice a day, run on the treadmill, completely cut out all sugar and all carbs, and just eat the cleanest veggies and protein," she said. "I didn't starve myself, but I was so strict." The kicker? The Vouge reporter cracked a joke about Kardashian eating an abundance of tomatoes and her ability to do anything that she "puts her mind to."
The topic of disordered eating has not disappeared from Hollywood, nor has it decreased. Sure, body standards have changed in the mainstream public, but despite the progress of 'fat' activism plus the body positivity and neutrality movements, time and time again eating disorders are brushed to the side, even though global eating disorders from 2000 to 2018, and the prevalence of eating disorders "increased over the study period from 3.5 percent for the 2000-2006 period to 7.8 percent for the 2013-2018 period," according to this study
Flat asses, or fat asses. Big hips, or snatched waists. No matter what, unrealistic body standards are still impacting mental health to this day. When you are in a position of power like Kim K, where the entire world looks to you for empowering words, and influence, being able to say such a tone deaf statement in 2022 is not a great look.
The great difference between 2002 and 2022 is I am not the only person to feel this way. For example, public figures are also voicing their disapproval loud and clear. Actress Lili Reinhart shared this post to her Instagram story, voicing her displeasure with this statement, and plenty of others went to Twitter to voice their concerns as well.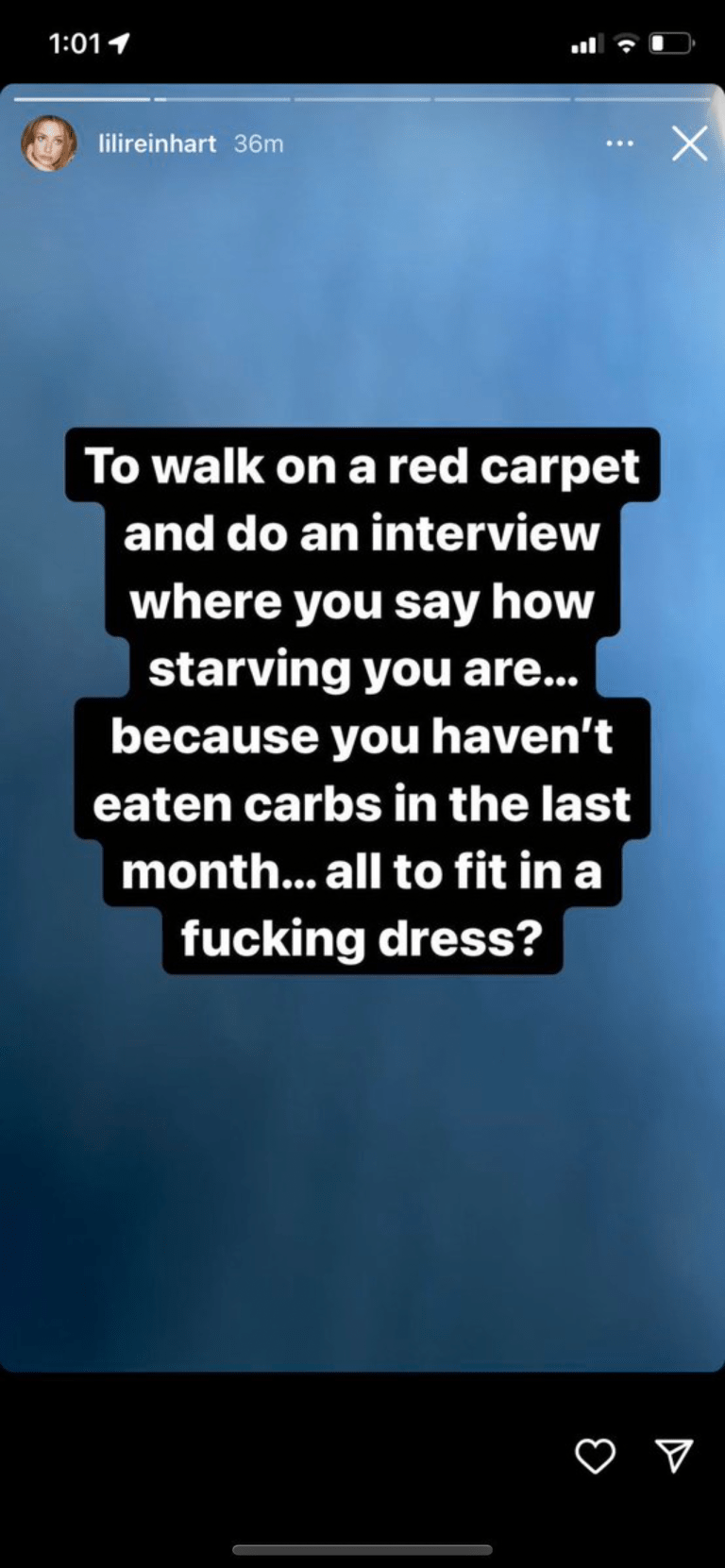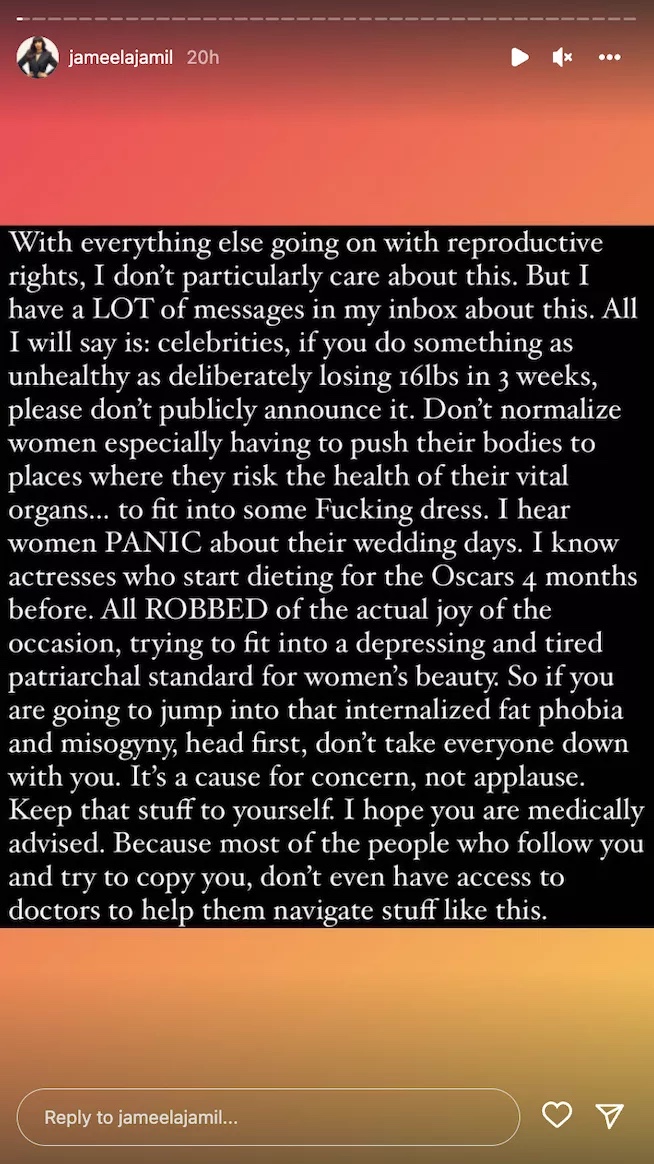 Our youth is already exposed to the daily toxic beast of Instagram culture, now imagine all of those teenagers who are now wondering why 16 pounds didn't just fall off their body when they exercise. /Nobody/ losing 16 pounds in three weeks is doing that in a healthy matter- and I can guarantee that. To top this all off, Kim actually didn't wear the dress all night. In fact, she was in the gown for only a couple of minutes. Now think, is three weeks of zero carbs worth it? Absolutely not.
Now catch me eating an XL Cheese Pizza, and picking out my finest stretchy pants for my next night out.